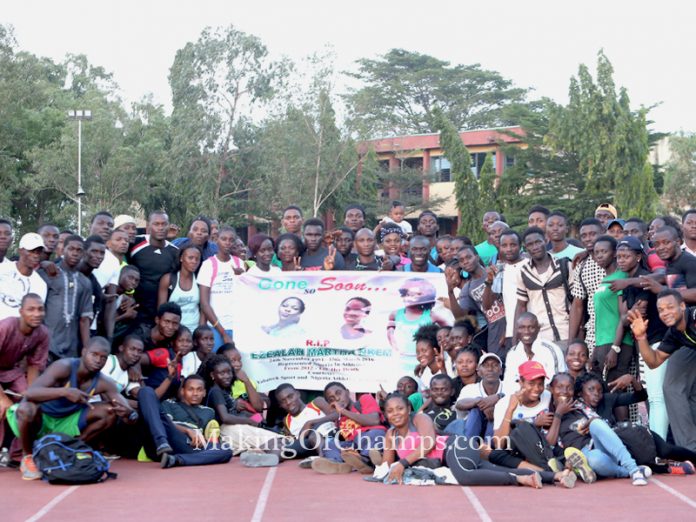 A somewhat somber mood pervaded the atmosphere of the Yaba College of Technology Sports Complex as the Track and Field community turned up to honour one of their own, Nkem Ezealah of Esteem Athletics Club, who passed on in an auto crash last month.
On a normal day, the diminutive sprinter would have part of the action, with fans cheering her to the finishing line. However, this time around, it was the turn of her constituency to compete in her memory at the Track and Field Coaches Association of Nigeria (TAFCAN) Trials held in Lagos.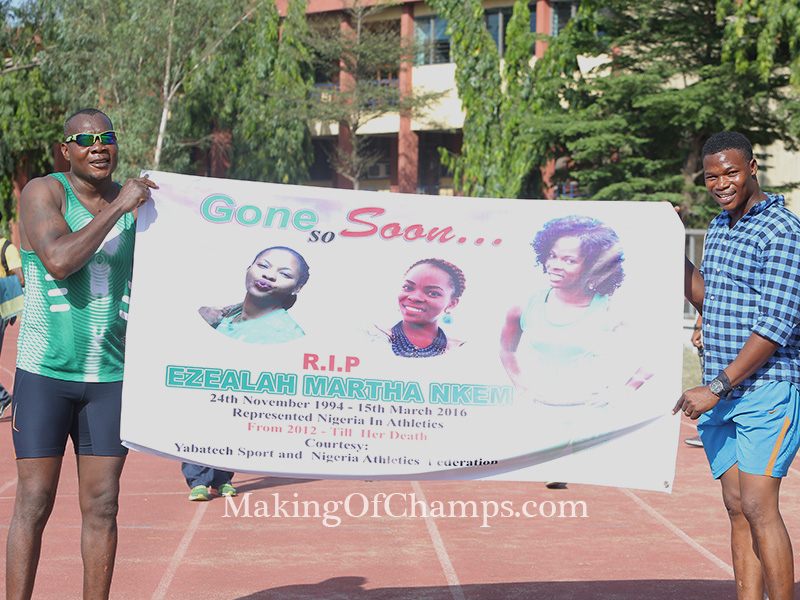 Some of the events competed in include the men and women's 100m, 400m, 800m, 4x100m, Shot put and Hammer throws. The female teams raced in the 4x200m relay, while their male counterparts did same in the 4x300m relay.
There were five heats in the men's 100m. Eagle Sight's Christian Martins won the first race in 11.03s, with Mega Rock's Ali Adekunle (11.07s) and Adebakin Toluwani (11.18s) of Esteem Athletics Club coming 2nd and 3rd. Heat 2 was won by Dare Ifemosu who returned a time of 10.49s, and was followed by Peter David in 10.52s.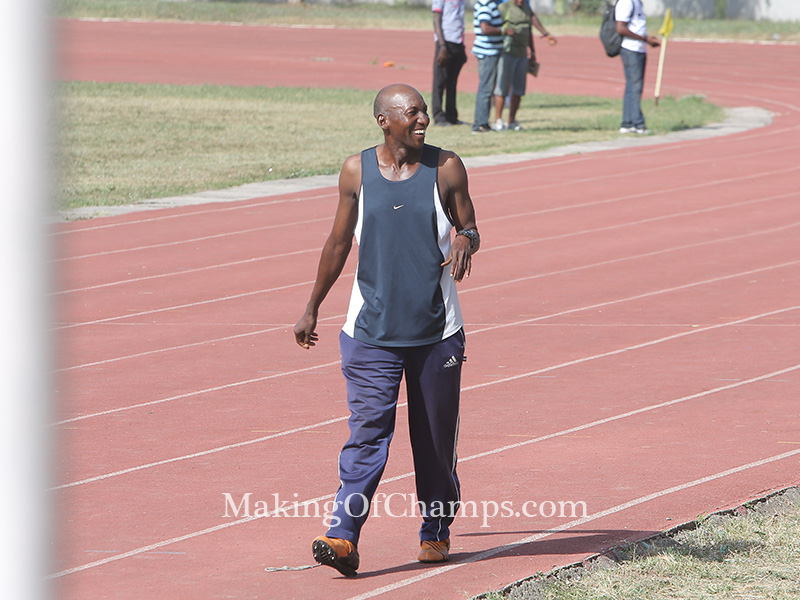 David Sule dominated Heat 3, clocking a time of 10.7s, while Akala Oriyomi (11.09s) and Amusan Sodiq (11.51s) trailed him. Saliu Abdulmalik (10.88s), Femi Oni (10.89s) and Adeyi Tolulope (10.99s) were the Top 3 finishers in Heat 4.
Heat 5 turned out to be the highlight of all the races, as former athletes and coaches weren't left out of the action. 2003 All-Africa Games GOLD medallist Deji Aliu rolled back the years, winning the race in 11.08s, while Afolabi Abiodun (11.21s) and Fred Agbaje (11.38s) finished 2nd and 3rd respectively.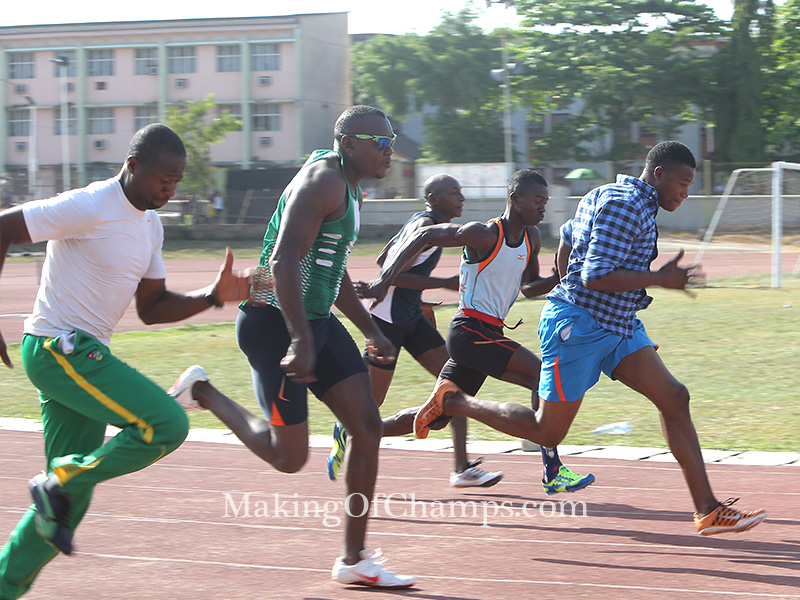 Head Coach of Esteem Athletics Club,  Adu Uruemu took part in the race, which was Nkem Ezealah's main event, finishing in 7th place. He also charged younger athletes to imbibe the virtues of the late sprinter:
"I ran today in honour of Nkem. Ever since she's been with me, it has been fun watching her run and doing so according to how I tell her to. So today I just felt I should run for her. I think this is a great initiative for a great athlete who has done us proud, and was looking forward to doing the country very proud. We are looking forward to making it a yearly event.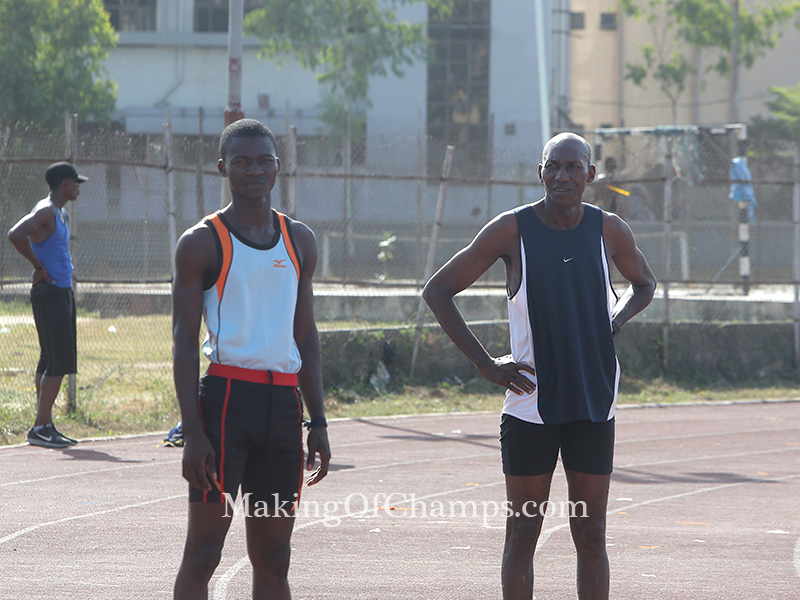 "She was dedicated, disciplined and focused. She was the type that listened to her coach and parents too. She was there not only as the captain of Esteem Athletics Club, but was a big sister to all of them. She was like an Assistant Coach behind the scenes for me. At times I just sat back and watched while she did all the talking. She was also very supportive. For now we are still at a loss", he said.
Agnes Osazuwa clocked the fastest time overall in the Women's 100m, winning Heat 1 in 11.14s, while Jasper Adekunle (11.43s) and Ruth Usoro (11.5s) placed 2nd and 3rd respectively. Raheemot Omotoso (12.2s), Taviore Anita (12.47s) and Ogunyemi Dorcas (12.5s) emerged Top 3 in Heat 2.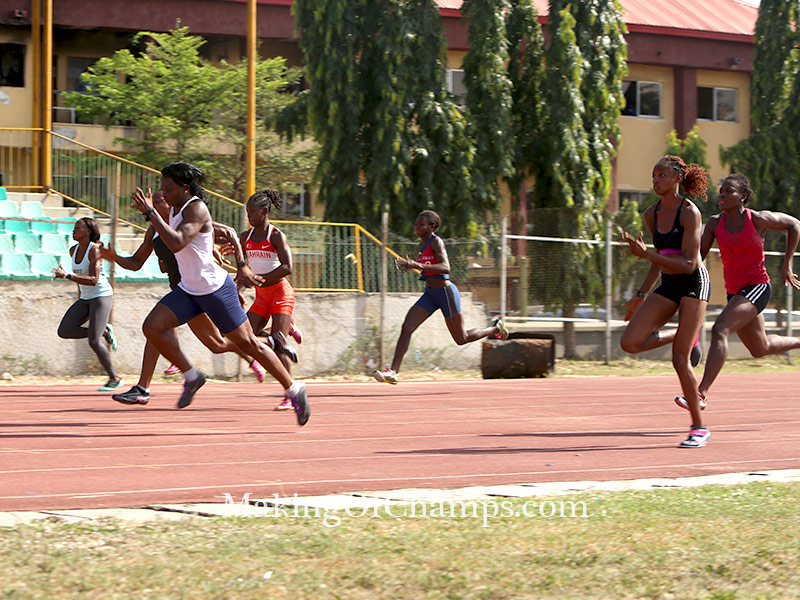 Japheth Samuel clocked the fastest time overall in the men's 400m, taking the win in Heat 2 in 49.25s, while Sodiq Adebisi of Spartacus (49.42s) and Funmilola Badewa (49.73s) followed. Heat 1 was won by Akhigbe Track Club's Edwin Peter (50.41s), with Ogunmayin Olufemi ( 50.81s) and special athlete Christian Ifeanyi (51.34s) coming 2nd and 3rd respectively.
Heat 3 was won by Bello Fahd who was followed by Falolu Timileyin and Urua Emmanuel. Isah Paulinus dominated Heat 4 as Ismail Mohammed and Ikoko Onengi followed. Hanson Diana-Abasi, Aliu Adetola and Taofeek Mustapha finished tops in Heat 5.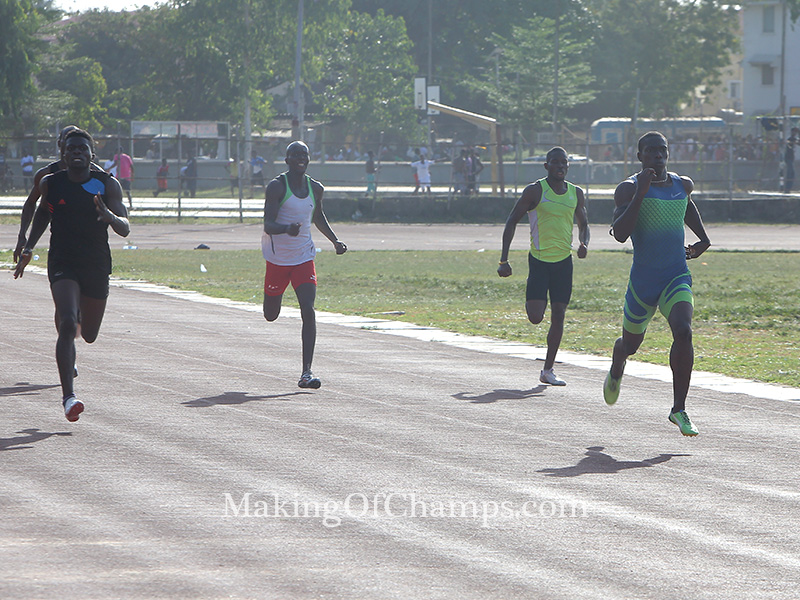 In the Women's category, Sarah Kadiri Johnson raced to victory in Heat 1 in 56.09, while Abimbola Junaid (56.60s) and Obarierhu Blessing (61.70s) placed 2nd and 3rd. In Heat 2, Obamuwagun Rhoda, Sefiat Jubril and Godwin Gladys placed 1st, 2nd and 3rd respectively. Aminat Alabi set the pace in heat 3, as Agofure Charity and Edun Feyisara completed the Top 3 spots.
Alabi went on to win the 800m in 2:15.60 ahead of Agofure and Obarierhu Ese. The men's race was captured by Ukemec Peter who executed his race in an impressive manner, taking victory in 2:08.75. Beke Favour was 2nd in 2:11.75 while Lasisi Emmanuel placed 3rd with a time of 2:13.68.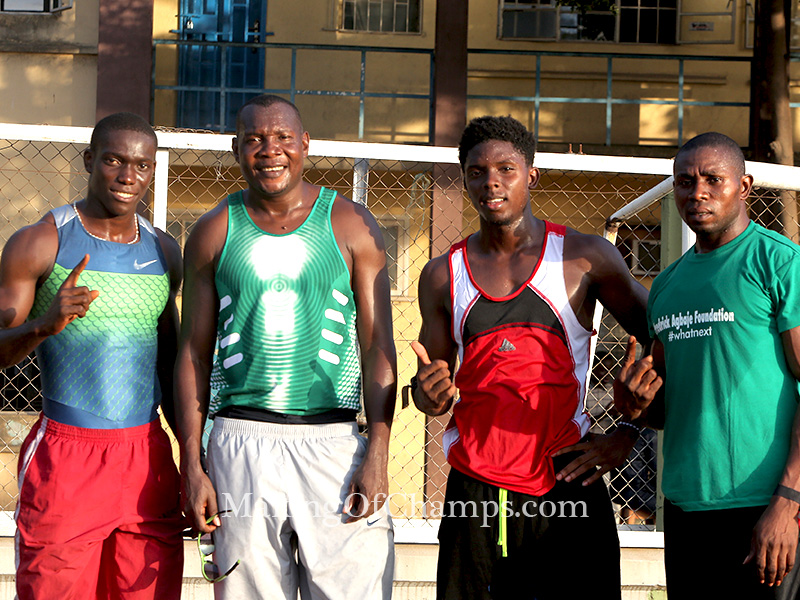 The Men's 4x100m relay turned out to be an explosive one as Deji Aliu anchored the ATC to victory, having teamed up with Isah Paulinus, Edwin Peter and Ikoko Onengi to snatch the win in 42.53s. Eagle Sight 1 was a close 2nd in 43.69s, as the Yaba Tech team placed 3rd with 44.66s.
Folawiyo Spartacus A took top place in the women's event in 48.91s, while Esteem (49.34s) and Olapade Club (53.22s) placed 2nd and 3rd respectively.
Edetanlen Moses won the Men's 3000m with a time of 9:29.45, with Ali Labib (10:03.05) and Fatai Kazeem (11:10.59) finishing in 2nd and 3rd positions.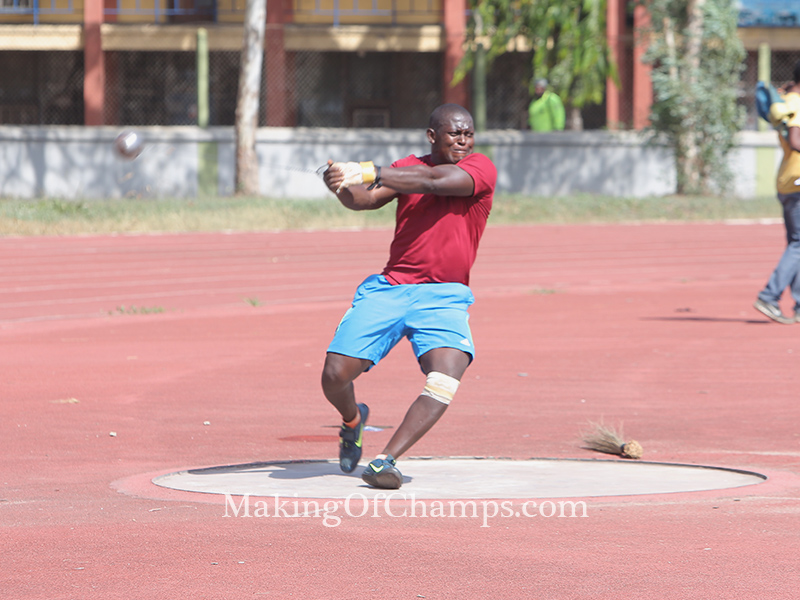 The men's Hammer throw was won by Monsuru Ganiyu with a distance of 49.07m; Olatunji Olawale followed with 49.03m while Godknows Ekanem took 3rd place with 35.94m. Shayo Udo dominated the women's category with 49.80m, while Omizi Sofiat (45.14m) and Ekpeyong Celia (43.44m) followed.
A Football match was also played at the same venue in Ezealah's honour, as she started out as a footballer before switching to the Sprints.