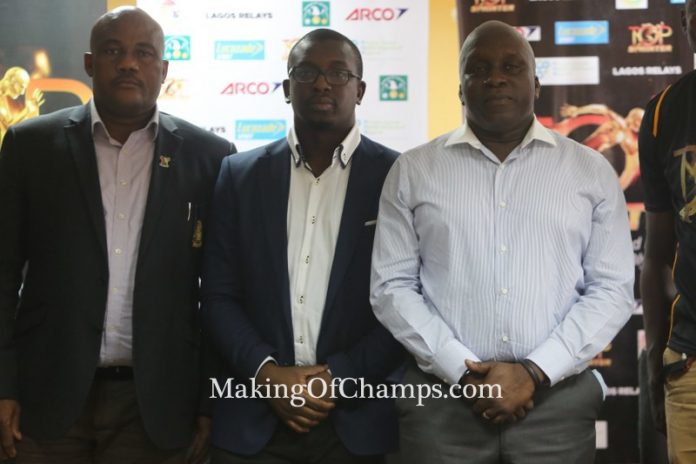 All is now set for the biggest Athletics fiesta in recent times, following the endorsement of Top Sprinter Lagos Relays 2016 by the Lagos State Sports Commission (LSSC) and several corporate sponsors of the competition slated to hold at the Teslim Balogun Stadium in Lagos from September 29th to October 1st.
A media briefing was held on Monday, September 26th in Lagos to announce the three-day event, and in attendance were Chairman of the LSSC Deji Tinubu; Lucozade Group Product Manager Drinks, Yusuf Murtala; representative of the Private Sector Health Alliance of Nigeria (PSHAN), Alex Chiejina; Creative Director xteamstudios Seyi Fabunmi, and Olympic medallist Deji Aliu among others.
Giving an insight into what Top Sprinter Lagos Relays 2016 is all about, MoC Founder/CEO Bambo Akani revealed that Top Sprinter was conceived a couple of years ago, after Nigeria failed to win a medal at the London 2012 Olympics.
He said, "Top Sprinter was conceived as a revolutionary talent search to find the best talent all over Nigeria and to win medals for the nation at upcoming Olympic Games. Last year we appeared in four different cities across the nation, screening over a thousand athletes.
"Today eight of those athletes are part of the MoC Track Club, and two of them Jeremiah Jakpa and Joy Udo-Gabriel have been sponsored by ARCO Group, the first sponsor of our Student-Athlete Scholarship. This year we have over 700 athletes from all over the country confirmed for this event, including Olympians like Divine Oduduru and Orukpe Erayokan.
"We are grateful to the LSSC for coming in at very short notice to partner with us at this event which is the 2nd edition of both Top Sprinter and the Lagos Relays. We also want to appreciate our sponsors – ARCO Group, Lucozade and PSHAN. Thanks to our official Media Partners xteamstudios, there will be a livestream of the competition on all three days, which is unmatched in Nigeria."
In his own address, Tinubu revealed that the LSSC was pleased to collaborate with MoC to stage the 2nd edition of the Lagos Relays which kicked off last year. He said:
"Most businesses are run on partnerships and collaborations, and that is one of the reasons why when Mr. Akani came to us, we saw an opportunity to create an enabling environment for something that could potentially become one of the biggest events in Nigeria Sports.  What MoC is doing is credible and transparent, and these are the kind of things we want to be associated with.
"We felt that since the Relays are the highlights of Athletics meets around the world, the opportunity was right. We also wanted to have a feel of what MoC is doing so that next year, we will make this event much bigger and better. Imagine a situation where we could fill half of the Teslim Balogun Stadium. That will be a remarkable achievement for Track and Field in Nigeria."
Speaking on behalf of the Official Energy Drink of the competition, Lucozade, Murtala said, "When Mr. Akani came to tell us about the event, it didn't take us to long to get on board because Top Sprinter Lagos Relays meets the brand essence of Lucozade Sport. We are looking forward to partnering with our community and Top Sprinter to develop the next set of Olympians over the next few years."
In the same vein, the representative of the competition's official Medical Sponsors (PSHAN) Chiejina said, "This event speaks to one of our strategic pillars, which is saving lives. As a healthcare organization, we are a private sector led coalition. The role of health in sports cannot be overemphasized. Our being part of Top Sprinter will improve lives as a whole that was why we thought it wise to partner with MoC".
Beneficiaries of the MoC Student-Athlete Scholarship awarded by ARCO Group, Udo-Gabriel and Jakpa used the opportunity to appreciate the support of the Oil and Gas Company, promising that they would not let them down.