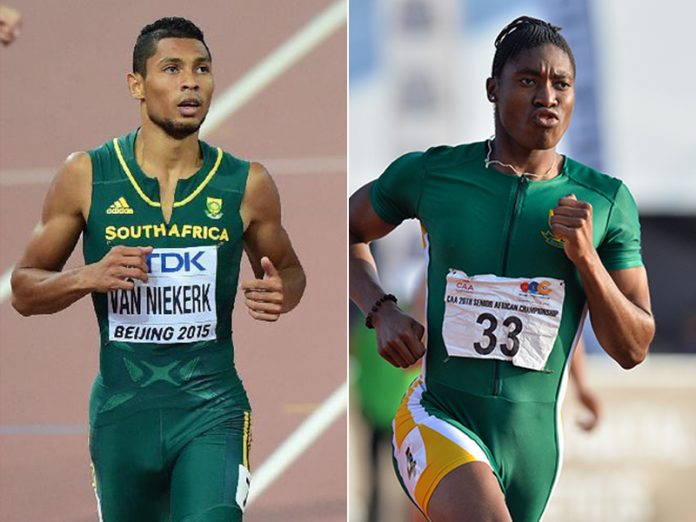 The South African Sports Confederation and Olympic Committee (SASOC) on Thursday named a 39-man national Athletics team for next month's Rio Olympic Games in Brazil. The Athletics contingent forms part of a 137-member Team SA set to compete in various events at the quadrennial spectacle.
Reigning World Champion in the men's 400m, Wayde Van Niekerk would be hoping to add the Olympic title to the global crown he won in Beijing last year, while London 2012 Silver medallist in the women's 800m, Caster Semenya will aim to upgrade to GOLD in Rio.
Beijing 2008 Silver medallist Khotso Mokoena, in-form long jumper Ruswahl Samaai, Beijing 2015 Bronze medallist Anaso Jobodwana, and five-time African Champion in the women's Javelin throw, Sunette Viljoen, are among the nation's most prominent medal hopes.
Meanwhile a press release from Athletics South Africa (ASA) states that three-time African Champion in the men's Discus, Victor Hogan was dropped from the team after testing positive to a banned substance.
The Associated Press (AP) reports that Hogan tested positive for methylhexeamine at the South African Championships in April where he threw a Personal Best (PB) of 67.62m, and that his 'B' sample also came in positive.
ASA President Aleck Skhosana said: "We are not going to comment on this case until after disciplinary process has been exhausted. Our focus for now, is on the massive team we are sending where we are pinning our medal hopes."
It will be recalled that Nigeria's Stephen Mozia won Bronze behind Hogan and teammate Rusell Tucker at last month's African Championships in Durban. However Hogan's recent suspension could lead to a medal upgrade for Mozia who could be awarded Silver.
South African Team to Rio
Men
100m: Akani Simbine, Henricho Bruintjies
200m: Anaso Jobodwana, Clarence Munyai, Gift Leotlela
400m: Wayde van Niekerk
800m: Jacob Rozani, Rynardt van Rensburg
5000m: Elroy Gelant
10000m: Stephen Mokoka
Marathon: Lusapho April, Sibusiso Nzima, Lungile Gongqa
110m Hurdles: Antonio Alkana
400m Hurdles: LJ van Zyl, Lindsay Hanekom, Le Roux Hamman
Long jump: Ruswahl Samaai, Luvo Manyonga, Stefan Brits
Triple jump: Khotso Mokoena
Javelin throw: Rocco van Rooyen
Decathlon: Willem Coertzen
20km walk: Lebogang Shange, Wayne Snyman
50km walk: Marc Mundell
Women:
100m: Carina Horn, Alyssa Conley
200m: Conley, Justine Palframan
400m: Palframan, Tsholofelo Thipe
800m: Caster Semenya
10000m: Dominique Scott
Marathon: Irvette van Zyl, Christine Kalmer, Lebo Phalula
400m Hurdles: Wenda Nel
Long Jump: Lynique Prinsloo
Javelin throw: Sunette Viljoen
20km walk: Anel Oosthuizen