Over 100 athletes participated in the 2016 Athletics competition of the Track and field coaches Association of Nigeria (TFCAN) in conjunction with Fred Agbaje's foundation (FAF), held at the National Stadium Surulere, Lagos.
There were contests in over distance events, including some field events, with the athletes gearing up for the new season by putting up encouraging displays in their races despite the deplorable state of the track at the National Stadium.
Sodiq Adebisi and Funmilola Badewa were adjudged by the officials as outstanding following their good times in the 500m and the 300m respectively. Adebisi posted the fastest time in the 500m, taking heat 1 in 1:05.3, with Ogunmayin Femi the second fastest in 1:06.7, having competed in the same heat.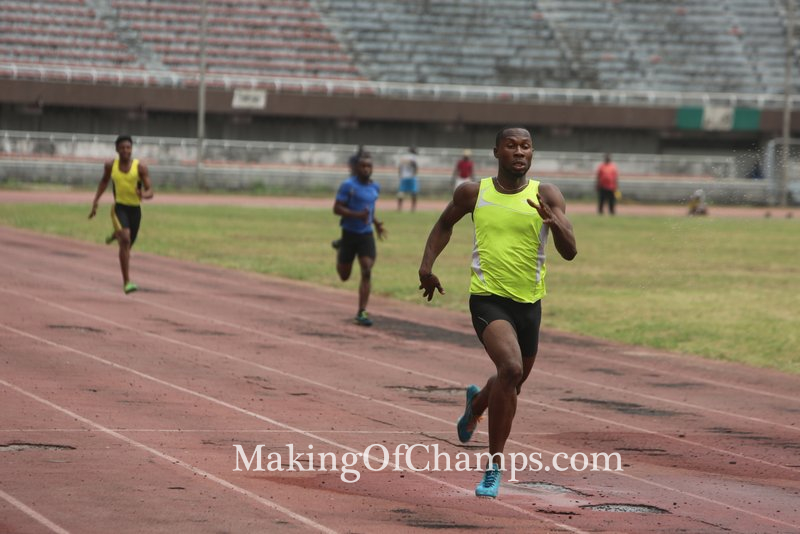 Meanwhile, Badewa cruised through his 300m race in 33.6s as Kayode Jasim clocked 34.2s to finish overall 2nd in all the heats. In the women's category, Yinka Ajayi was the fastest in 1:14.9 winning the 500m, with Aminat Alabi 2nd fastest in 1:16.1.
However, Alabi came back stronger in the 300m, leaving others in her trail as she stormed from lane 8 to take heat 1 and the overall fastest time in 41.0s. Interestingly, Alabi won the Girl's 400m at the Top Sprinter Lagos finals  in 57.23s. In the same heat, Feyishara Edun who also made the Lagos finals last year, finished 2nd in 41.2s.
The shift to the 150m saw the different contests move up a notch. Ruth Usoro displayed the huge promise and potential she carries, blazing through her heat to clock the fastest time of 18.3s. Rasheedat Lawal followed suit, winning her heat in 18.5s, to finish 2nd.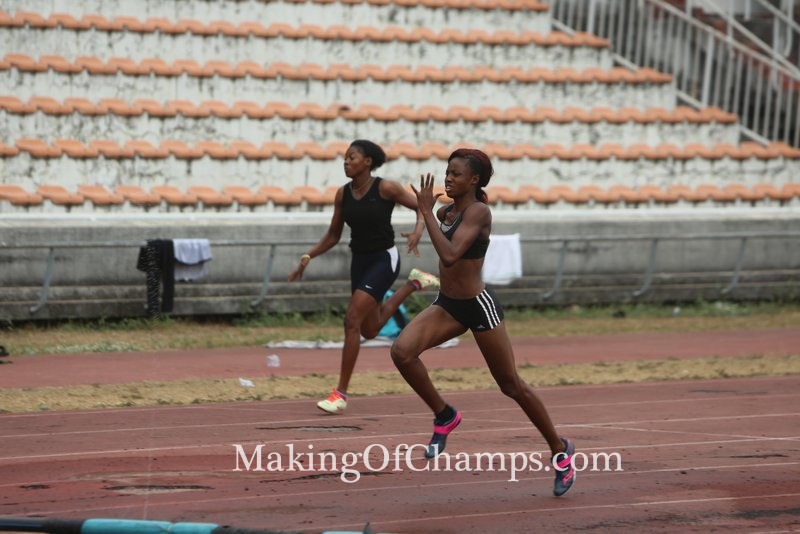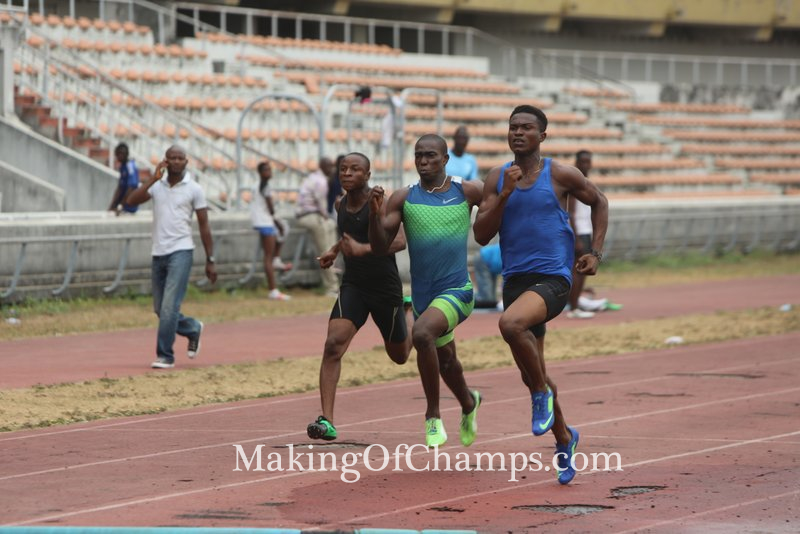 In the men's category, the two best athletes came from heat 3 as Abejoye Oyeniyi was fastest in 16.2s, while Edwin Peter left it late, attempting a dip-in but was unable to take the win, also finishing in 16.2.
Ikoko Onengi after finishing 6th in the 300m in 37.1s, clawed his way to victory in heat 1 of the 300m, running a time of 16.3s. While David Nnorom took heat 2 in 16.6s.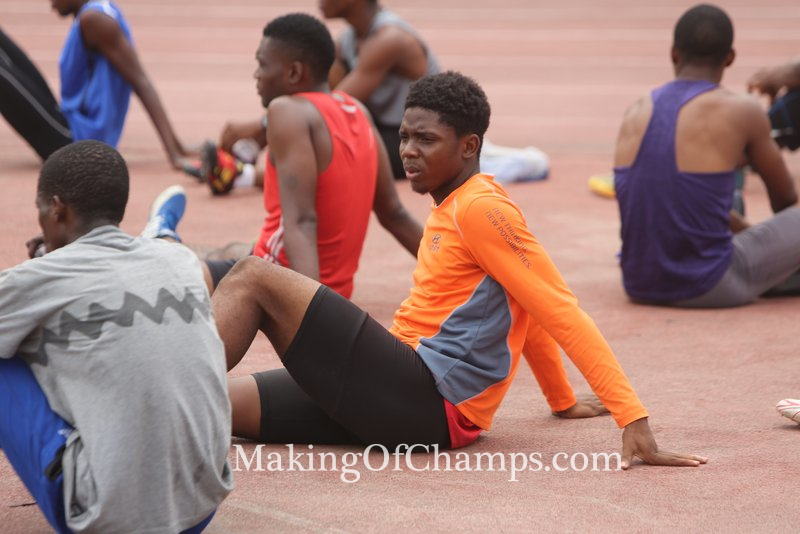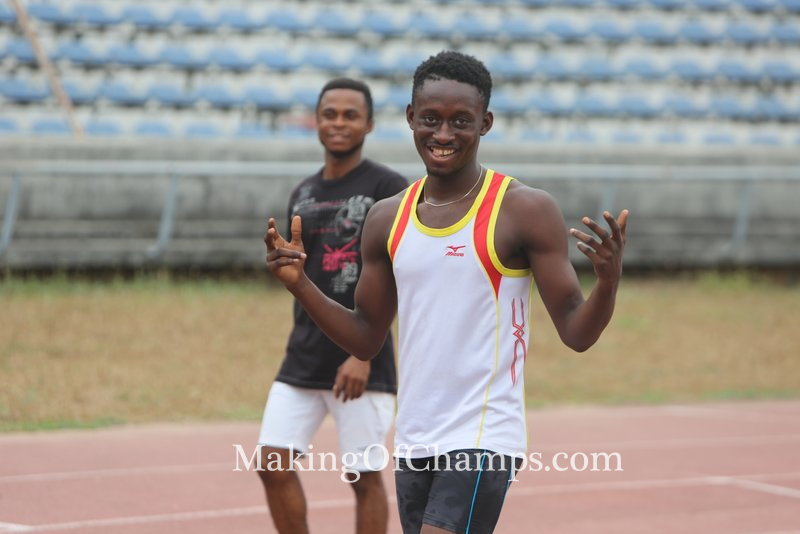 Other notable performances includes that of Toluwani Adebakin whose father was in the stands to cheer him, coming from lane 1 to finish 2nd in heat 5 of the 300m, running a time of 35.5s. Diana-abasi Hanson won that race in 34.6s, as Adedeyi Saheed finished 3rd in 36.1s.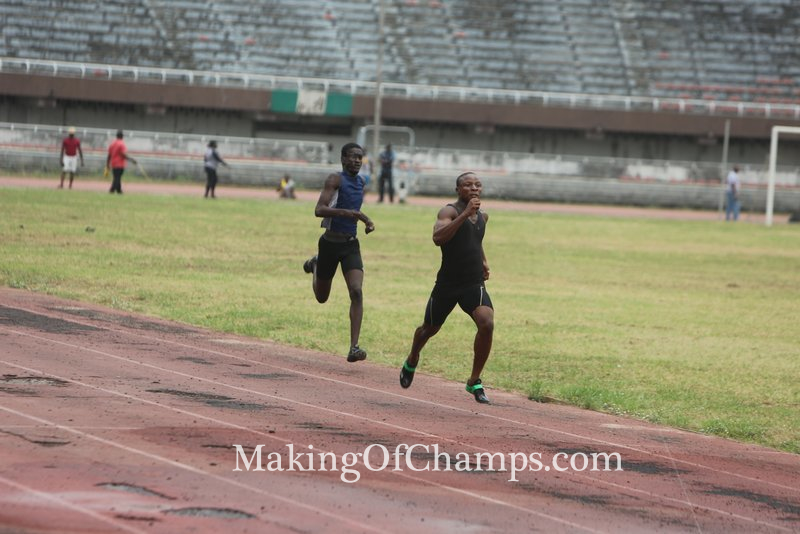 Field Events:
There were just two field events competed for: Hammer and Shot Put. Feyishayo Udoh won the women's 5kg Hammer throw with her best mark of 44.8m, while Celia Ekpeyong finished 2nd with 41.8m and Omizi Sophiat 3rd with 39.1m.
Olawale Olantunji won the men's 8kg event with 43.3m, as Monsuru Ganiyu finished 2nd with a mark of 42.1m, and Olusegun Olusoga 3rd throwing a distance of 26.9m.
In the women's Shot Put, Uju Anoliefo won the 5kg throw with a distance of 12.8m, and Celia Ekpeyong 2nd with 6.6m. Timothy Benjamin won in the men's 9kg category throwing his best distance of 13.1m, with Lucky Laju 2nd with 12.9m as Olawale Olatunji finished 3rd 12.7m.
At the end of all events, the best performing athletes were presented with some gifts by Fred Agbaje, having earlier given the athletes a pep talk on how to remain committed as they work hard to realise their dreams of competing on a bigger stage.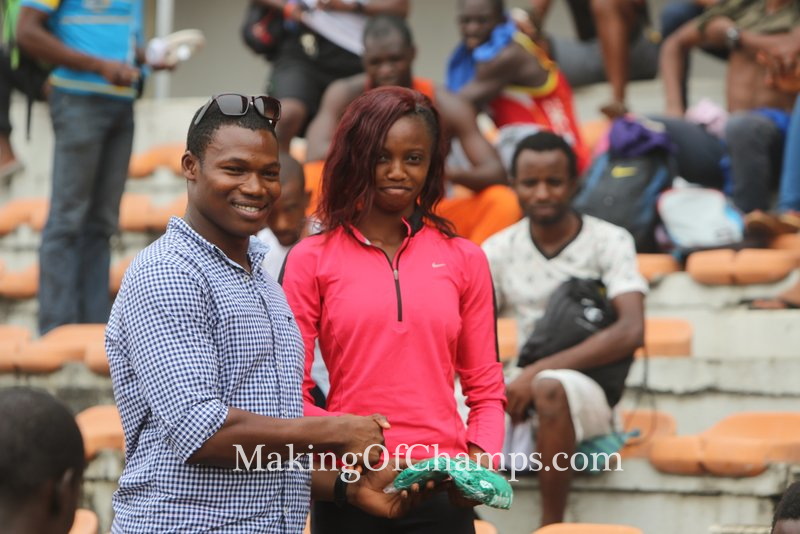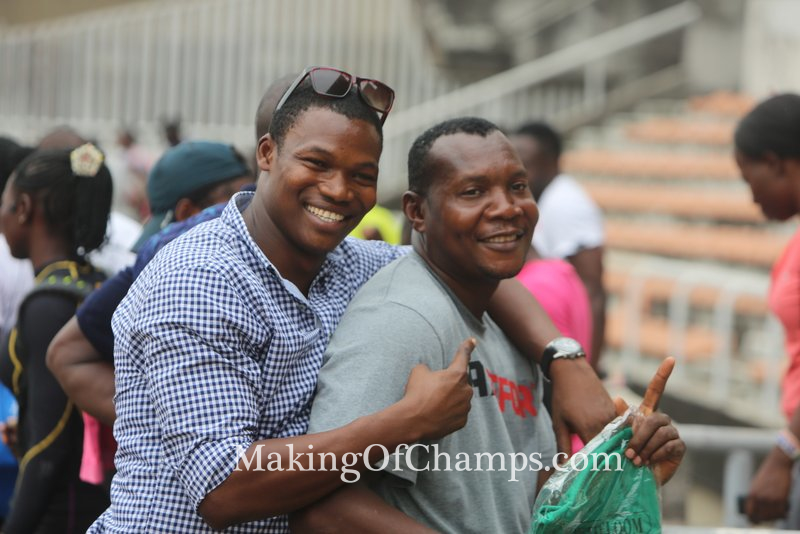 Note: All times in this story are hand-timed, expect for Alabi's time at the Top Sprinter Lagos final.