The Top Sprinter train started from Lagos, made a stop in Ibadan, then Enugu before finally arriving in Benin last weekend for the final auditions of the pilot season. Right from the first episode, it has gone on to become bigger than what was witnessed in previous editions.
Having heard tales of the past auditions, over 250 athletes this time registered to be part of a final opportunity at the University of Benin in order to make the trip to Lagos for the Boot camp and also the finals.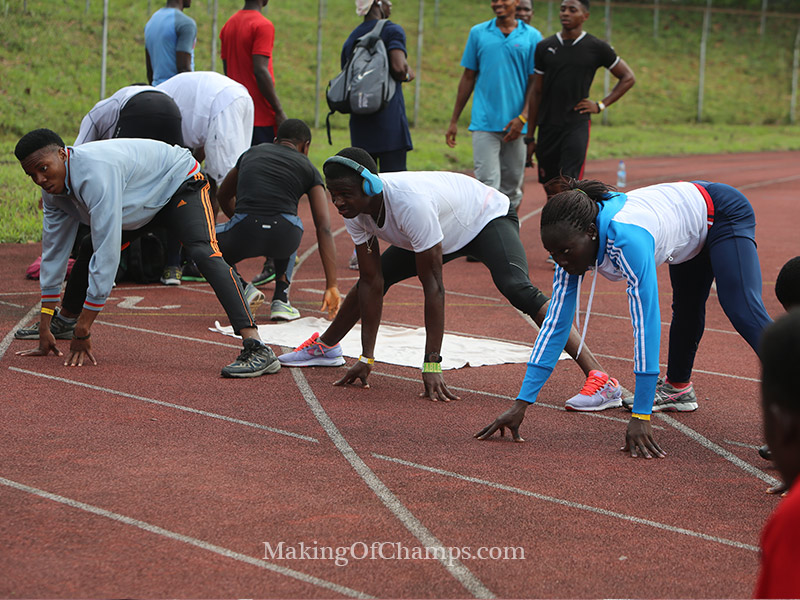 Athletes came all the way from several regions including Jos, Enugu, Port-Harcourt, Kwara, Aba, Akwa Ibom and Abuja amongst others as the buzz had travelled far and wide. From Thursday to Sunday when proceedings were concluded, it was a beehive of activities as the race to find the next generation of Olympians had already heated up.
Top Sprinter's elite cast of judges made up of Deji Aliu, Glory Alozie, Francis Obikwelu and Uchenna Emedolu, a quartet of Olympic medallists who have etched their names in the annals of Nigerian Athletics, were on hand with a keen eye for talents.
For the first time in the Top Sprinter auditions, the hurdle events were held and it was with delight that, Alozie, who still holds the Nigerian and African records of 12.4s in the 100m Hurdles, gave directions as to where the barriers should be placed for the 400m Hurdles, 110m and 100m Hurdles.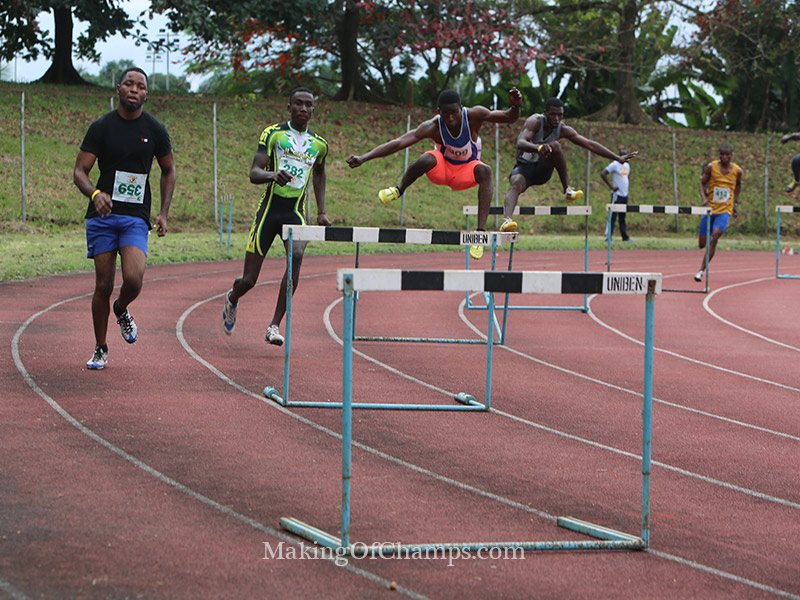 Alozie was very elated with the way Bashiru Abdullahi, African Junior champion executed his 110m hurdles that she stepped out and congratulated him, getting to the finishing line in 14.0s. With keen eyes and heightened expectations, the four judges searched with intent during the two days that events were held, looking for athletes they could give a chance of a lifetime.
It was impressive seeing some of the athletes, particularly in the Secondary School category churn out good times in their races. Raymond Ekenvo won the Boys' 100m in a time of 10.6s, with David Nnorom coming in 2nd, clocking 10.9s and Michael Isaac 3rd in 11.0s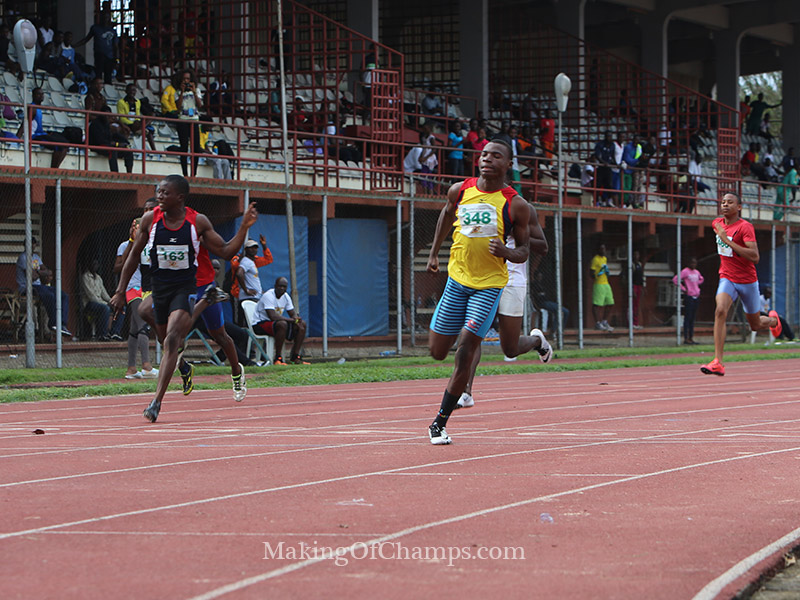 The Boys 200m had Nnorom winning in 22.5s as Timilehin Falolu was 2nd in 22.6s, same time as Chinedu Akhigbe who was 3rd. Toluwani Adebakin came from Lane 1 to win the Boys' 400m in 52.0s, beating Segun Adenuga who was 2nd in 52.1s as Godspower Tammy finished 3rd in 53.3s.
Joy Gabriel won the Girls' 100m in 12.5s, as Nkechi Nwaobia was 2nd in 12.9s and Nofisat Ajiboye placing 3rd in 13.1s. Helen Monday won the 200m in 26.4s ahead of Nwaobia who had another 2nd place finish in 26.4s and Blessing Obarierhu 3rd in 26.7s. Aminat Alabi won the Girls' 400m in 59.0s, with Obarierhu 2nd in 59.6s and Joy Abu 3rd in 61.0s.
The men's 100m was won by Uruemu Idjesa with a time of 10.4s, while Kehinde Olubodun and Diana-Abasi Hanson followed respectively in 10.4s and 10.5s. Earlier this month at the Commonwealth Youth Games in Samoa, Idjesa ran the fastest time in the 100m semi-final, crossing the line to win his heat with a Personal Best (PB) of 10.37s, although he finished 5th in the final with a time of 10.47s.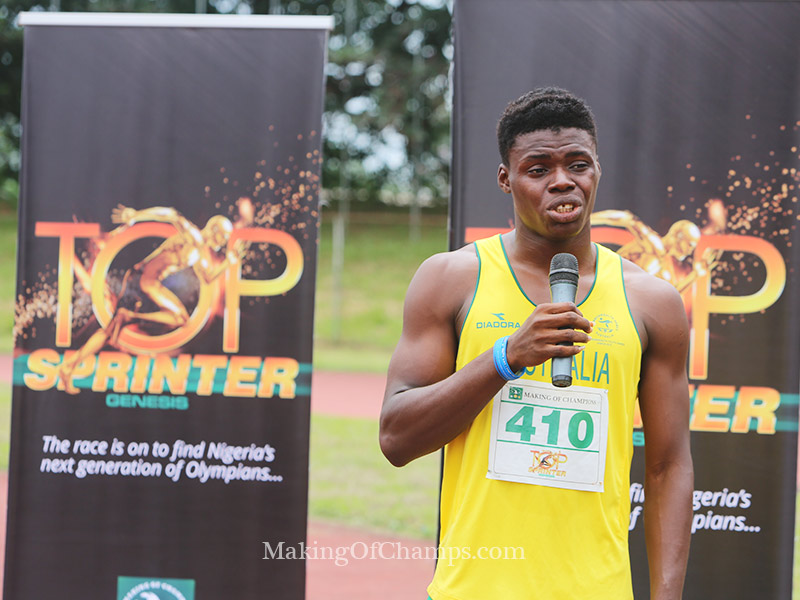 Marvelous Asemota was one of the most outstanding athletes in the women's sprints, taking the 100m/200m double in 12.2s and 25.5s respectively. Knowledge Omovia clocked a time of 12.3s to finish 2nd in the 100m and Uchechi Brown 3rd in 12.3s, while finishing 2nd in the 200m (25.6s).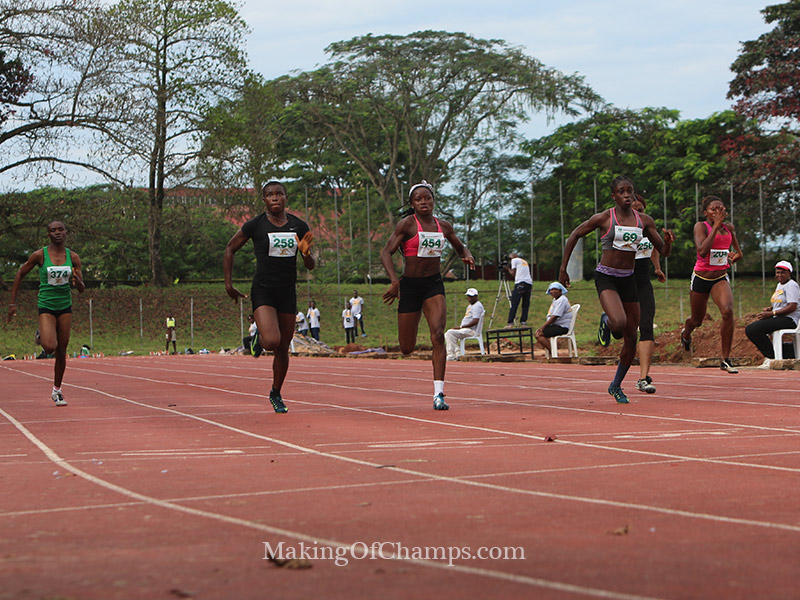 Commonwealth Youth Games 100m champion, Omotayo Abolaji posted the fastest time in the 100m after crossing the line in 11.10s; however she did not run in the final. Nevertheless, she helped Kwara State win the women's 4x100m relay despite getting the baton from a losing position to dip in ahead of Brown who anchored for Abia in 49.5s.
The women's quarter mile event was won by Queen Egege in 56.7s, as Omovia and Mojisola Yahaya followed in 58.0s and 59.6s respectively. It was Kalu Chidozie who took the men's title, posting 49.2s to finish ahead of Japhet Samuel (49.4s) and Chibueze Udigwe (49.8s). Ngozi Nwichi dominated the hurdles, winning the 100m Hurdles and 400m Hurdles in 17.0s and 64.8s respectively.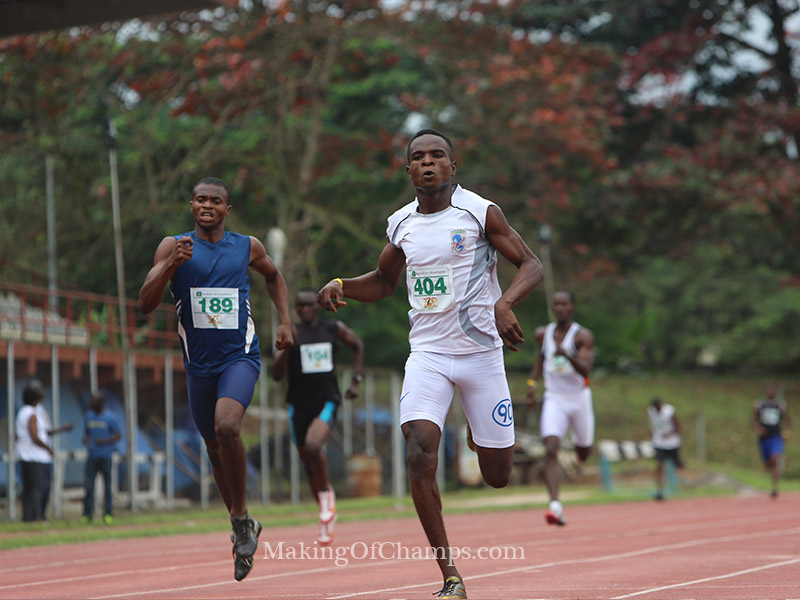 Nigerian athletes show up to support upcoming ones
Some already established Nigerian athletes showed up during the two-day competition to lend their support to the younger ones. 2015 All African Games men's 200m Silver and Bronze medallists, Divine Oduduru and Tega Odele were all at the UNIBEN Sports Complex, and were even invited to hand out awards to some of the athletes.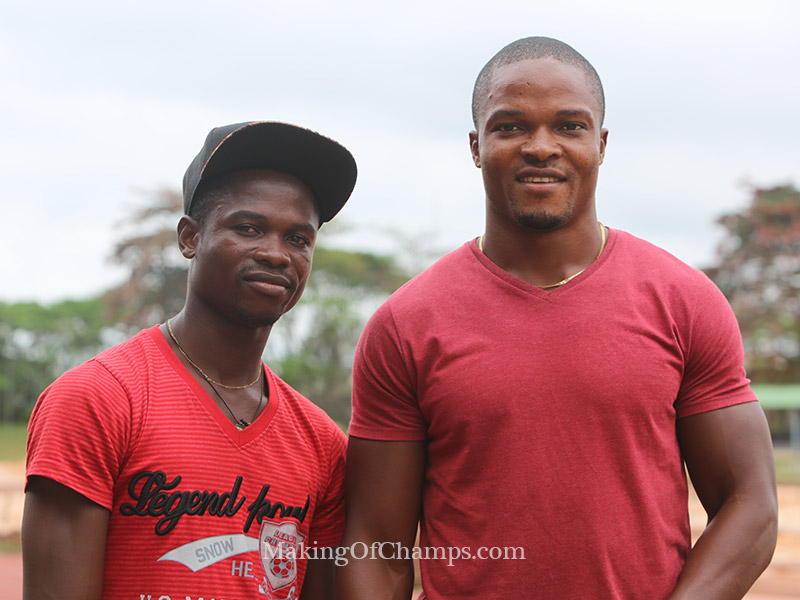 Commonwealth Long Jump champion, Ese Brume was also there, as was Orukpe Erayokan who recently ran a new PB of 44.95s in the 400m. Others like Praise Idamadudu, Nicholas Imhoaperamhe and Hope Idhe also came to show solidarity.
Lagos Finals
With the Benin auditions wrapping up the Top Sprinter Genesis, attention will now shift to the Boot camp which commenced this week, and also the finals coming up this weekend from October 1st to 3rd.
It has been an exciting journey which started back in February, going to three regions out of six in Nigeria as Making of Champions sought for budding athletes who can rule the world in Athletics. When the finals are concluded at the Teslim Balogun stadium this weekend, there will be no doubt that a good machinery has been put in place to constantly produce a pool of athletes for the country.