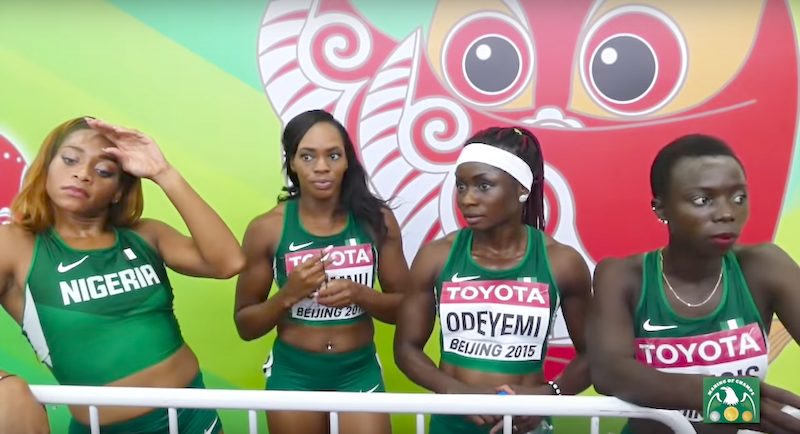 It is no surprise that Nigeria's women's 4x100m will have been disappointed to return a time of 43.89s to finish dead last (by time) of all 16 teams in the Semis of the one-lap relay at the World Championships in Beijing on Saturday (Aug 29). Not since 1987 has Team Nigeria's women's 4x100m team run slower at a World Championships.
Beyond their disappointment at this single performance, their post-race interview captured a team that seemed completely demoralised, particularly the foreign-based athletes, at their experience representing Nigeria so far:
National 100m Champion Gloria Asumnu seemed close to tears but did not mince words in saying that they had been failed by the coaching staff of the AFN, in having no plan for the relay if Blessing was rested for the Semis, a likely scenario even if she had been fit enough to run three rounds of the 200m earlier in the week. Stephanie Kalu summed up her whole experience of representing Nigeria as a "disaster."
Home-based athlete Deborah Odeyemi also said this result was expected since their best was not in the team (likely a reference to Blessing Okagbare), while Cecelia Francis seemed content just being with the team – not surprising given that this was her first time competing outside of Nigeria and competing for Team Nigeria. One can only wonder what the future holds for promising Nigerian Athletes if the team morale is so low…
It's been a championship to forget for Team Nigeria as the nation's hopes of getting a single medal from the competition now rest solely on the women's 4x400m quartet who contest their final on Sunday night (Aug 30) in the Bird's nest stadium in Beijing.
Earlier in the week, Triple Jump finalist Tosin Oke openly lambasted the Athletics Federation of Nigeria (AFN) for their lack of support and the money he is owed, while Nigerian-born quarter-miler, Bahrain's Abbas Abubabar Abbas explained his reasons for leaving Nigerian shores over 2 years ago and switching allegiance to Bahrain to compete for them internationally.
With the chorus of noise about the abysmal management of Nigerian Track & Field growing, one can only hope that a wind of change is coming to lift Nigeria out of the ignominy of Athletics irrelevance on the global stage. It will be a long road back, but the journey of a thousand miles begins with a single, courageous step.