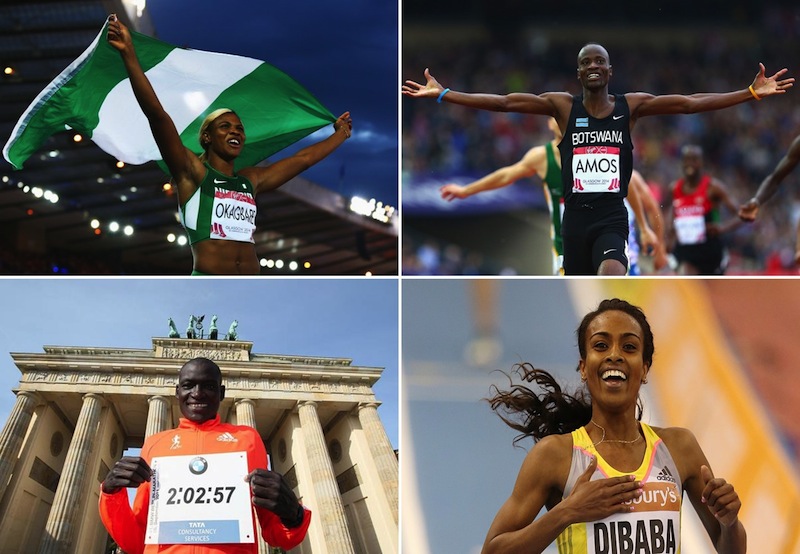 Here's the concluding part of the countdown of our Top 8 African Athletics Performers of the 2014 season, which we kicked off last week with Nos. 8 to 5. Here are the Top 4 African Athletes of the year!
4. BLESSING OKAGBARE
Currently nicknamed 'Africa's queen of the track', the Beijing 2008 bronze medalist is the reigning Nigerian and Commonwealth 100m & 200m Champion, and African 100m Champ as well – she opted out of the African 200m, perhaps to pick her battles in a tough, long season!
She started her Diamond League season, with a 2nd place finish in the 100m, in a time of 11.18s in Qatar. At Shanghai leg of the Diamond League, she won a double with Meet Records in the Long jump (6.86m) and 200m. She ran also a PB of 22.23s in the 200m to come 2nd behind surprise winner Tori Bowie in Eugene.
At the Nigerian Championships in Calabar, she became the first athlete in the Country's Track and Field history to win a sixth consecutive title in the 100m in a CR of 11.06s before going on to make it a sprint double in the 200m in 22.62s.
Tipped as a medalist at the Commonwealth Games in Glasgow, Okagbare lived up to pre-championships expectations. She won the 100m in a Games Record of 10.85s, erasing 0.06s off the previous record before making it a double in the 200m in 20.25s. She also helped the women's 4x100m relay team to a silver medal finish in 42.92s.
At the African Championships in Morocco, she regained her 100m title lost in 2012 by winning with another CR of 11.00s flat ahead of her African rival Murielle Ahouré, before anchoring the 4x100m relay team to a fifth back to back title in 43.65s.
Exhaustion began to set in for the African champion who capped off her season with a 3rd place finish in the 100m in Zurich, and 6th place in the 200m in Brusells, losing out on the Diamond League Trophy in both events.
Okagbare is now the most prolific athlete of the Diamond League since its inception in 2010, notching up her 38th appearance in the series. She participated in nine Diamond League meetings this season, winning four of them. She's ranked second in the IAAF World rankings in the 100m this year, and fifth in the 200m.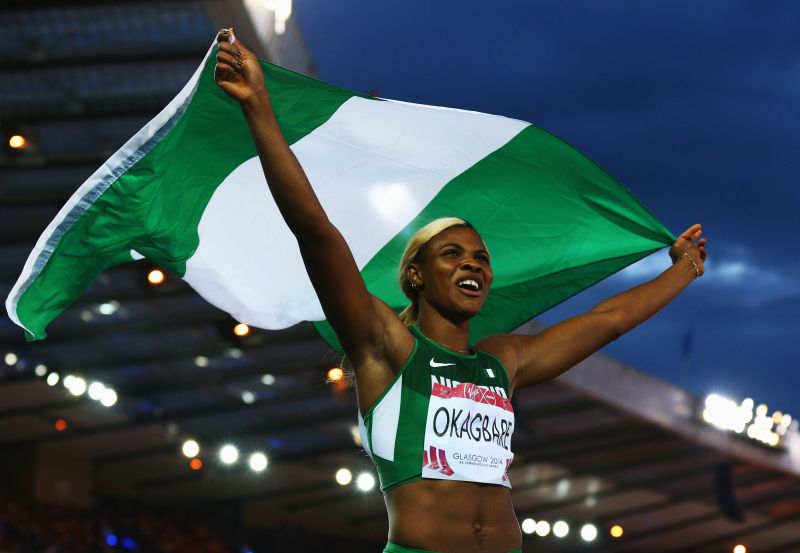 3. NIJEL AMOS
The year 2014 was a phenomenal one on all accounts forBotswana's Nijel Amos as he ended the season as the 800m Commonwealth champion, African title holder, Diamond League winner, Continental Cup GOLD medallist and world leader with a time of 1:42.45s.
The 20-year old Batswana is the only Olympic medalist his country has produced so far, after winning silver behind World Record (WR) holder, David Rudisha, at the 2012 Olympic Games with a World Junior Record of 1:41.73s. He is also tied with Sebastian Coe as the third fastest individual ever in the event.
As the world awaited the return of Olympic champion Rudisha at the 2014 IAAF Diamond League in Oregon, it was Amos who stole the show as he beat the Kenyan to the top spot with a Meet Record (MR) and world leading time of 1:43.63, while Rudisha finished a distant seventh. Thus began a season-long rivalry with the Kenyan who was also returning to fitness after facing some time off the track with injury concerns.
Amos went on to repeat the same feat at the Monaco leg of the series with another MR and world leading mark of 1:42.45, while Rudisha settled for fifth place with a SB of 1:42.98s. The Batswana secured a third victory over the world record holder in an enthralling race at the Commonwealth Games in Glasgow as he maneuvered out of a box to overtake Rudisha in the last 50 meters. He still describes the race as 'the hardest of my life'.
He thereafter went on to win the African Championships in Marrakech and was also a member of Botswana's 4x400m victorious team, which was anchored to GOLD ahead of Nigeria by Isaac Makwala, with a NR of 3:01.89s. He ended the season on a high by inspiring a 1-2 finish for Africa at the IAAF Continental Cup in Marrakech and his outstanding feat earned him a nomination as IAAF male athlete of the year.
2. GENZEBE DIBABA
Whilst elder sibling, Tirunesh is has taken some time off the track in 2014, middle distance runner Genzebe Dibaba has ensured that the family name remains relevant, going by her exploits in the 2014 athletics season. Genzebe's amazing feats in first few months of 2014 are difficult to forget in a hurry.
The Ethiopian set a whooping three World Indoor records in 15 days during the 2014 indoor season. She ran a time of 3:55.17mins in the 1500m on February 1 in Karlsruhe, Germany, beating the previous indoor world record by over 3 seconds. Five days later, she was in record breaking form again as she ran 8:16.66mins in the 3000mat the XL Galan meeting in Stockholm, Sweden.
On February 15, she ran 9:00.48mins for two miles at the Birmingham Indoor Grand Prix, taking 6s off the previous record set by Meseret Defar before capping her indoor performance by winning the World Indoor 3000m in Sopot, Poland.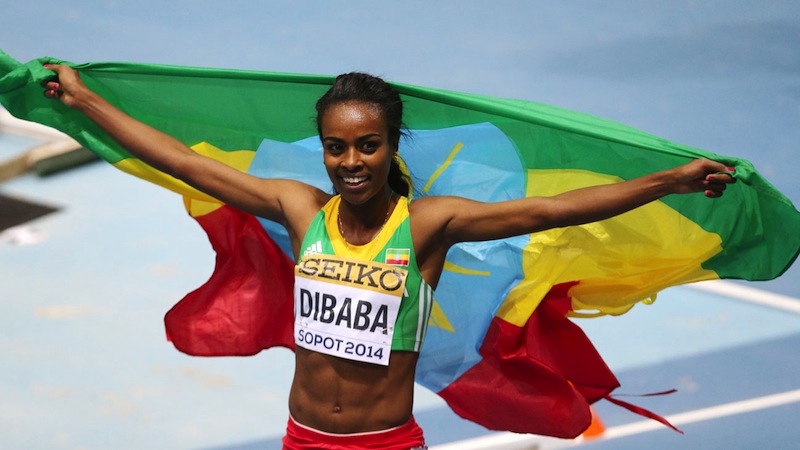 With these records, Genzebe is now one of only three athletes in history to break three world records in three different events in less than two weeks, joining Jesse Owens and Usain Bolt in the exclusive club. She stands alone as the only one to do this feat in three different cities and meets.
The outdoor season turned out to be a mixed grill as Dibaba opened her Diamond League campaign with a sixth place finish in Doha (3000m), then recorded wins in Rome and Monaco (5000m). Her time in Monaco remains the fastest in 2014. She also went on to win the 2000m with another World Lead (WL) of 5:27.50 at the IAAF World Challenge in Ostrava.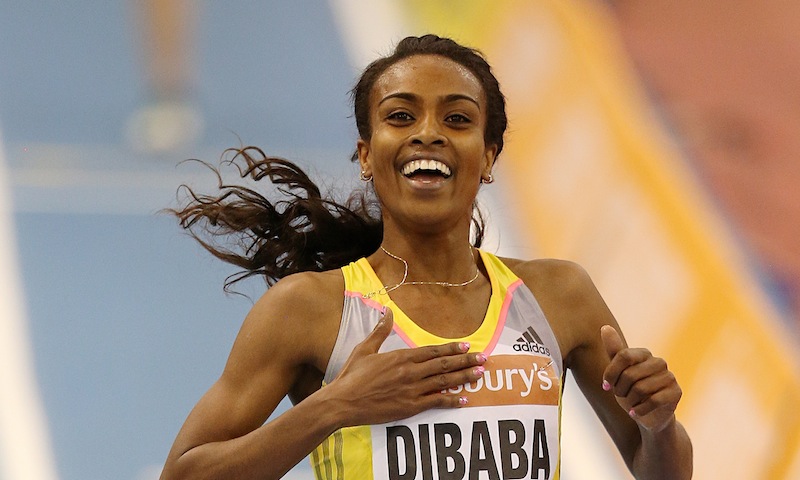 However, she was beaten to the African title by compatriot and world bronze medallist, Almaz Ayana who has the second fastest time over the 5000m this year. Dibaba followed in second place but made up for her defeat by scooping the IAAF Continental Cup in style, making her the fourth consecutive African winner of this title and the first in her famed family to win a World or Continental Cup title.
1. DENNIS KIMETTO
It is often said that to win a race, you have to beat everybody who shows up on the day, but to set a World Record (WR), you have to beat everybody who's ever shown up. Kimetto did both as he blazed his way to a marathon WR in 2:02:57 hrs, carving 26s off Wilson Kipsang's previous record. He therefore became the only man in history to have broken 2 hours 3 minutes for the distance.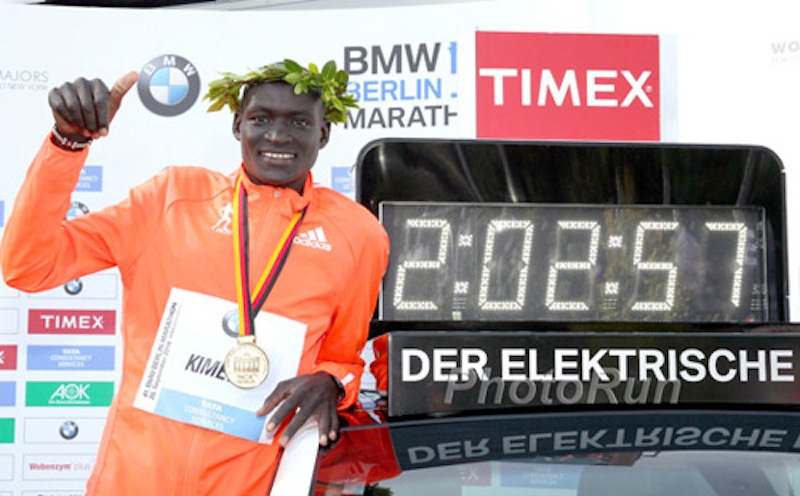 His WR is a major significance to world athletics considering the fact that the Kenyan only started serious marathon training in 2010, and has won 3 out of 4 full marathons he's ever participated at, with one 2nd place finish coming in Berlin in 2012. Kimetto has had an outstanding progression in the long distance races, breaking his first major record at the BIG 25km race in Berlin. His time of 71:18mins at the race knocked a sizeable margin off Sammy Kosgei's WR of 71:50s.
He then made the fastest marathon debut in history again running in Berlin, recording a time of 2:04:16 hrs behind training partner Geoffrey Mutai to set the fifth fastest run at that time. Moving forward, Kimetto set a new course record of 2:06:50 hrs at the 2013 Tokyo Marathon and another course record time of 2:03:45 hrs at the Chicago Marathon.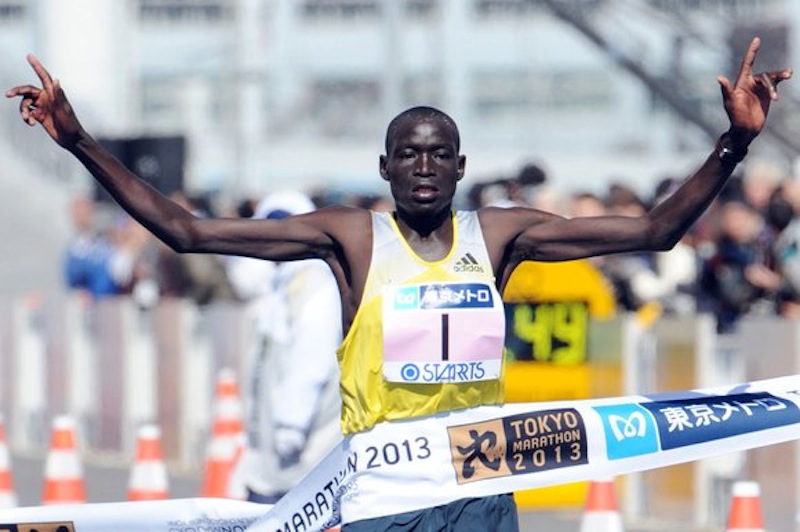 Not many people apart from distance running fans knew about Kimetto before his WR feat this year, but his astounding progress within the space of four years with a positive belief that he can still go under his WR deservedly earns him this spot. He's also won the Association of International Marathon and Distant races (AIMS) award as best marathon runner in 2014 and made it into the Top 3 finalists for the IAAF Male Athlete of the Year award.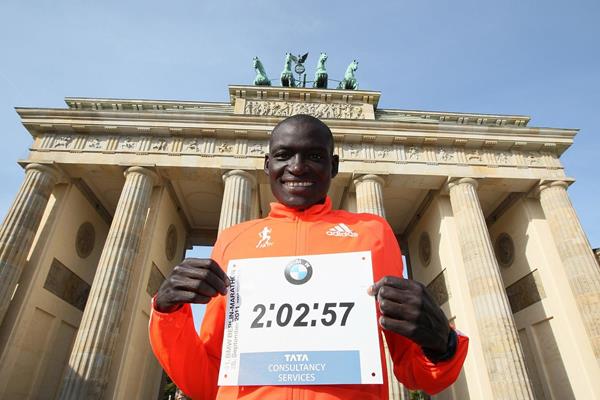 With a new marathon World Record, Several Indoor World Records, a 400m African Record and several African & Commonwealth Championship Records set, one can only conclude that it's been an excellent 2014 season for the African continent! We can only hope that these results are consolidated on to ensure that better performances are posted in 2015 for the World Championships and in 2016 for the Olympics!