The world has witnessed the cross-carpeting of African athletes from their home countries to others from time past till date, and Nigeria seems to have a high statistic in this regard. The rate at which the continent's most populous nation is losing her world class athletes to other countries, especially the oil rich ones in Asia, is alarming and should be a matter of concern for all sport loving Nigerians.
In the first two days alone of the recently concluded 17th Asian Games in South Korea, African-born athletes bagged five gold medals in seven races. Two of such medallists were Nigerian born Femi Ogunode of Qatar and recently naturalized Kemi Adekoya of Bahrain.
Ogunode went on to become double Asian Games record holder in both the 100m and 200m (9.93s & 20.14s), while Adekoya claimed a 400m and 400m Hurdles double (51.59s & 55.77s) – she also ran Asian Games records in the heats of both races (51.11s & 55.09s), meaning that both she and Ogunode have run faster than any Nigerian athletes in their respective disciplines this season, American recruits included!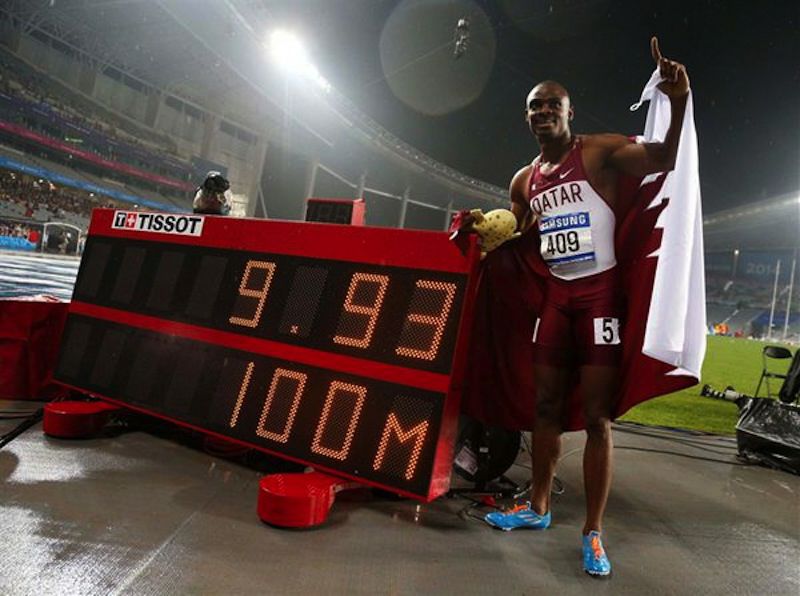 Interestingly, Ogunode became the second "Asian" in history to break the 10s mark in the 100m after Samuel Francis, also a Nigerian-born Qatari, first did it seven years ago in 9.99s. Francis was a finalist in the race but finished 8th after he looked to be suffering from a leg injury. 
Ogunode was born in Nigeria but acquired Qatari nationality in 2009, and promptly won a 200m/400m double at the 2010 Asian Games (20.43s & 45.12s). After serving a two-year ban for doping, he returned to competition in January 2014 and he kicked off  the season well with a 60m World Indoor Championship bronze medal in March. He then ran a wind-assisted 20.06s in Bulgaria, before coming 3rd twice for Team Asia-Pacific in the 100m and 200m event at the IAAF Continental Cup in Marrakech.
Adekoya just began competing for Bahrain in 2014, after years of impressive, yet seemingly unheralded progression in Nigeria. She established herself as a hurdler at national level in Nigeria in 2011, placing 5th at the Nigerian Championships. In 2012, she was runner-up at the Nigerian Olympic trials, and repeated the feat at the 2013 World Championship trials,  setting a new PB of 55.30s (putting her in the world's top 30), and finishing runner-up in both years to Ajoke Odumosu, Nigeria's leading hurdler.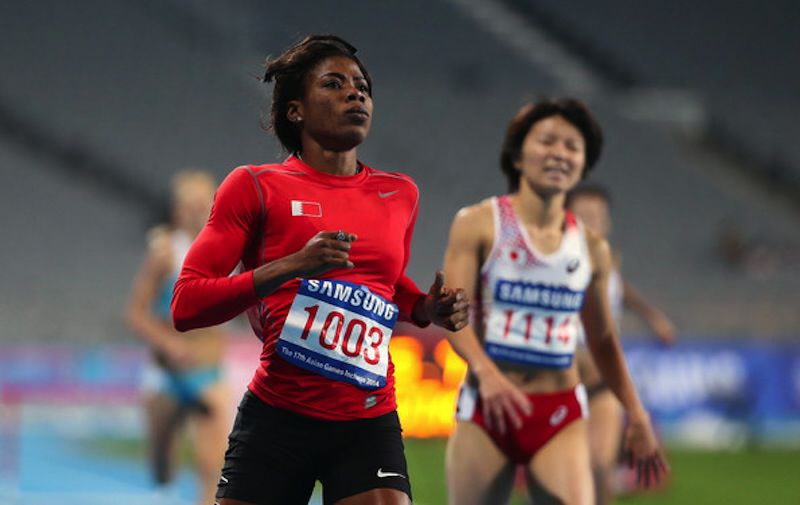 In 2014, she marked her debut in the Diamond League circuit by defeating the entire elite 400m hurdles field in a surprise win and world lead of 54.59s, setting a new National Record (NR), this time, not for Nigeria, but her newly adopted country, Bahrain. Her rise to prominence has been impressive, and one must wonder if Nigeria could not have done more to keep one of the nation's brightest young athletes. Surely if the funds being showered on the likes of Nigeria's recently naturalized Americans were showered on the likes of Adekoya, she could not possibly have been seduced by Middle Eastern oil dollars?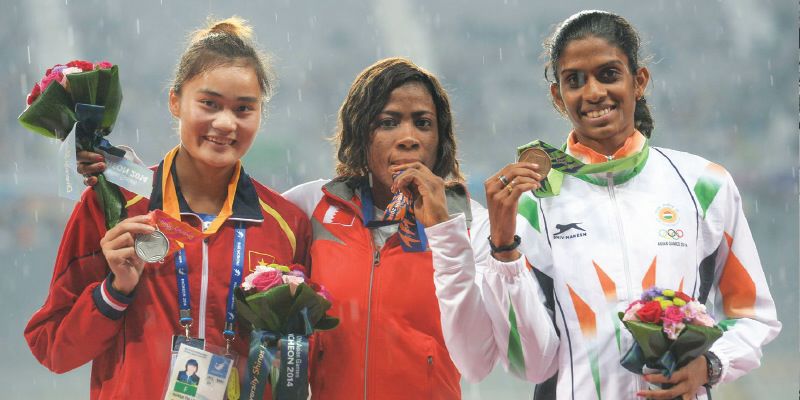 While there is a common misconception that these athletes have 'betrayed' their fatherland, the question that we really ought to ask ourselves as a nation is, WHY DID WE LET THEM GO? These athletes have not donned the colors of other nations out of un-patriotism – they have done so seeking to make a living from the sport they love, a living that they could not possibly make under the current conditions of the sport in Nigeria.
Tune in next week for Part II of this tragic tale of Nigeria's "Brawn Drain" – why are we letting our best talents switch to other countries in the prime of their careers?