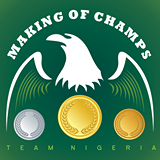 Making of Champions (MoC) Ltd, the company founded by Sports Entrepreneur & Film-Maker Bambo Akani, is a year old this month, and ahead of the start of the Commonwealth Games next week, we are celebrating our 1-year anniversary with the launch of this AWESOME brand new logo!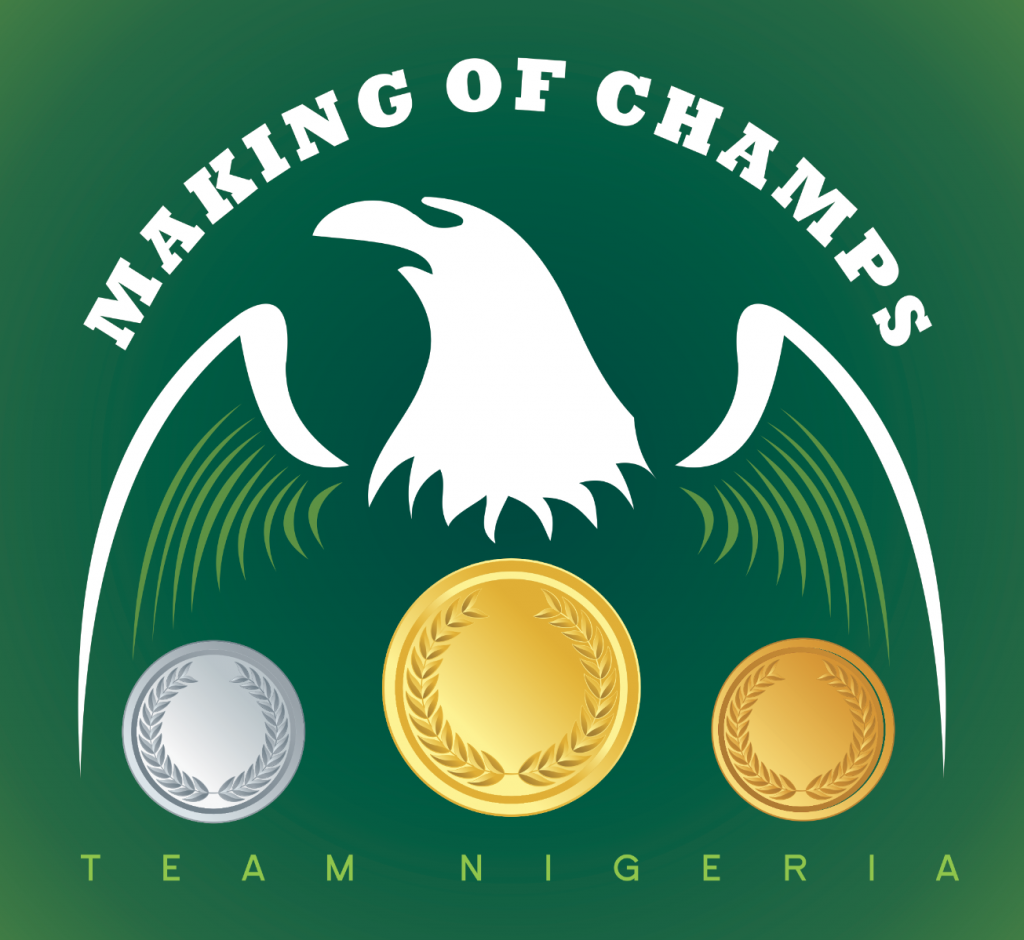 The Making of Champions Movement has come a long way in the past year. It all started with the Making of Champions: "The History" film, which was made to showcase Nigeria's rich Olympic medal history in Athletics (Track & Field) and lays the foundation for how Nigeria can return to reckoning on the world stage! And that is what this movement is all about. The first major highlight for the company came in August 2013 following the World Championships in Moscow, when the then Nigerian Sports Minister, Mallam Bolaji Abdullahi, personally commended MoC Founder Bambo Akani for his reporting on this blog of Blessing Okagbare winning Nigeria's first World Championship medals in 14 years. At the behest of the Minister, Bambo was flown in from London to Abuja as a Sports Consultant to help run a 3-day strategy session on installing a High Performance System for Sports in Nigeria!
2013 ended with an international roadshow for Making of Champions: "The History", where we took the film to 4 different cities across 3 continents, including Atlanta, London and Abuja, where the Athletics Federation of Nigeria (AFN) President and Technical Director, Solomon Ogba and Omatseye Nesiama, were our special guests, along with Nigeria's newly appointed High Performance Directors for Athletics and all Sports respectively, Eric Campbell and Angie Taylor! The film consequently premiered at the iREP Documentary Film Festival in March 2014 and has received rave reviews everywhere it has screened! A special pre-Commonwealth Games Screening will take place at Eko Hotel this Sunday July 20th at 4pm. This will be the Nigerian Athletics Event of the year – don't miss it!
Another highlight of 2013 was the Road to Brazil Documentary Shoot, which took place in Salvador Da Bahia in Brazil during the World Cup Draw in December! It featured several Portuguese-speaking Nigerian Exchange Students from Obafemi Awolowo University who were in Salvador for their year abroad programme, and were lucky enough to be there when the Super Eagles played in the Confederations Cup! Road to Brazil also featured several Brazilians fans and an Argentinian super-fan showing their support for the Super Eagles, such was the goodwill for Nigeria in Salvador, a city infused with Nigerian and Yoruba cuisine, language and religion, passed on from the slaves who were taken there during the transatlantic slave trade centuries ago! Road to Brazil was released online as a series of shorts during the World Cup, in support of a Nigeria team that did the nation proud with a 2nd round showing!
At the very core of Making of Champions is the firm belief that Nigeria can become the No. 1 Track & Field nation in the world within 5 years, and 2014 has been all about setting those lofty ambitions into motion! MoC Social Media was launched in April 2014, and in just THREE months, the interest and engagement for Nigerian Athletics has been overwhelming – we already have well nearly 6,000 fans across our social media platforms on Facebook, Twitter and Instagram! Our YouTube Channel has over 60 videos with a combined 12,500 views since 2013, while the viewership of this blog has more than quadrupled from just 3,000 in 2013, to over 13,000 in the first seven months of 2014! We are steadily growing a fan base and viewership that will soon attract the support of Corporate Nigeria to our cause, which is to revolutionise Athletics in Nigeria!
With such unprecedented growth of our Athletics fan base, MoC Ltd has also has to expand to keep up with the high demand for our content. We brought on a team to help with our Social Media Launch in April, and since then we have also brought on volunteers to write stories for the blog and manage our social media handles! The expansion will continue and very soon we will be recruiting for full-time Social Media Managers and Sports Journalists to write our stories. Once we have investor or sponsor funding in place, we will also be making hires for Sports Administration and Management Professionals, as well as coaches, as we seek to launch Nigeria's first ever Professional Track Club, to train athletes at home to become our future Olympic and World Champions!
Perhaps the highlight of 2014 so far has been our live media activation at the first ever World Relay Competition in the Bahamas, which MoC Founder Bambo Akani attended as an accredited photographer and captured Team Nigeria's best images from the competition, including a fantastic Bronze medal in the women's 4×400 metres. He also coordinated a poignant Bring Back Our Girls campaign which the whole Athletics community participated in, from the star athletes such as Blessing Okagbare, Christine Ohuruogu and Yohan Blake, right up to the IAAF President himself, Lamine Diack. Bambo also reported live from the Nigerian National Championships in June, and from March to June he appeared as an athletics pundit in a new weekly segment on the Sports Tonight Show with Toyin Ibitoye on Channels TV!
We're only half way through the 2014 Athletics season, and we're building up to our live activation at the Commonwealth Games in Scotland next week, as well as the African Athletics Championships in Morocco in August. There's also still plenty more to come from the International Diamond League circuit, which we have been reporting on, including live social media during each event! These are truly exciting times for us, as we believe that this is the beginning of the revival of Team Nigeria at the Olympics! Join us in celebrating our 1-year anniversary at the special pre-Commonwealth Games Screening of Making of Champions: "The History" at Eko Hotel, VI, Lagos this Sunday at 4pm!