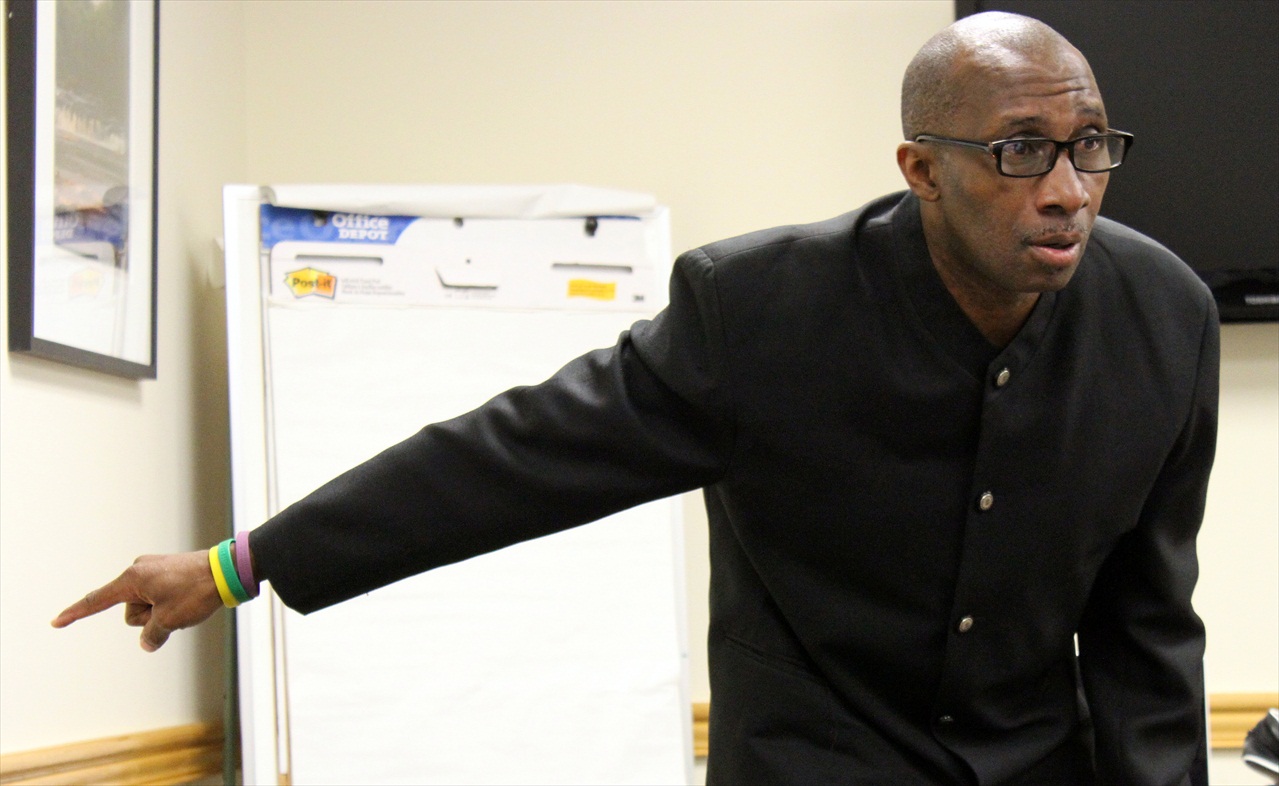 "This film has changed me." These were the words of Innocent Egbunike, Nigeria's Head Athletics Coach from the London 2012 Olympics, after the Atlanta viewing of Making of Champions: "The History", on Monday. The film was once again very well received, and generated lots of discussion afterwards, on all the possible ways forward for Nigeria in Athletics. Here are some pictures from the roundtable discussion which followed the film viewing, and lasted well over an hour!
Many thanks to the Parks & Recreation Office in Atlanta for hosting the event, and to Innocent Egbunike, for gracing us with his presence. He features quite prominently in the film, so it was fantastic having him there to support. He also attended with one of the athletes he's currently training – Reggie Witherspoon, who happens the be a 4x400m GOLD medallist for the USA, from the Beijing '08 Olympic Games!
The next stop is London tomorrow! Here are all the details you need – it's the last stop on the International Roadshow (at least for 2013), and Glory Alozie, an Olympic Silver Medallist for Nigeria, has flown in all the way from Spain to attend tomorrow's screening – you don't want to miss it!
LONDON, UK, with Glory Alozie!!! (Facebook Event Page: https://www.facebook.com/events/218165215029279/?source=1)
Date: Saturday December 14th 
Time: 7 – 9.30pm
Venue: The Chapel, Jesus House, 112 Brent Terrace, Brent Cross, London, NW2 1LT
 Glory Alozie, another one of the stars of the documentary, will be joining the Atlanta viewing! Alozie is the last person in all of Nigeria, to win anIndividual Olympic Medal on the Track, when she won Silver in the 100 metre hurdles at Sydney 2000. In 2001, she switched nationalities to compete for Spain and has lived there since – but in a monumental show of support for the film, Alozie will be flying in from her base in Spain to join us at the London viewing! Her achievements while she represented Nigeria are no small feats either!:
– 100m Hurdles World Championship Silver Medallist (1999)
– 100m Hurdles Olympic Silver Medallist (2000)
– African & Commonwealth 100m Hurdles Record Holder (since 1999!)
Refreshments will be served at the beginning, and Q&A with the Director and Glory Alozie will follow the screening tomorrow! Thank you for your attention, and we look forward to seeing you at one of the viewings!