Top Sprinter 'Genesis' is finally here!
You've seen "The History" of Nigerian Athletics in our feature-length Making of Champions film (if you haven't, look out for a screening near you soon)! Nigeria's immense potential in Track & Field is not in question – it's never been in question. Now it's time to do something about it.Top Sprinter is a Reality TV show designed to unearth Nigeria's raw talent in Sprinting and train them up IN Nigeria to become world class athletes.
Ultimately, the goal is to birth a group of home-grown superstars that can win medals for Nigeria at the biggest stage of all – the Rio 2016 and Tokyo 2020 Olympic Games! For 2015/16, the Top 12 Athletes discovered in the pilot, Top Sprinter Genesis, will join MoC's upcoming Track Club, and will be sponsored by MoC to train FULL-TIME for at least ONE YEAR, and longer if they prove their mettle as future world beaters! Can Nigeria return to winning ways at the Olympics?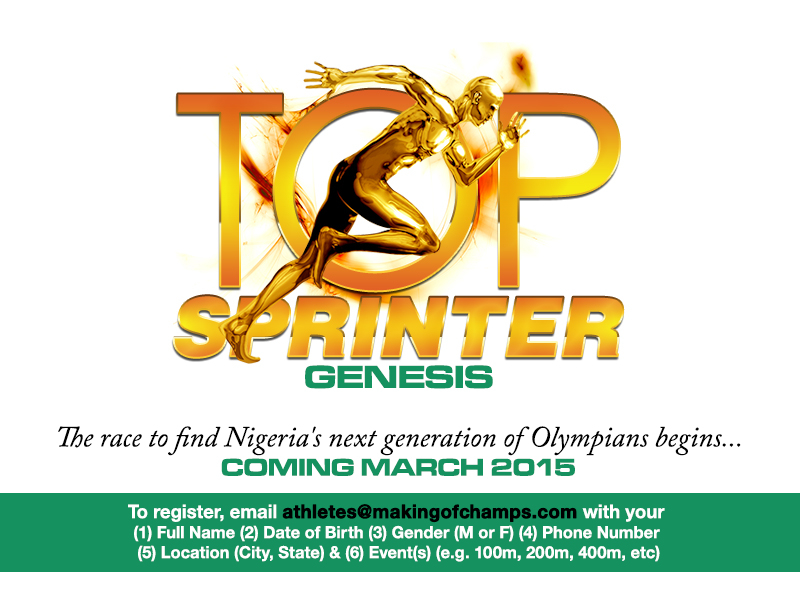 One of Nigeria's fastest men ever, Deji Aliu, is teaming up with Making of Champions in our quest to find Nigeria's next generation of future Olympians by helping to recruit athletes for and launch Top Sprinter Genesis. Aliu is one of  only eight men in Nigeria's history to run sub-10 seconds in the 100 metres, and his partnership with MoC brings the much needed technical knowhow to our plans to launch Top Sprinter and the MoC Track Club – when we first met him during the 2014 Ibile Games, we profiled his Akhigbe Track Club, which he launched in January 2014 and has been running since, despite the lack of sponsors or funding.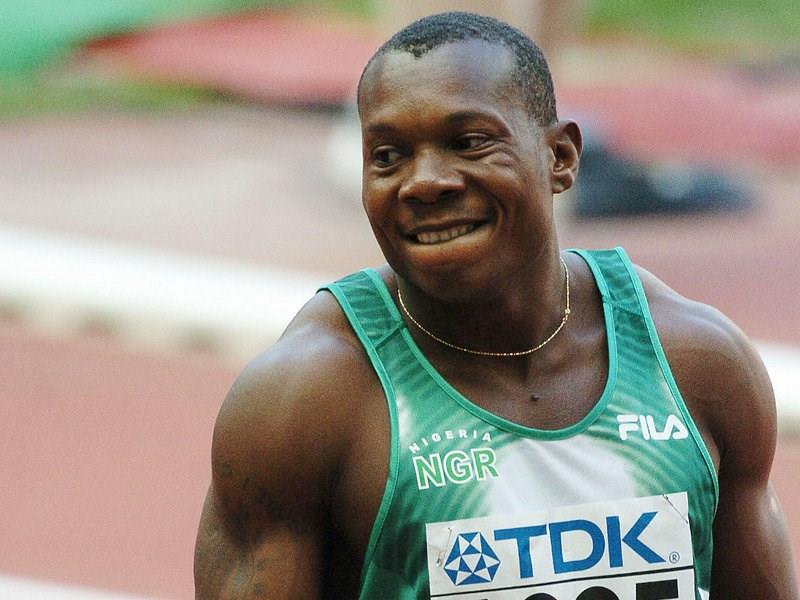 Top Sprinter will eventually evolve into the biggest ever talent search for athletes that the world has ever seen. 170 million people, 36 states, hundreds of cities, thousands of schools, and limitless sprinting potential just waiting to be discovered. After everything we've learnt about the West African origins of Jamaican sprinters, do you believe that the next Usain Bolt could come from West Africa? We certainly do, and we're starting our search right here in Nigeria!
Gone are the days where African countries like Nigeria can expect to achieve global success in Athletics by outsourcing its talent development to the American collegiate system. Like the Jamaicans decided barely 15 years ago, it's time to pick up the reins and do it ourselves. Their results are clear for the World to see, with only 3 million people. Can Nigeria do the same and more, with over 170 million people? Only time will tell, but Top Sprinter is a must see to find out!
Athletes
Making of Champions is therefore calling ALL aspiring athletes between the ages of 16 and 25, male and female, anyone with the dream to represent Nigeria at either of the next two Olympics, to register for the game-changing Top Sprinter Genesis without delay! Even if you are not currently participating in Athletics – do you think you have the talent? So you think you are fast? Come and show us and we could Make you a CHAMPION!
There will be closed pre-screening "auditions" for Top Sprinter Genesis throughout February, but only for registered participants! To register for Top Sprinter Genesis, please email [email protected] with the following details, and we will then extend invitations for the closed "auditions":
(1) Full Name
(2) Date of Birth
(3) Gender (M or F)
(4) Phone Number
(5) Location (City, State)
(6) Events of Interest (e.g. 100m, 200m, 400m, etc)
Watch out in February for more details of the Reality TV Pilot, Top Sprinter Genesis, including the dates for the Trials in March, a 3-week Bootcamp and the FINALS, which will decide the Top 12 Athletes to join MoC's Track Club for an initial ONE YEAR, and maybe more!
The identities of our other celebrity coaches, who will join Deji Aliu on our 'panel of judges' for Top Sprinter Genesis, will soon be revealed too – watch this space!
Sponsors
If you would like to partner with us by sponsoring "Top Sprinter", please contact us at [email protected]