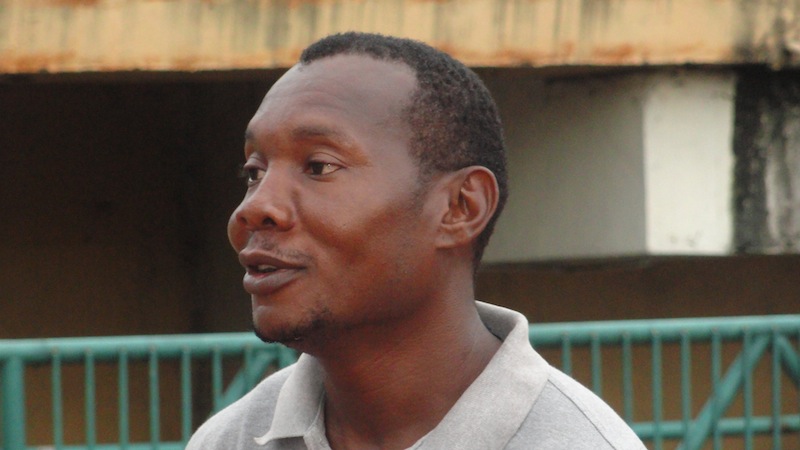 Yesterday, we published the story Nigerian Athletes competing well EVERYWHERE…EXCEPT NIGERIA, where we asked why as Nigerians we are not doing enough for our athletes, many of whom go abroad and even defect to other countries in their bid to make a decent living from their profession. Well, here is one former Olympic Medallist who is trying to do his part to elevate Nigerian Athletics!
During the recently concluded Ibile Games (Lagos State Sports Festival), Making of Champions Founder, Bambo Akani, sat down with Nigeria's 60 metre National Record Holder, Deji Aliu, to discuss his time competing for Nigeria, and a brand new Track Club he has set up in Lagos to train athletes. Here is the concluding part of that Interview – enjoy! (Click here if you missed Part I)
So you have started your own Track Club right here in Lagos? Does it have a name?
Yes, this is my own little camp. The name of my club is Akhigbe Track Club – the club is named after my late coach, Abel Akhigbe, who discovered me. We just started in January 2014 and it's been positive so far. We have about 10 athletes now, and as you can see, these are young guys who are just coming into track for the first time. They range from as young as 15 to 23 years old.
How did you find and recruit these athletes to your club?
I've not really gone out to recruit so much, but most of them got in touch with me online, via Facebook, to ask me to help them train. Also, I get approached at competitions like this Ibile Games, by some of the athletes competing. I initially started with 2 athletes – my late coach's kids, Segun and Deji – who decided they wanted to partake in Track & Field and asked me to help them. So I started with both of them, and it's been growing.
What kind of resources do you need to run this club?
Track & Field requires steady finances for the athletes to do well. We don't have all the training facilities we want, but we still just make do with what we have – like these boxes you see here which we did ourselves. When we need the gym there is a private gym nearby we can go to, but we have to pay for each member of the club that uses the gym. It requires a certain amount to get it up and running, so I'm trying my very best to keep it going – we're getting there
Do you get any support or funding from anywhere?
No, no. Right now, nothing. What I am trying to do right now is get these athletes to a certain level, where I can show them to the world, where people can then see this is what we're doing. The average Nigerian wants to see results, and hopefully we can start showing that in 6 to 9 months. If I can get an athlete out there who is flying, people will start asking questions like "Who is your coach", "When did you start" and "Where did you start"? Then, hopefully I will be able to get some support or funding.
Who is your fastest athlete right now? 
I would not want to talk about that right now. You know they are young, and things like that can get to them at this stage of their development. Even in training, I try not to praise anybody. You know when you praise some, the others could start feeling down as well, so mostly I don't talk about who is faster. But honestly, they are all doing very well. I'm really encouraged as a coach.
Ok, so without naming names, can you make any predictions about when and where we might start hearing about your athletes?
What I can tell you for a fact is this – I have 3 athletes right now whom, all things being equal, should be able to represent Nigeria at the Junior (U-20) or Youth (U-17) level next year, with the way they're going right now.
Are any of your athletes in school or university? They must have challenges combining their education with the intense training you're providing them?
One just got admission to University, while 3 of them are still in secondary school. One is in Yaba Tech and one is in Unilag. It's very tough for them, it's not been easy, and that is why everything for them to be part of the Track Club falls at my doorstep. They are still students so they don't work, and some are coming from as far as Isolo, Egbeda, and even Festac!
What would you say to Nigerians reading this about how we can get behind what you're doing and other initiatives like this? 
Nigerians can show support by sponsoring the Track Club and assisting the athletes with their financial needs to continue training. Others can and should set up their own training camps as well. We need training camps were all the equipment needed is in the same place, so that the athletes don't need to spend time and money moving from one place to the next. Then the athletes will be able to concentrate on their training – there are so many different ways they need assistance. 
So Nigerians and multi-nationals even should come in and set up training camps where the athletes can train. Honestly I feel sad whenever I go around and see talent wasting away. I'm not just saying it – we have an abundance of talent in Nigeria. Most of them are just wasting away because of financial constraints, let me just put it that way. If we had organised training camps, where things are done the way they should be, I don't doubt that there are a lot of talents are out there yet to be discovered.
Why are you doing this? You've set up Akhigbe Track Club but you don't have any sponsorship or funding or support, so why are you doing it?
Well I'm just doing it because I want to give back to Athletics. I'll be honest with you, Athletics did so much for me – so, so much. It took me away from the streets, it made me somebody. I think I just want to give back, and the only way I can do that is assisting these young athletes to achieve their potential, and so far I'm enjoying it. 
Thank you very much for granting this exclusive interview to Making of Champions
You're welcome