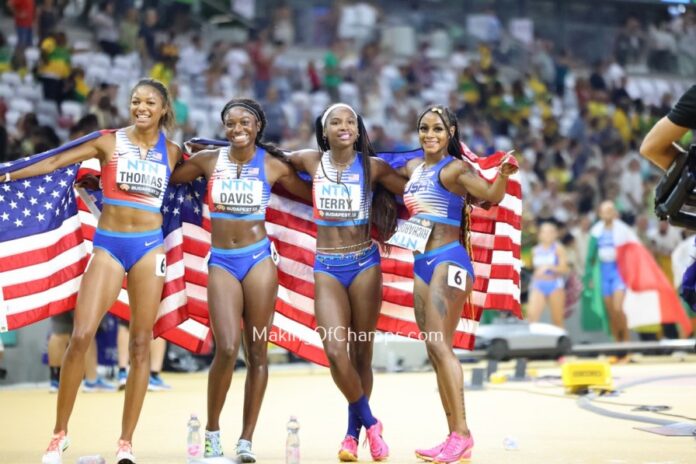 Team USA was already flying at the World Athletics Championships and on Day 8 of competition, they further solidified their stance with a night of glory in Budapest, winning GOLD in the men's and women's 4x100m relays!
After two medals already, including a GOLD on the evening session of Day 8, the US presented a seemingly unsurmountable quartet for the men's 4x100m in the form of Christian Coleman, Fred Kerley, Brandon Carnes and Noah Lyles in that running order.
Despite their hand offs not being the smoothest, Noah Lyles anchored USA to Gold in the men's 4x100m at the World Championships, clocking a World Lead of 37.38s!
For USA, they regained a title they lost to Canada in Oregon last year while for Lyles, he achieved the huge goal of 3 GOLD medals he set for himself leading to the World Championships, becoming the first man since Usain Bolt to three-peat the 100m, 200m and 4x100m at a global championships.
They finished ahead of Olympic Champions, Italy in 37.62s while Jamaica sneaked in for Bronze in 37.76s ahead of Great Britain.
Barely 10 minutes after this win, the women's quartet of Tamari Davis, TeeTee Terry, Gabby Thomas and Sha'carri Richardson stormed to yet another win in a World Lead of 41.03s!
They beat Jamaica to the line as the Caribbean nation managed second in a very fast 41.21s while 3rd place went to Great Britain in 41.97s.
There was a botched exchange for Ivory Coast and the team Did Not Finish (DNF).