During her active days as an athlete where she specialised in the 100 metres, Endurance Ojokolo-Akpeki won eight gold medals for Nigeria at continental and inter-continental level, and competed at six editions of the World Athletics Championships, amongst many other competitions. However, one elusive achievement which she greatly desired but which did not materialise, was making the final of the Olympics in the 100 metres.
The seven-time national champion had competed at the Athens 2004 Olympics where she reached the semis, and this motivated her to make a promise to one day coach an athlete that would compete in the final of the Olympics.
While making this pledge, Ojokolo-Akpeki, who went into coaching in 2010, two years after her last competition for Nigeria, knew it was going to take a lot of sacrifice, hard work and dedication to fulfil. However, she did not reckon that some of the sacrifices she would have to make in order to remain at the top of her game as one of Nigeria's best athletics coaches, would literally involve a lot of pain and tears while embarking on a mission to change the narrative that coaching is strictly a man's job, and there is the lack of female representation in sports coaching.
Where are the female coaches?
According to the International Olympic Committee (IOC), only 13 percent of coaches at the Tokyo 2020 Olympics were women, compared to the number of female athletes (48 percent). It is estimated that there are over 133,386 Head Coaches currently employed in the United States, with 33.7 percent of them being women, while 66.3 percent are men. Moving closer home, it has become imperative to use one of the country's leading sports, Athletics, to highlight some of the challenges that have set a bar on the influx of women into the coaching terrain.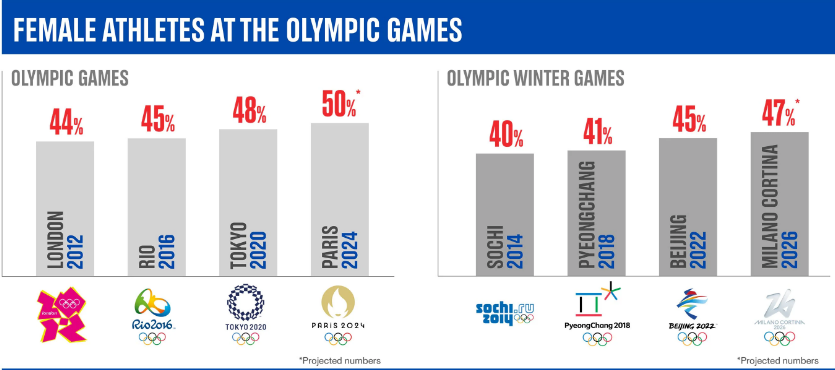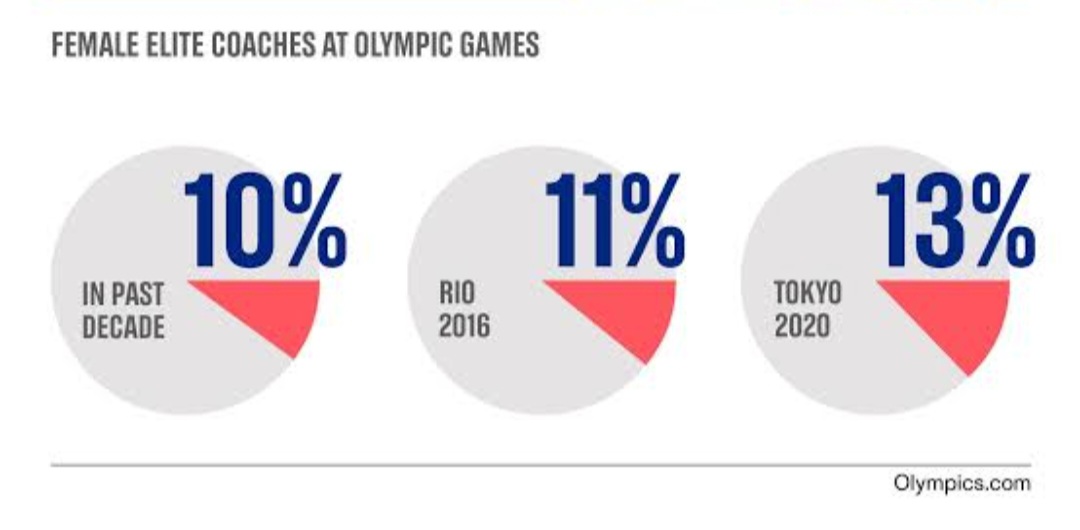 The Athletics Federation of Nigeria (AFN) was formally established in 1944. It was then known as the Amateur Athletic Association of Nigeria. The federation has had only one Head Coach in its nearly 80 years of existence, who also happens to be female: Amelia Edet, who spent nearly three decades as a coach and served as AFN's Head Coach from 1999 to 2006 when she retired from active service.
The AFN is one of about 40 sports federations in Nigeria, and among the top five, just behind the likes of the Nigeria Football Federation (NFF) and Nigeria Basketball Federation (NBBF) in terms of popularity and influence. Athletics is important to Nigeria. It holds the exalted position of being one of major medal spinners for Nigeria at global competitions. 14 of the 27 medals won by the country in its Olympic participation from 1952 to 2021, came from Athletics.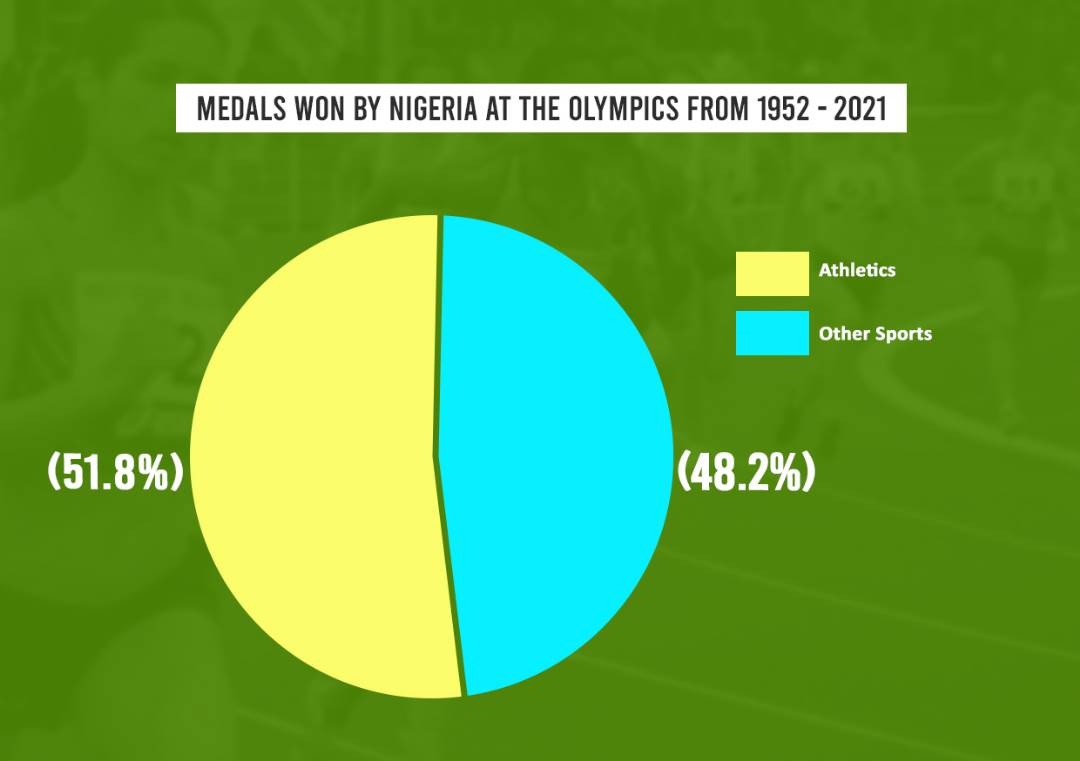 Worthy of mention is the fact that nine of the 14 medals won in Athletics, were secured by women, highlighting the pivotal role female athletes have played in uplifting the image of the country over the years. And so, it goes without saying, that providing an enabling environment for women to thrive, ought to be paramount in the federation's decision-making process.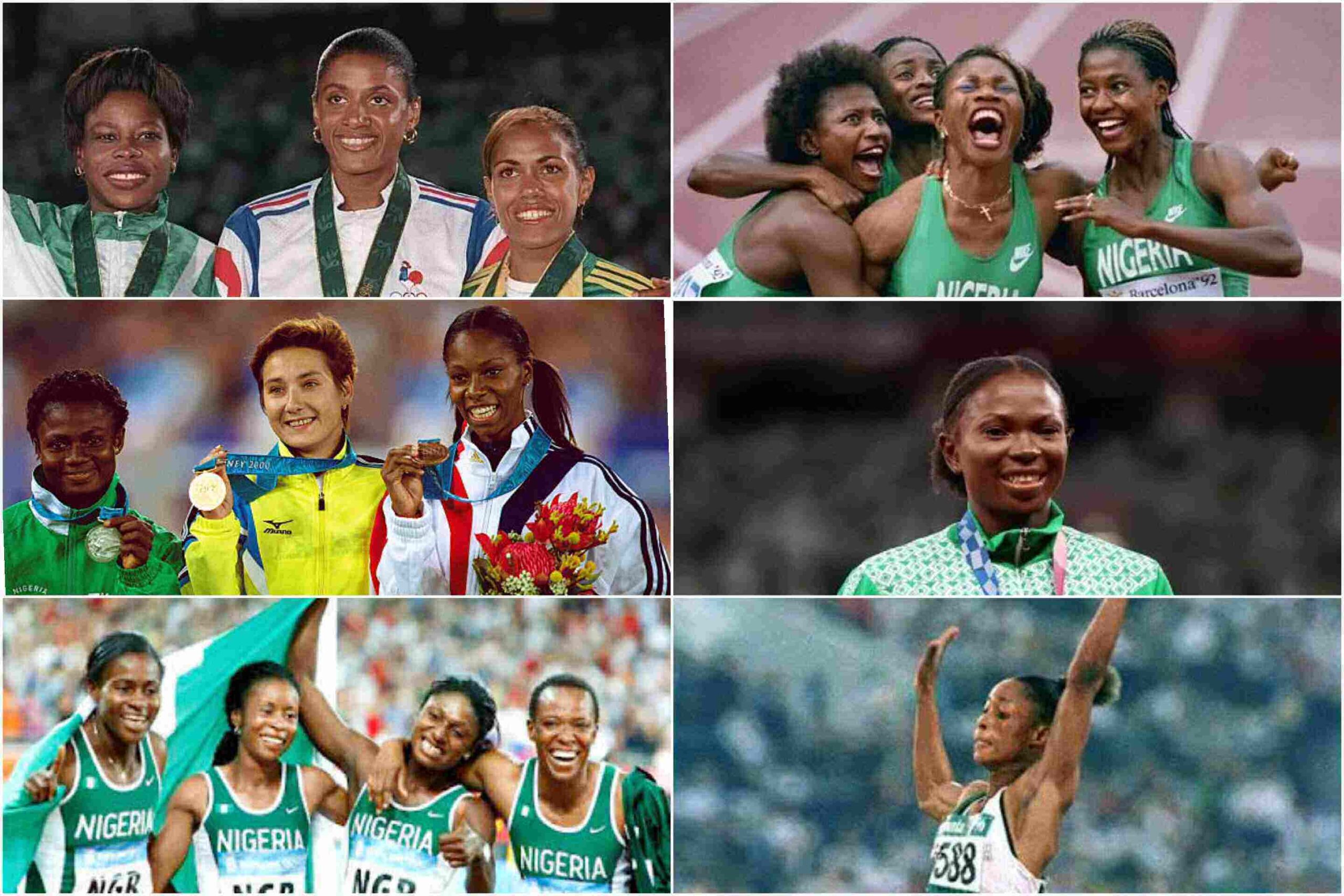 Some of Nigeria's female Olympic medallists include Falilat Ogunkoya (top left) who won a Bronze medal in the women's 400m at the Atlanta '96 Olympics; the quartet of Christy Opara-Thompson, Faith Idehen, Beatrice Utondu and Mary Onyali who took Bronze in the women's 4×100 relay at the Barcelona '92 Olympics (top left); Glory Alozie claimed a Silver medal in the 100 metres hurdles at the Sydney 2000 Games (centre left); long jump Bronze medallist at the Tokyo Olympics in 2021, Ese Brume (centre right); the team of Damola Osayomi, Halimat Ismaila, Franca Idoko and Gloria Kemasuode won Silver in the women's 4×100 relay at the Beijing 2008 Olympics (bottom left), and Chioma Ajunwa (bottom right) who struck gold in the women's long jump at Atlanta '96 to become the only Nigerian athlete (male or female) to win an individual gold medal at the Olympics.
Others are Onyali (women's 200 metres Bronze, Barcelona '92), Blessing Okagbare (long jump Silver, Beijing 2008), and the squad of Ogunkoya, Fatimat Yusuf, Charity Okpara and Olabisi Afolabi (women's 4×400 Silver, Atlanta '96).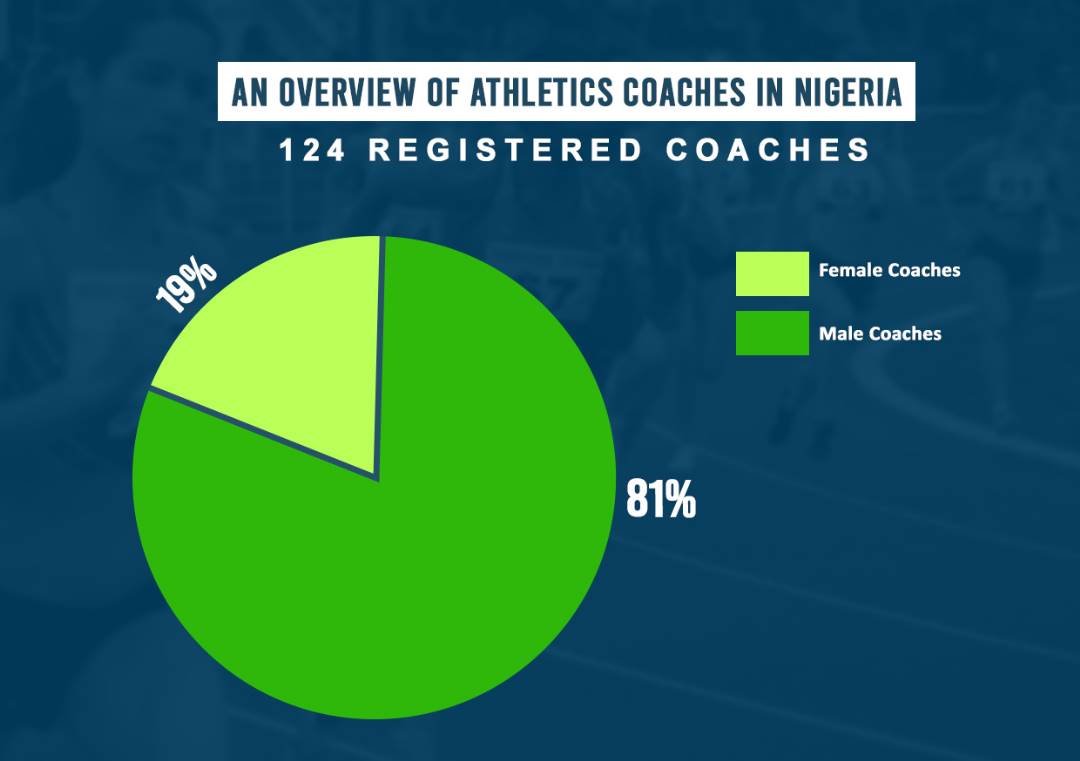 There are currently 124 coaches registered with the Athletics Coaches Association of Nigeria (ACAN), which is the umbrella body for Athletics coaches in Nigeria, and affiliated to the AFN, though the coaches are not on AFN's payroll as they are mostly engaged by the Sports Associations of various states. Of that number, only about 24 of them are women, which is less than a third of the total number of registered Athletics coaches in Nigeria.
As one of the top sports federations in Nigeria, the AFN presents national teams for several international competitions every year, ranging from continental outings such as the African Senior Championships, African U-20 Championships, African Games, to global events like the Commonwealth Games, Olympics and World Athletics Championships. In recent decades, being extended an invitation to be a part of any of these international competitions has been the major reward system for athletics coaches in Nigeria.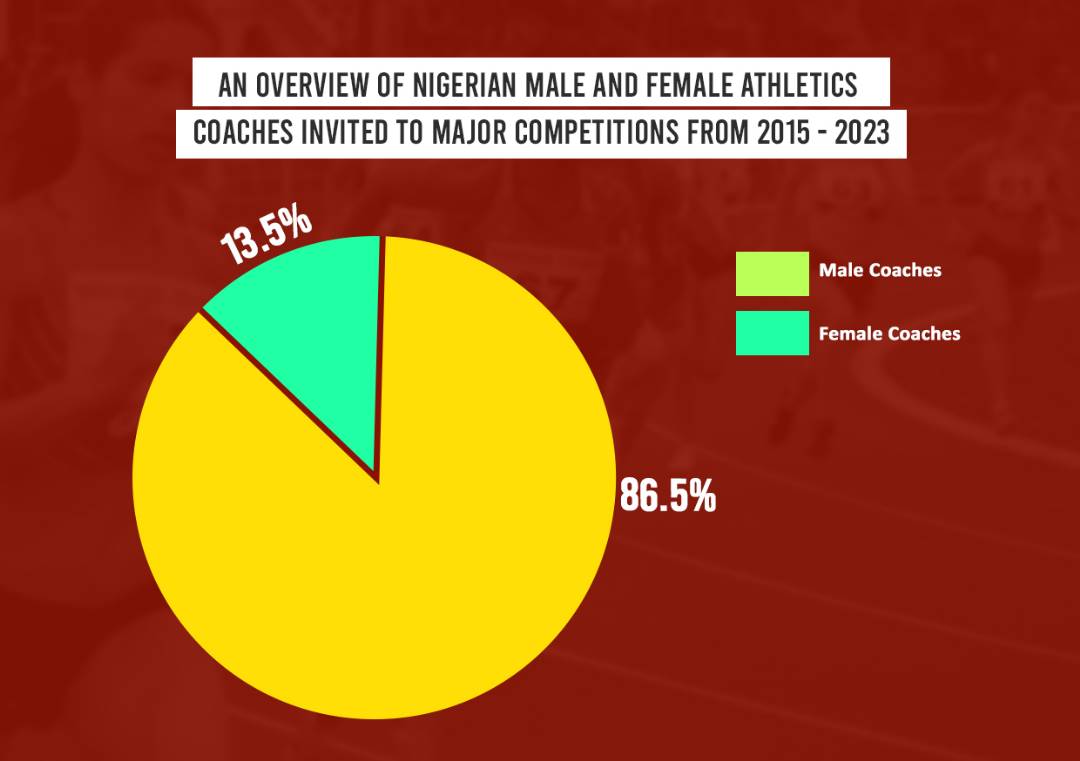 Taking a look at the composition of the national teams selected for international competitions from 2015 to 2023, cutting across 21 international competitions (both continental and global), only seven female coaches have made the teams to major international competitions in the last eight years, in comparison with more than 45 male coaches who were called up for international assignments.
Six of these coaches – Ojokolo-Akpeki (sprints coach), Emily Osakwe (jumps coach), Emilia Oyase (sprints and jumps coach), Olapade Lawal (sprints coach), Rachael Oguntona (long distance) and Nene Akudo, are based in Nigeria, while the seventh, Pat Itanyi-Williams (sprints, hurdles and jumps), lives in the US.
The duo of Ojokolo-Akpeki and Oyase have received the most call-ups (about nine) to national teams, with Osakwe getting about three invitations, while the rest of their counterparts have each been extended only one invite to the competitions under review.
Too high a price to pay
Ojokolo-Akpeki's most prominent athlete, Usheoritse Itsekiri, emerged men's 100 metres national champion in 2019 and 2023 respectively, and has represented Nigeria at several international competitions, winning continental medals in the process, and also making it to the semifinals at the Tokyo Olympics held in 2021.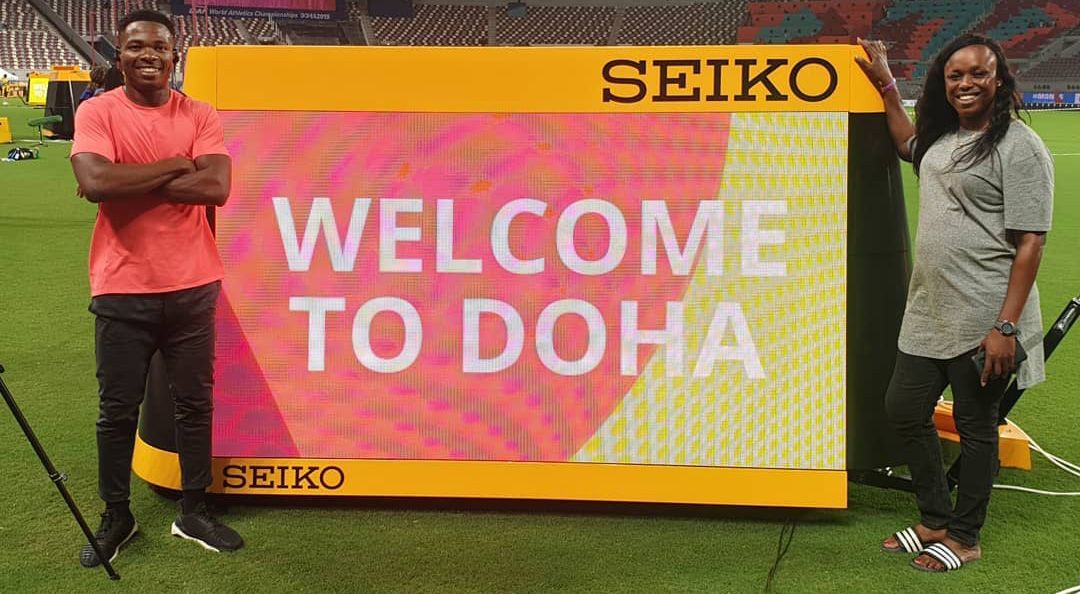 And while she may receive a lot of accolades for the achievements of her athletes, the former African champion has had to pay an extremely high price to be where she is today. She said: "In my first marriage, my husband wasn't really supportive of me being a coach, but I'm stubborn; coaching is what I do and what I love, and so I went for it. One of the major reasons that marriage failed was because of my career.
"We were together for 12 years, but there was a lot of quarrelling going on, especially when I had to travel for competitions or when I had to go to the stadium to train my athletes. I wasn't ready to give up my career as a coach, so, I formally ended the marriage in October, 2021. When you hear that a lot of women had to quit coaching because of the lack of support of their spouses, that's actually the truth".
Ojokolo-Akpeki's story mirrors the experiences of her counterparts who have faced similar challenges. Lawal has coached since 2002 and currently trains Kayinsola Ajayi, a two-time gold medallist at the 2023 African U-20 Championships held in Zambia back in April, amongst other athletes. In fact, the selection of her athlete for that competition earned Lawal an invitation to the team that travelled to Zambia – her first call-up for an international competition, which had six coaches in attendance, with Lawal and Osakwe being the two women on the team.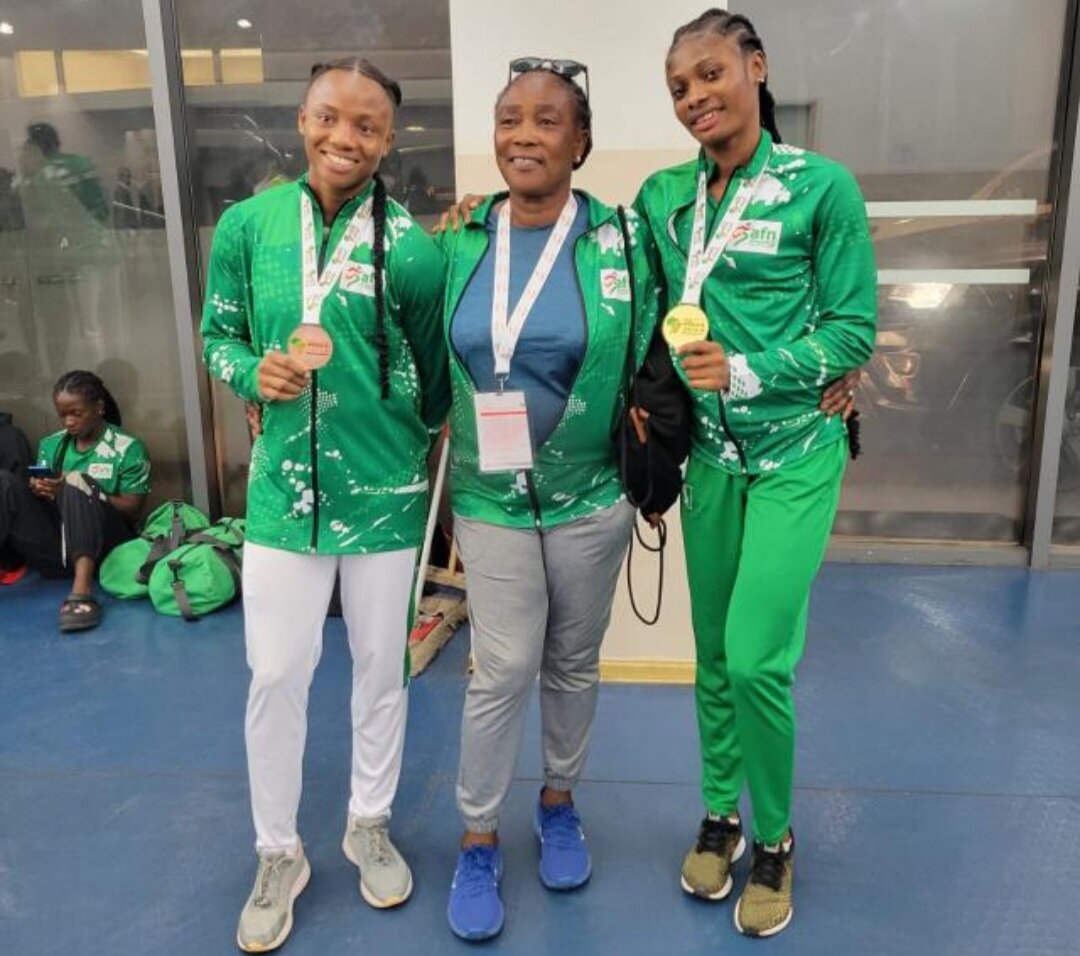 She said: "One of the key challenges we face as female coaches has to do with our husbands. A lot of men don't understand the challenges that come with being a female coach. Each time we had to travel for competitions, my husband would say all sorts of demeaning and degrading things, insinuating that I had other reasons for traveling, meanwhile not every woman is like that. I couldn't quit my coaching career because that's where my happiness lies, so we had to get a divorce", added Lawal who is raising her four children alone.
Oyase has been a coach for about 17 years now and has received several invitations to international outings, lending credence to her depth. Some of the events she's been to include the African U-20 Championships in Botswana and African Games in Maputo, Mozambique, both in 2011; the 2014 World U-20 Championships in Oregon, USA, and the 2018 African Youth Games and Youth Olympics which took place in Algeria and Argentina, respectively.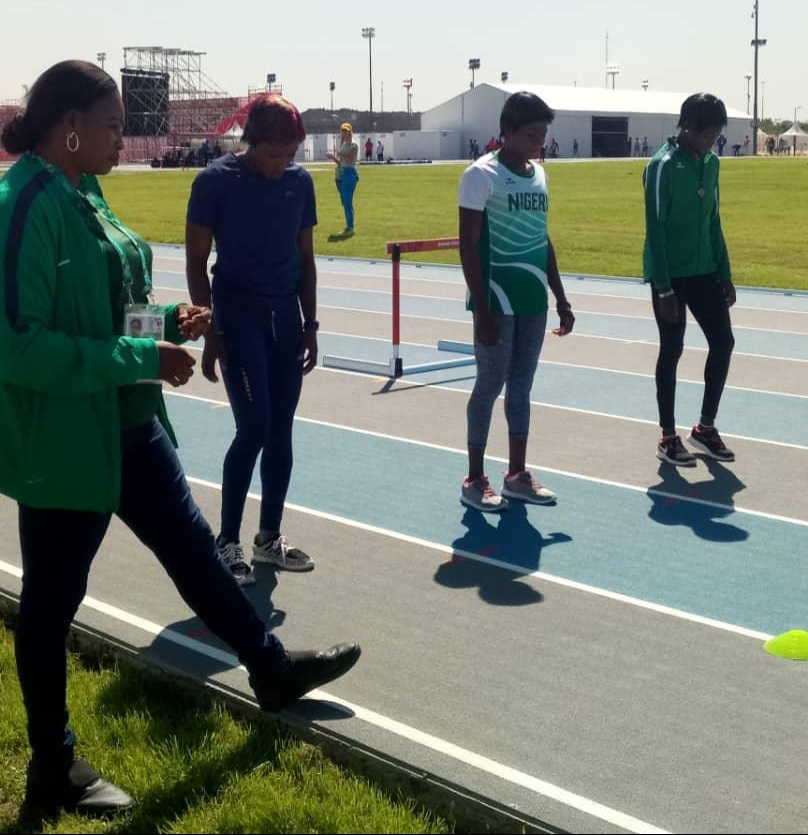 Making it to these teams didn't come without a huge cost for Oyase who is Head Coach, Athletics, at Oyo State Sports Council. She says, "A lot of men do not understand how sports work, and do not support their wives' or girlfriends' careers as coaches, because it is a male-dominated field. It's easier for female coaches who are unmarried, as they can go wherever they want to and whenever, without being accountable to anyone. She can get back home at 7pm after a training session or attend two training sessions in a day and it wouldn't be an issue. However, it's not so simple for the married because some of their husbands want them to be in one place or assume that a woman is up to all sorts of things once she's away."
For former national champion in the heptathlon, Itanyi-Williams, navigating the coaching terrain whilst birthing kids is quite a tricky business. The 1999 African Games Silver medallist said: "I used to coach at West Virginia University (her alma mater), but when I got married and became pregnant, I realised that I couldn't coach anymore, because I did not want to take my child to a daycare centre; I chose not to take my daughter there, but what I did was to start private coaching, which I scheduled around home. When my husband is home, I can go and coach.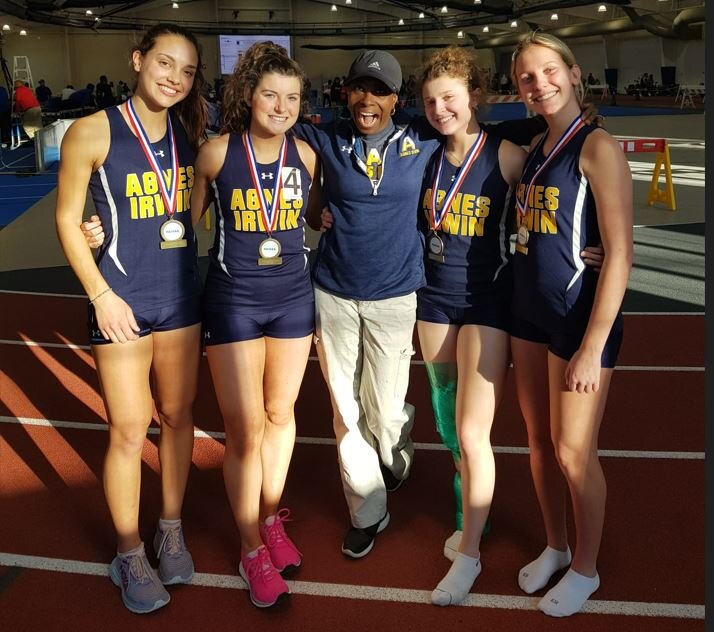 "As my daughter got older, she could stay in school and participate in after-school programmes while I coach. My husband is supportive, but my being away for long periods was going to take away time I'm meant to spend with my child, because when I was coaching in college, there was a lot of traveling involved. Sometimes, I would leave on a Wednesday and not get back home until Sunday, and that is not good for a child. Now my child is older, but I still cannot leave her, that's why I'm not coaching in a college now, but in the next two years, I'll be able to get back into coaching in college."
Itanyi-Williams who competed at the Sydney 2000 Olympics, and was West Virginia University's first-ever female track and field national champion, concedes that a lot of thought and strategizing has to be involved in the whole process as women coaches have to count the cost of whatever decisions they eventually settle for:
"I'm still doing my private coaching and coaching in high school, because it is not as demanding as that of college, but it's really rough and challenging for female coaches. I have friends who have had the same experience, and some of them had to stop coaching once they started having kids. That's the challenge, so you have to consider the situation closely, decide what you want to do and take it from there", she adds.
One step forward, two steps back
Against the backdrop of having to deal with the lack of support on the home-front amongst other challenges, a situation which appears to be peculiar to them, these female coaches feel that the AFN ought to bridge that gap by providing an enabling environment for them to thrive, and to create avenues for more exposure, going by the gender gap that exists, especially as it pertains to invitations into the national teams.
Some of the major athletics competitions Nigeria participated in in 2015 were the African Youth Athletics Championships (AYAC) in Mauritius, African U-20 Championships in Ethiopia, World Championships in Beijing, China, and African Games in Congo Brazzaville. For the AYAC, two female coaches, Ojokolo-Akpeki and Osakwe, were named as part of the eight-person coaching crew.
33 athletes comprising 18 females and 15 males were listed for the African U-20 Championships in Ethiopia, along with five coaches. Ojokolo-Akpeki was the sole female coach that travelled with the team. However, for the World Championships in Beijing, China, which saw 17 athletes participating (14 females and three males), four male coaches were listed for the competition with no female included. Similarly, the team list for the African Games that boasted of a contingent of 65 athletes (34 women and 31 men) had 13 coaches that were all male.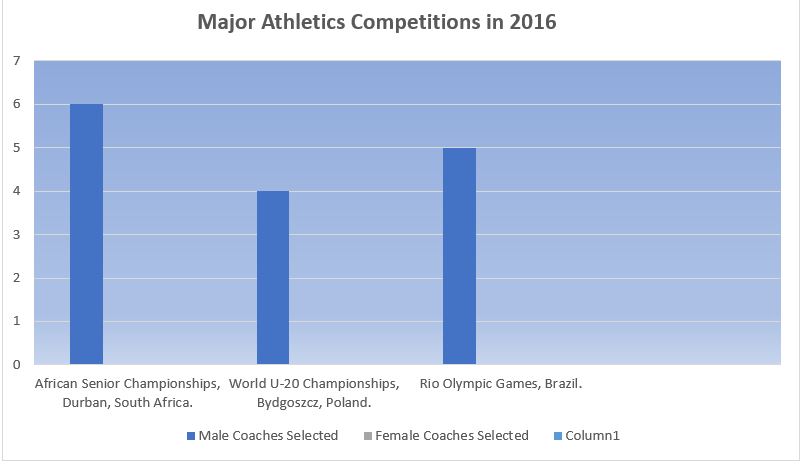 In 2016, that status quo was maintained for the African Senior Championships in Durban, the World U-20 Championships in Bydgoszcz, Poland, as well as the Olympic Games in Rio, with no female coach selected for any of these events. There was a slight improvement at the 2017 World Championships in London where Itanyi-Williams, was included in the three-person coaching crew.
The two major competitions for 2018 were the Commonwealth Games in Gold Coast, Australia, and the African Senior Championships in Asaba, Nigeria. Interestingly, Ojokolo-Akpeki was the only female coach selected for both competitions. On the surface, it seemed that progress was being made, but while four coaches made the trip to Gold Coast (three male and one female), a whopping 17 coaches were listed for the championship in Asaba, with Ojokolo-Akpeki being the only woman selected.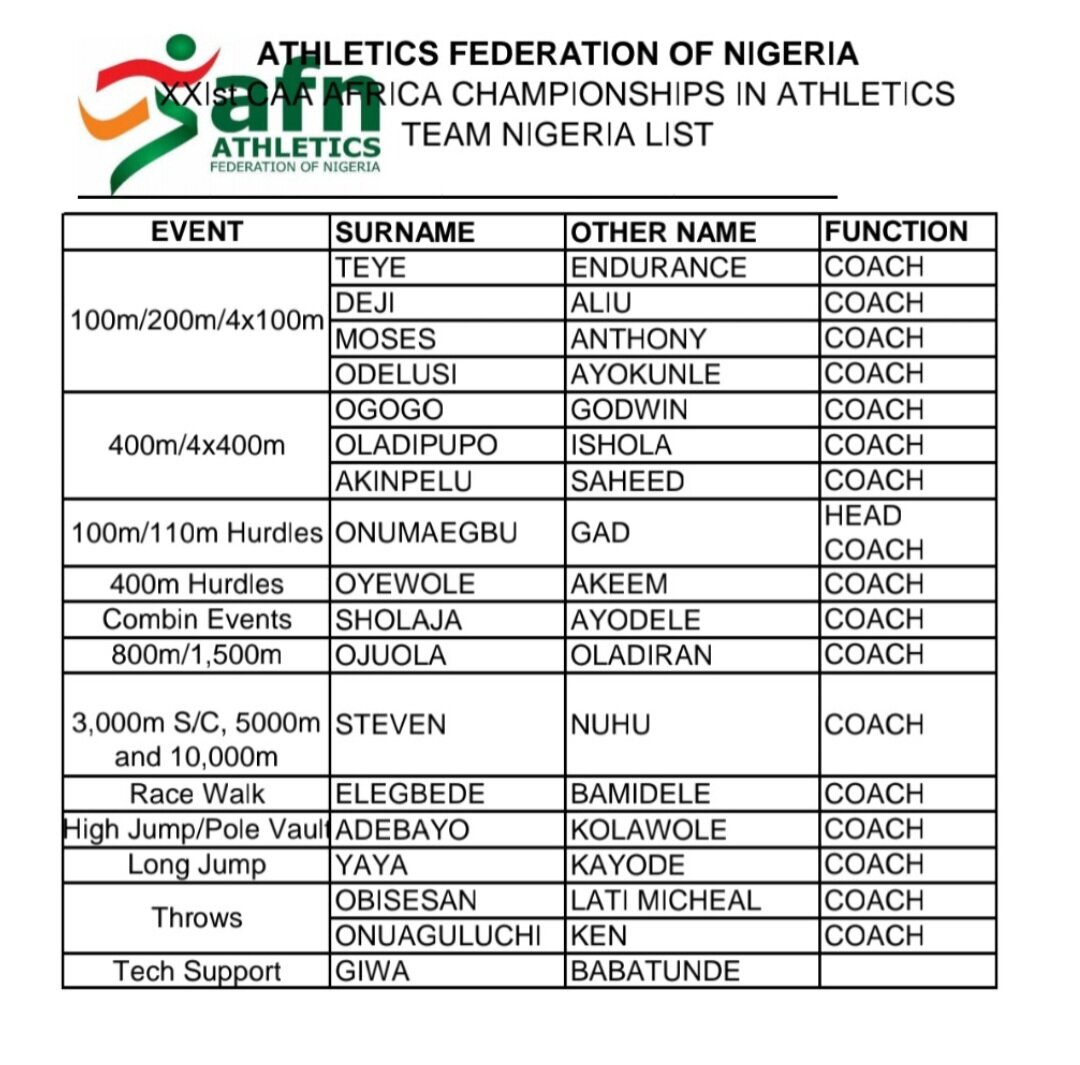 This report was supported by the Wole Soyinka Centre for Investigative Journalism (WSCIJ) under its Report Women! Female Reporters Leadership Programme (FRLP) – Champion Building edition.