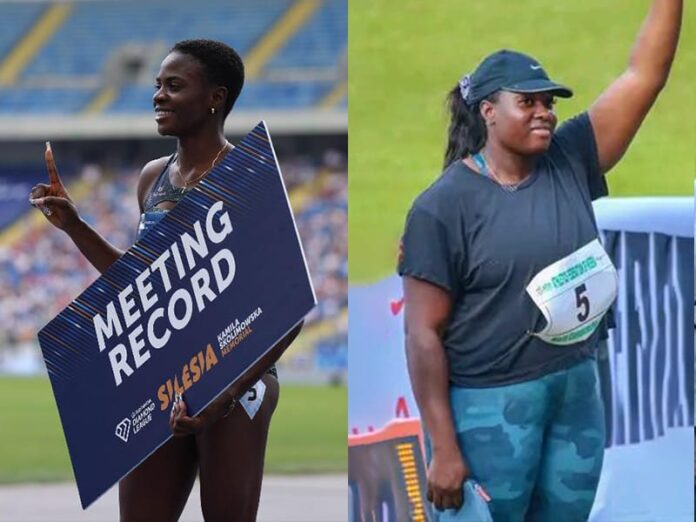 Even though the National Championships were recently concluded, that wasn't the end of international outings for Nigerian athletes leading up to the World Championships, as a number of them were still found competing in various meets across the world.
World Record Holder, Tobi Amusan is getting back into the swing of things as she equalled the Meeting Record (MR) at the Silesia Diamond League in Poland, defeating a stacked field to emerge victorious in a Season's Best (SB) of 12.34s. Keni Harrison (12.35s) and Nia Ali (12.38s) finished 2nd and 3rd respectively. Amusan's time now ranks her No.2 in the world.
At the Harry Jerome Classics in Vancouver, Canada, Edose Ibadin dashed to an SB of 1:45.66 to place 2nd in the men's 800m.
While competing in the same meet, the dynamic trio of Chioma Onyekwere, Ashley Anumba and Obiageri Amaechi finished 1-3-4 in the women's Discus Throw. Onyekwere's winning mark was a massive 61.61m while Anumba and Amaechi recorded distances of 59.64m and 57.77m respectively.
Sade Olatoye was 5th in the women's Hammer Throw with a mark of 67.17m. Camryn Rogers threw 76.12m to claim the top spot.
Nigeria's relay teams got a chance to compete at the DT Athletics Meet in Yabatech, Lagos, in the hopes of qualifying for the World Championships, with the women's 4×400m eventually punching their ticket to Budapest.
The quartet of Omolara Omotosho, Imaobong Nse Uko, Ella Onjuvewvo and Patience Okon-George clocked 3:27.60s in a well-paced race, their fastest time in four years. That time now ranks them 14th on the world rankings, putting them in qualifying position for the World Championships in Budapest.
On the men's side, the quartet of Dubem Nwachukwu, Ezekiel Nathaniel, Samuel Ogazi and Chidi Okezie dashed to an SB of 3:02.64s ahead of Team Ghana who came through with a time of 3:08.95. The time places them in 17th position, which is a spot shy from automatic qualification.
The quartet of Favour Ashe, Usheoritse Itsekiri, Alaba Akintola, and Godson Brume clocked a time of 38.65s ahead of Team Ghana (40.26s) in the 4×100m final, having previously run a faster time of 38.56s in the heats, which doubled as an SB but yet to qualify them for Budapest.