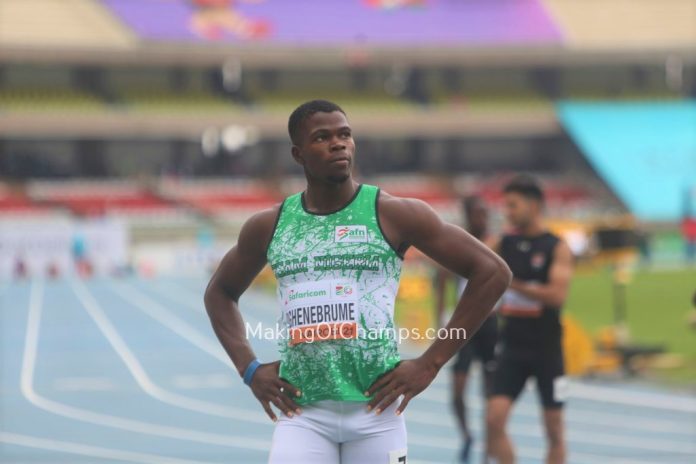 Godson Brume has been one of the athletes to look out for since the commencement of the NCAA outdoor season. Having run wind-aided sub10 times on two separate occasions, he finally made it count under still conditions.
Running in a stacked semifinal heat with compatriots Alaba Akintola and Udodi Onwuzurike, Brume had a decent start from the blocks but didn't start building momentum until the halfway point of the race as he eased through the finish line with a Personal Best (PB) of 9.93s ahead of Shaun Maswanganyi (9.99s) and Micah Williams (10.03s).
Onwuzurike (10.04s) and Akintola (10.07s) finished 4th and 5th respectively. The former qualified for the finals as one of the fastest losers.
Earlier, Favour Ashe won his semifinal heat in a scorching PB of 9.96s where he hardly broke a sweat ahead of Courtney Lindsey (10.03s) to qualify with the 3rd fastest time heading to the finals. Compatriot Karlington Anunagba was 7th with a time of 10.20s.
Brume, Ashe, and Udodi will be hoping to get on the medal podium as they head to the finals of the men's 100m which will take place on Friday.
Brume and Ashe's PB automatically qualifies them for the 2023 World Athletics Championships.