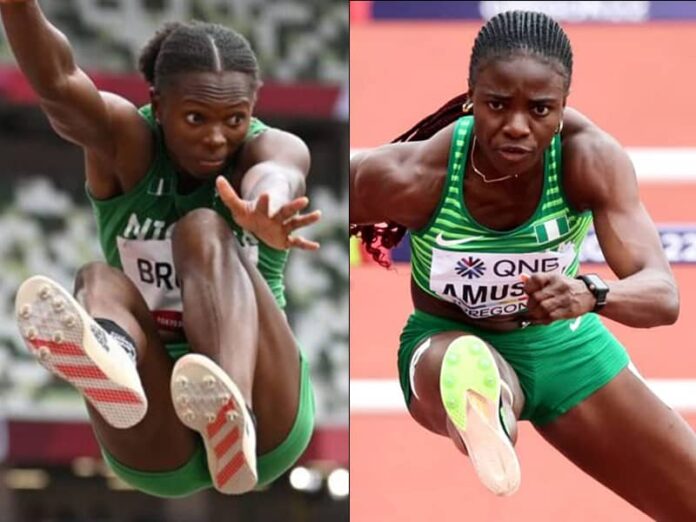 Although there was no NCAA action this past weekend, some of Nigeria's elite athletes were in action at various meets and put up performances that yielded an array of Season's Bests (SB).
World Record Holder Tobi Amusan is settling into fine form as she won the women's 100m hurdles at the Racers Grand Prix in Kingston, Jamaica, setting an SB of 12.57s over a headwind of 0.4m/s under rainy conditions. Tia Jones was 2nd in 12.72s, while Megan Tapper placed 3rd in 12.80s.
African Record Holder Ese Brume took the win on her last attempt in an SB of 6.81m in the women's Long Jump at the Orlen Janusz Kusocinki Memorial meet in Chorzow, held on June 4th. Quanesha Burks placed 2nd in 6.77m while Agate De Sousa came in 3rd with 6.76m.
This victory is coming a few days after Brume ranked 4th with a best leap of 6.58m in the women's Long Jump at the Florence Diamond League in Rome, Italy. Home favourite, Larissa Lapichino (6.79m) was the winner in the event.
At the Music City Track Carnival in Nashville, Tennessee, the duo of Edose Ibadin and Sade Olatoye represented well in their respective events.
The former recorded an SB of 1:45.49, his fastest time in three years, to place 3rd in the men's 800m, behind Alex Amankwah (1:45.12) and Brandon Miller who clocked 1:45.30.
The latter emerged victorious with a solid 69.12m in the women's Hammer Throw ahead of Stamatia Scarvelis (68.50m) and Nakoya Clunis (68.00m).