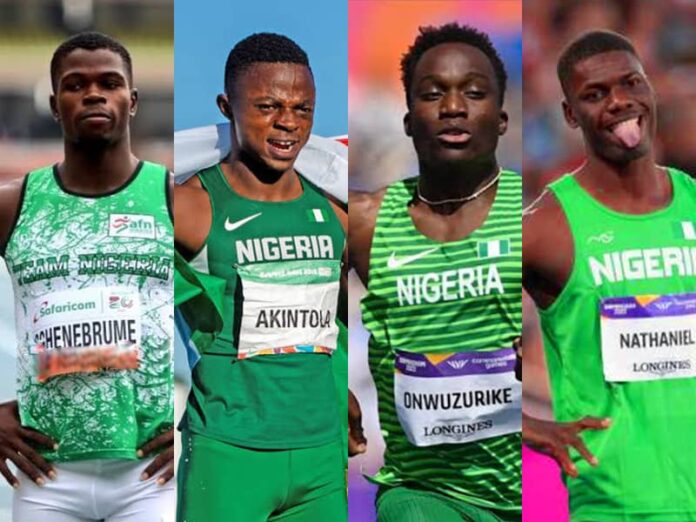 It was a packed week in the NCAA circuit as the Conference Championships week finally came through with a lot of action, which saw tons of records being rewritten. Trust Nigerian athletes to have their fair share in the record-breaking performances.
Big 12
The John Jacobs Track and Field Complex in Norman, Oklahoma, played host to the competition over three days. Ezekiel Nathaniel was the standout Nigerian in the meet as he became the latest Nigerian to surpass the World Championships standard.
He clocked a Season's Best (SB) of 48.52 —narrowly missing his Personal Best (PB) of 48.42 set exactly a year ago— to finish  2nd in the men's 400m hurdles behind Caleb Dean (48.39s). Ezekiel didn't stop there as he helped his school (Baylor) to a new Meet Record (MR) and Facility Record (FR) of 3:00.73s in the men's 4×400m relay, where he ran the 3rd leg. The team finished nearly 3s ahead of Oklahoma (3:03.64s).
Prosper Chinecherem defended his Big 12 title with a decent throw of 74.40m in the men's Javelin event. He was the only competitor to go beyond the 70m mark as his closest rival's (Zach Podrasa) best throw was a 66.29m.
Nse Imaobong Uko finished 4th in the women's 400m with a time of 52.13s (52.20s in the heats) after running the 2nd leg for her school's 4×100m team that eventually finished 2nd (43.75s) behind Texas who shattered the NCAA record with a scorching 41.89s.
Uko ended her campaign in the women's 200m, finishing 6th with a time of 23.64s. She clocked a PB of 23.01s in the heats.
Rosemary Chukwuma also finished 4th in the women's 100m with a time of 11.21s after running a wind-aided 10.94s in the heats the previous day. She finished 4th with her team in the women's 4×100m (43.89s). Chukwuma recorded a Did Not Start (DNS) in the 200m after qualifying in 22.90s.
Onaara Obamuwagun placed 4th in the women's Triple Jump with a distance of 13.20m. Erhire Best didn't record a single mark in the men's side as he fouled his attempts. He finished 6th in the men's High Jump with a height of 2.06m.
PAC 12
Nigerian 100m & 200m leader Udodi Onwuzurike was in action at the Hilmer Lodge Stadium in Walnut, California, where he competed in the men's 100m, 200m and 4×100m.
He started things off with a 7th place finish in the 4x100m (39.76s), a close 2nd finish in the 100m behind Micah Willams in 10.22s to 10.23s. He ran a 10.09s in the heats—but it wasn't until the 200m that he made history.
Onwuzurike won the 200m with a scintillating PB of 19.91, breaking Ato Boldon's MR of 20.00s set in 1996. He also became the youngest Nigerian to break the 20s barrier at 20 years, 3 months and 15 days. Francis Obikwelu formerly held the record at 20 years, 9 months and 3 days.
Divine Oduduru was the last Nigerian to run sub-20, which was at the North Florida Invitational in 2021 where he clocked a 19.88s.
Onwuzurike's 19.91 takes him to 3rd on the Nigerian all-time list and 13th on the African all-time just ahead of Akani Simbine's 19.95 set in 2017.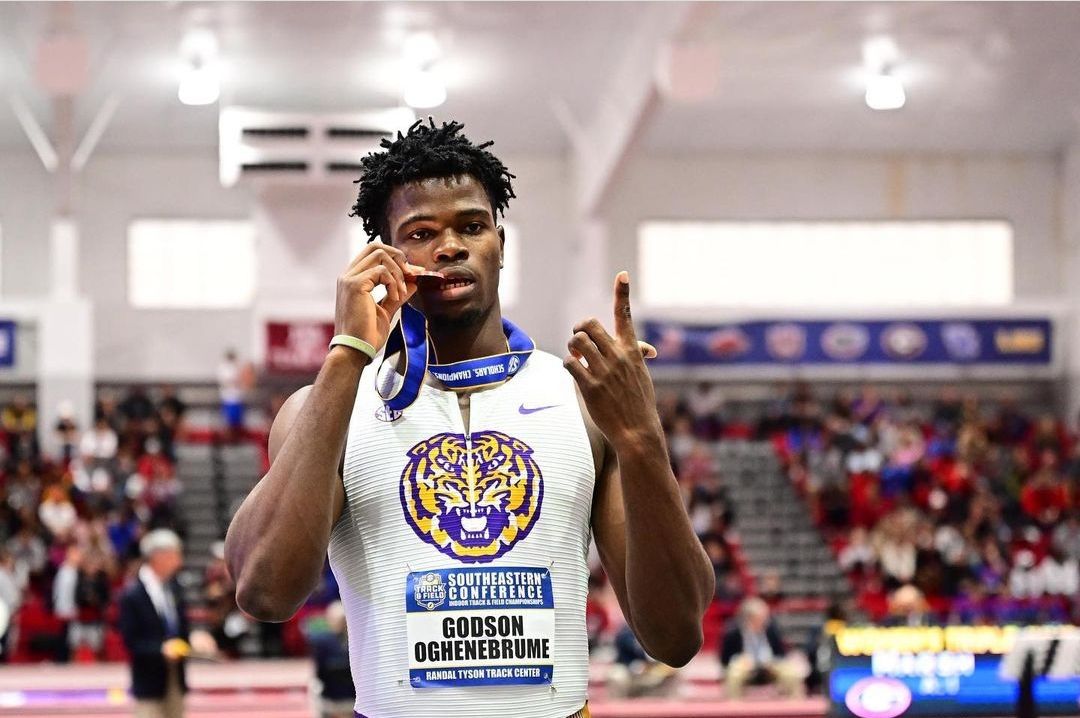 SEC
The Bernie Moore Stadium in Baton Rouge, Louisiana witnessed the clash of  'Nigerian Nightmare' Favour Ashe and the in-form Godson Brume in the 100m. Ashe was returning to competition exactly a month after a hamstring tear, while Brume has been topping the field at most of his outings.
Ashe made a statement by finishing as the fastest qualifier with a time of 10.06s in the heats, winning his heat in the process. Brume did also win heat with a last-minute charge in 10.13s.
In the finals, Brume and Ashe finally got to meet head-to-head as the former took the win with a solid SB of 10.04s, while the latter settled for 2nd in 10.08s.
Brume also anchored his School (LSU) to victory in a new NCAA record of 37.90 in the men's 4×100m.
Favour Ofili ultimately got to make her 200m outdoor debut where she led the field with the fastest qualifying time of 22.58, which is an SB, but settled for 6th in the final with a time of 22.89—her slowest time since 2021—. She finished 5th in the women's 100m in 11.17s.
Ofili ran a splendid 2nd leg to gift LSU their first sub-43 of the season (42.92s) to win the 4×100m ahead of Kentucky (42.93s).
Ella Onojuvwevwo attained a PB of 51.85s as she went under 52s for the first ever to finish 3rd in her heat behind Talitha Diggs (50.78s) and Nickisha Pryce (51.43s). Unfortunately, her time ranked 11th overall, and couldn't advance to the finals.
C-USA
Alaba Akintola continued his dominance as he defended his C-USA titles in the 100m and 200m. He won the 100m in an SB of 10.05s ahead of Karlington Anunagba (10.20s) and Rodney Heath (10.24s).
Akintola used a 20.43s to take the 200m title. He had earlier clocked a wind-aided 20.16s in the prelims, then finished 4th in the 4×100m with a time of 40.22s
Stephen Eloji also dominated the hurdle events as he claimed the 110m and 400m hurdles titles. He won the 110m hurdles in fashion with a new PB and C-USA record of 13.50s—bettering his former PB of 13.73 set two weeks ago— ahead of compatriot Bashiru Abdullahi (13.71s), making him the Nigerian/African Leader this season.
Eloji won the 400m hurdles in 52.64s ahead of Jordan Coates McBride (52.74s) and Zack Martinez (52.95s)
Big 10
Dubem Amene finished 3rd in the men's 400m final with a time of 46.20s, having clocked an SB of 46.09 in the heats.
Big Sky
Raphael Egbuchilem emerged victorious in the men's 400m with a PB of 46.07s, shedding five-tenths off his initial PB of 46.57s