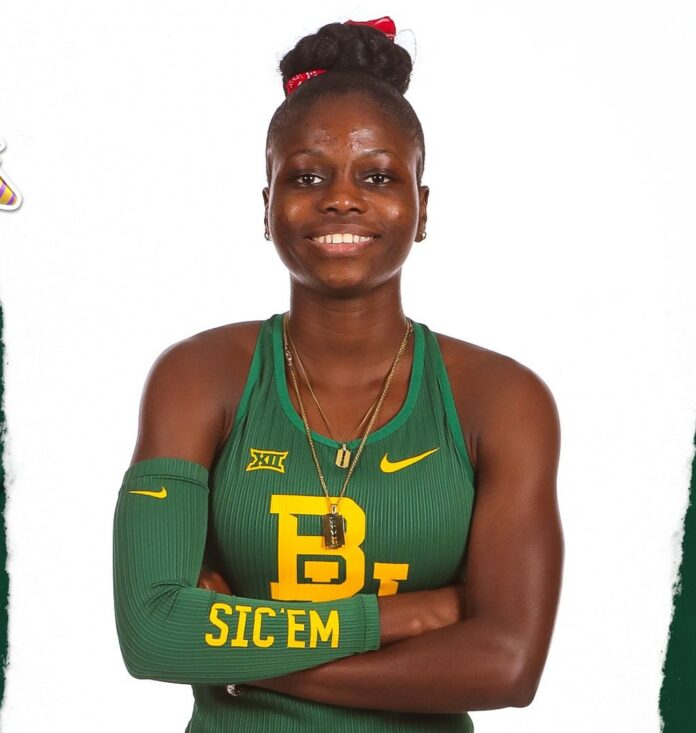 The second week of the collegiate outdoor season kicked off with a handful of Nigerian athletes representing their various schools across the NCAA and NJCAA Circuit.
This was the first time of competition for most of the athletes as some are yet to compete, while others are strictly partaking in the relay events for now as a way of building their speed and endurance ahead of the season.
After concluding her indoor season at the Big 12 Championships in February, Imaobong Nse Uko started her outdoor campaign with a new lifetime best of 23.21s in the women's 200m at the Clyde Hart Classic Meet, an improvement from her previous best pegged at 23.33s achieved last year at the LSU Invitational meet.
Her closest rival, Kavia Francis, finished with a distant 23.60s. The following day, Uko ran the lead-off leg of her school's (Baylor) 4×400m relay A team which emerged victorious with a time of 3:34.40.
At the Raleigh Relays, Ashley Anumba achieved a Personal Best (PB) by shattering her School Record and Meet Record with a first attempt throw of 59.37m to win the women's Discus event, bettering the initial PB of 57.53m she set last year at the Penn Relays. Anumba had the best series throws in the entire competition.
Abasiano Akpan clocked a PB of 54.26s to finish 4th overall in the women's 400m at the FSU Relays.
Elsewhere in Lousianna, Favour Ofili and Godson Brume helped their respective teams in achieving the nation-leading time of 43.27s and 38.91s in the women's and men's 4×100m relay respectively.
The former ran a fantastic second leg while the latter anchored his team to a new MR. Ella Onojuvwevwo was not left out as she was a part of the victorious LSU 4×400m quartet that ran a 3:35.27 at the Battle on the Bayou Meet.
Over at the NJCAA Circuit, Miracle Thompson opened her outdoor season after a successful indoor outing with a Season's Best (SB) of 14.37s in the women's 100m hurdles at the Mark A. Philips Tiger Invitational meet. Thompson was the recipient Women's Indoor Track Athlete of the Year in the NJCAA division.