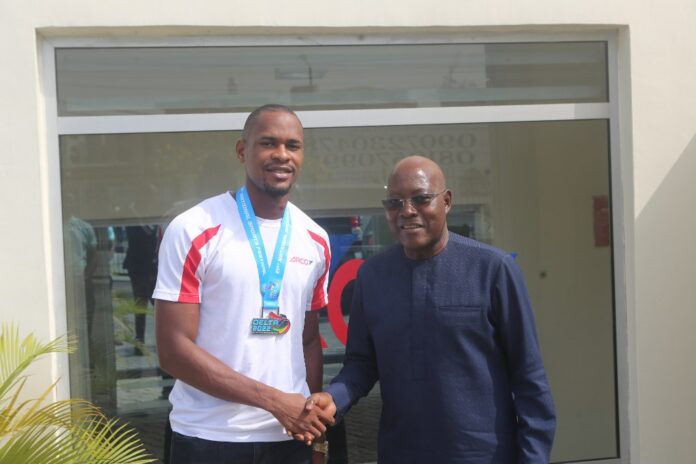 Foremost sponsor of Making of Champion's Student-Athlete Scholarship, ARCO Group, has announced a full US Collegiate Scholarship for one of its recipients, MoC's Jerry Jakpa who has been granted a full scholarship to West Texas A & M University in the US.
Jakpa, who left for the US on Monday, January 9th, first paid an appreciation and farewell visit to ARCO Group's Head office in Lagos and was received by the company's Founder/GMD Mr Alfred Okoigun, along with other staff of the organisation.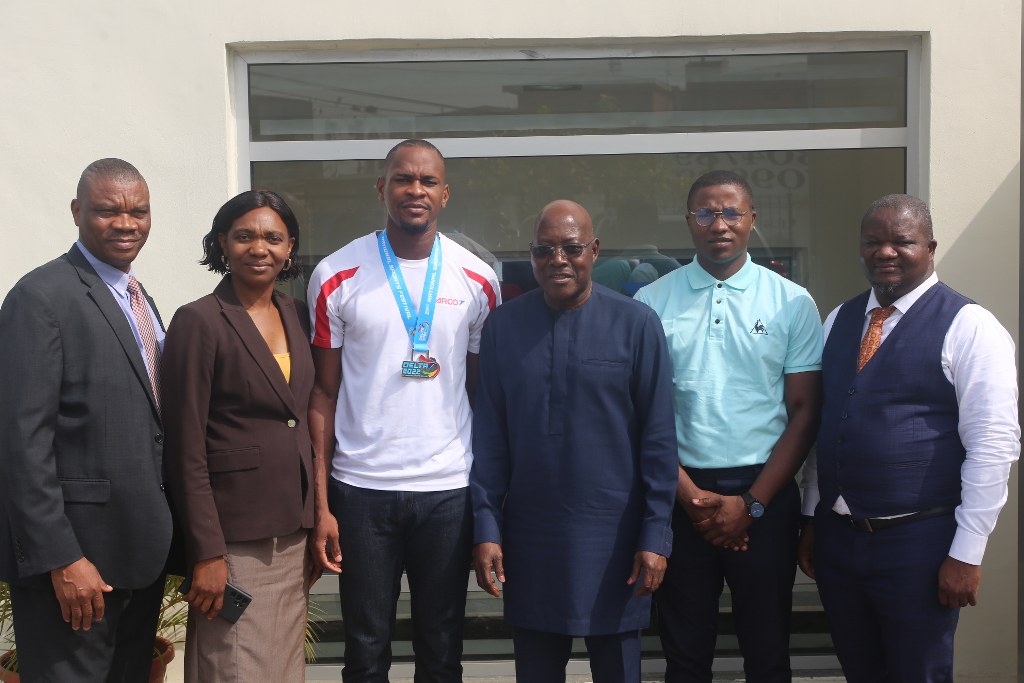 While giving his address at the event, Okoigun said: "We at ARCO have always supported initiatives like this from the onset and support talented people to succeed in their respective fields. Some of the engineers we sponsored on scholarships abroad, we didn't even know them but we invested in them because we saw the potentials.
"When MoC Founder/CEO Bambo Akani contacted us, we were happy to support this project (finding and nurturing talents) because we believed in it, and that Nigeria can produce champions. We would love to see Jerry reach the pinnacle of his career in such a way as it would delight us to know we have been part of his success story."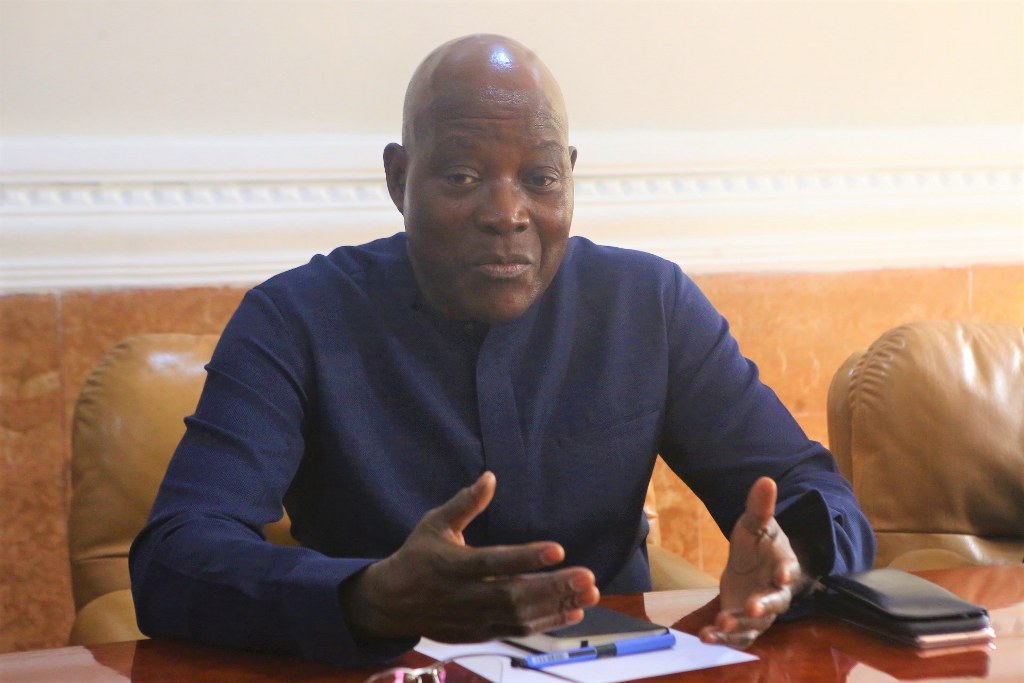 ARCO Group Plc is a leading oil and gas servicing firm with over 35 years' experience in the Nigerian Oil and Gas industry. The Group offers local partnership solutions that deliver outstanding service through an exceptional team of over 400 employees. The company's impressive local capability is stimulated by the expertise of reputable global partners and complemented with strong Nigerian Capital Investment.
ARCO Group's partnership with MoC dates back to 2016 with the launch of MoC's Student-Athlete Scholarship, the first of its kind in Nigeria, and the Oil and Gas Company became the first corporate organization in the history of Nigerian Athletics to award scholarships to up-and-coming Track and Field athletes based in Nigeria.
ARCO Group performed this groundbreaking feat by reaching an agreement in March 2016 to support two high potential athletes, Jerry Jakpa and Joy Udo-Gabriel from MoC Track Club for four years, while studying for their university education. The scholarship covered the athletes' tuition, accommodation, nutrition, training and competition costs over a four-year period.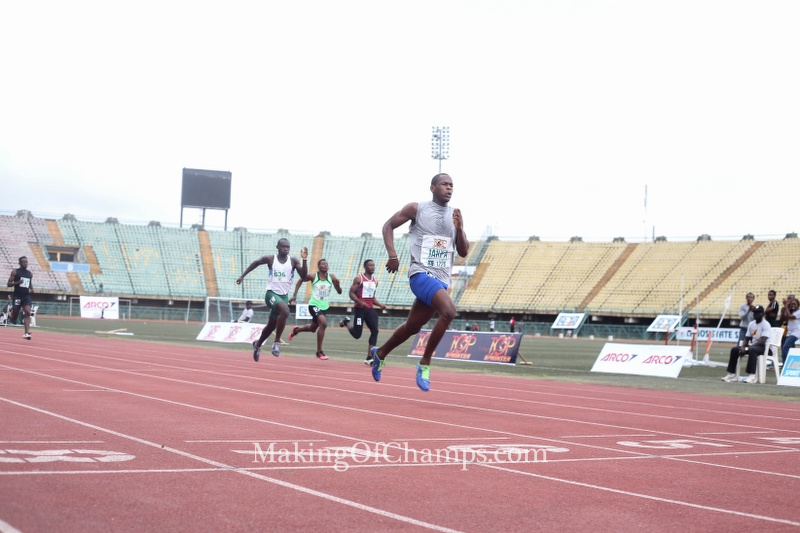 Jakpa was discovered at the 2015 Top Sprinter competition in Benin where he caught the eye of the MoC coaches while running in the senior category of the men's 100m and 200m despite his status as a junior athlete. He was relocated to Lagos to train under MoC Head Coach and Olympic medallist, Deji Aliu.
Under the guidance of MoC Track Club and thanks to ARCO Group's support, Jakpa won several medals and went on to represent Nigeria in international competitions like the 2018 African Senior Championships and 2019 World Relays in Yokohama, Japan, where he was a member of the 4x200m relay team that ran a National Record (NR) of 1:22.08.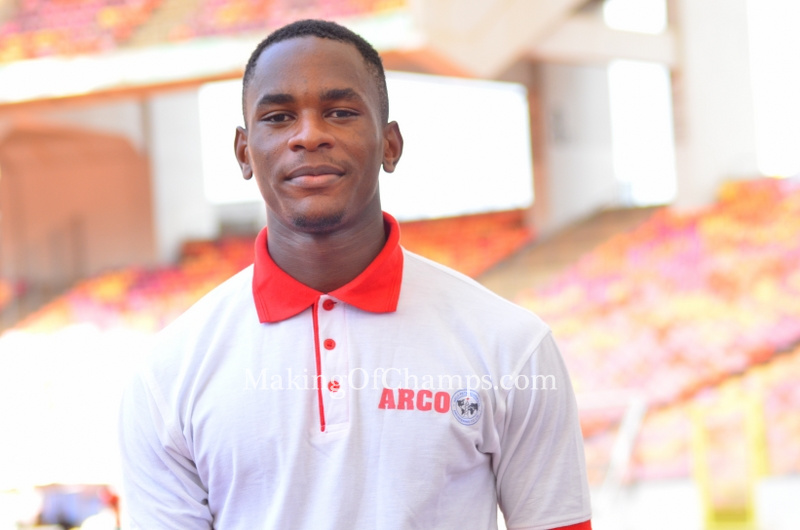 Jakpa who has Personal Bests (PB) of 10.21s and 20.59s in the 100m and 200m respectively, has won 10 National medals with the support of ARCO's Scholarship and under the tutelage of MoC Head Coach Deji Aliu, emerged 2021 National 200m Champion after claiming Silver and Bronze in 2019 and 2017 respectively, as well as National Junior (U20) 100m Bronze also in 2017. He also won four medals at the Edo 2021 National Sports Festival (NSF) – 200m Silver, 100m Bronze and two Relay medals – and a further two Relay medals at the Delta 2022 NSF.
Following his being awarded a full scholarship by West Texas A&M University, ARCO Group extended their support for Jakpa by paying for his flight ticket to the US as he gets set to commence the next phase of his life and Athletics career even as he will be looking to follow in the footsteps of Ghana's Benjamin Azamati, whose Athletics career was transformed after arriving at West Texas A&M in 2020.
Expressing his appreciation to ARCO Group for their timely intervention in his career, Jakpa said: "I am happy to have been a part of ARCO Group. Their support helped my career a great deal since MoC discovered me. I was able to travel to meets in Europe because of the kind of support I got from you. You (ARCO Group) took care of my welfare, flight tickets abroad, feeding and accommodation; it is something I am really grateful for."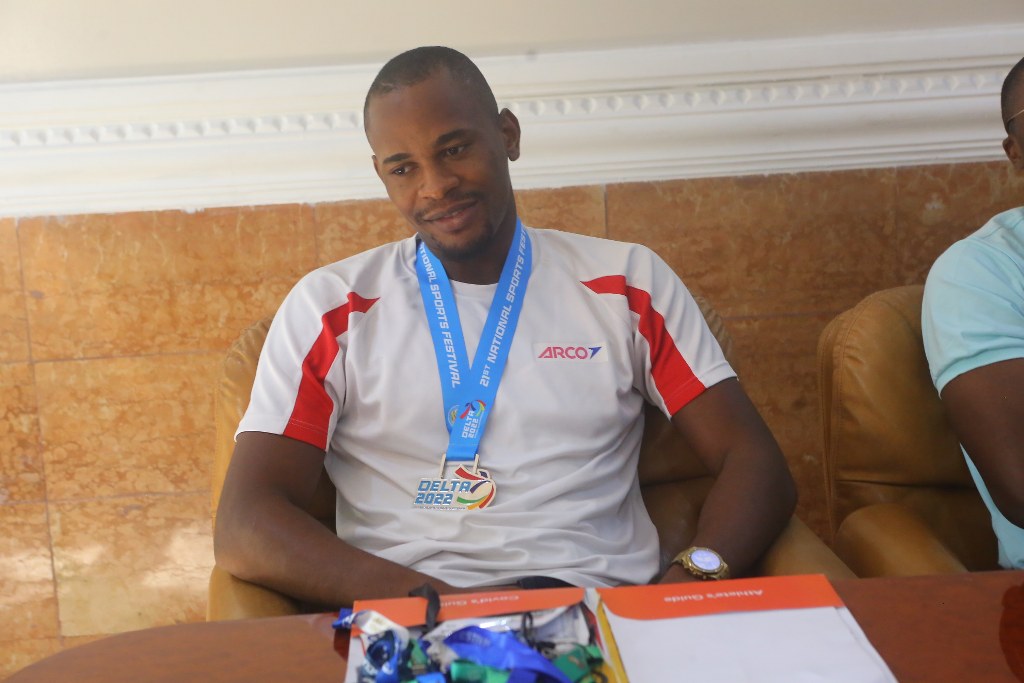 MoC Founder/CEO Akani also had this to say about the momentous occasion: "Jerry's US Collegiate Scholarship at West Texas A&M marks the end of Phase 1 of the MoC project. We want to thank ARCO Group for being with us right from Phase 1. They were our first Student-Athlete Scholarship sponsor in 2016 when Jerry was one of our first class of athletes to join MoC Track Club, and they're also here with us to have seen him win 10 National Medals and a National Record at the close of this chapter of his Athletics and academic career.
"The first phase of MoC Track Club saw MoC win over 70 National and International medals, with Jerry contributing to 10 of those medals, so it's an amazing success story for Nigeria, and it's a story that must continue at home and abroad as well. Phase 2 has already started. You can see MoC alumni athletes doing very well in the US already, winning regional and national titles, and Phase 2 must continue at home.
"We want to thank ARCO Group and our other Student-Athlete sponsors for the work that they have enabled us to do over the last six years, and we will encourage them and others to continue supporting this work to make Nigerian Champions."
Founded in 2013, Making of Champions Limited is a Sports Media and Management company that was set up to elevate the profile and performance of Sports in Nigeria and the rest of Africa. The company is dedicated to maximising the potential that sports has to bring the country and the continent on a whole, together.