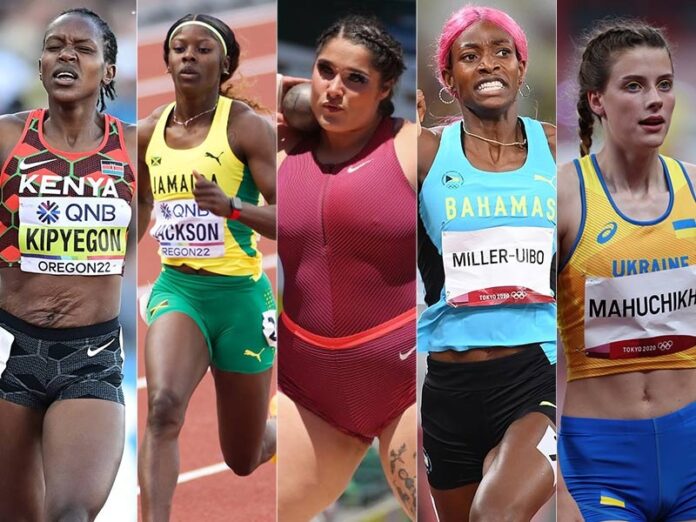 Being a Championship year, 2022 was indeed an extraordinary one for Track & Field as several landmarks were reached and records were broken. With the year drawn to a close, we take a look at some key moments, with a list of our best female athletes in the world, ranked 1-10.
Here is the first of the two-piece story, featuring the athletes ranked 10-6.
Yaroslava Mahuchikh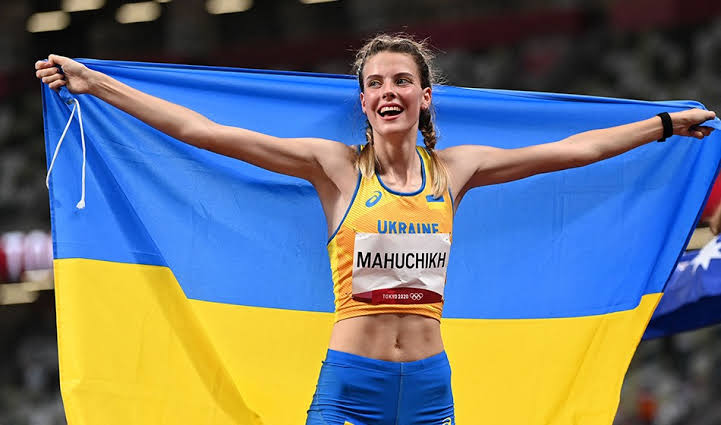 Yaroslava Mahuchikh has the most inspiring story of all. She scarcely competed indoors as her hometown in Ukraine was attacked and she had to flee, moving base a few times before settling for a while in a camp organized for the country's representatives to Serbia. There, she would prepare for the World Indoor Championships in Serbia which was only three weeks out.
Her journey to Serbia took three days and there, she came against very strong competition in the form of Australia's Eleanor Patterson who although managed a PB of 2.00m, couldn't reach the heights of Mahuchikh who soared over 2.02m. Successfully, the 21-year-old had won her first global GOLD for her war-ravaged country, raising the Ukrainian flag full mast in front of the world.
She re-camped and subsequently became a refugee in Germany where she trained for the rest of the 2022 athletics season.
Outdoors, she went on to win her first four meets in beautiful fashion although she did have a loss just before the World Championships in Stockholm where she only managed 1.89m, her lowest bar since she broke out to the global scene as a teenager.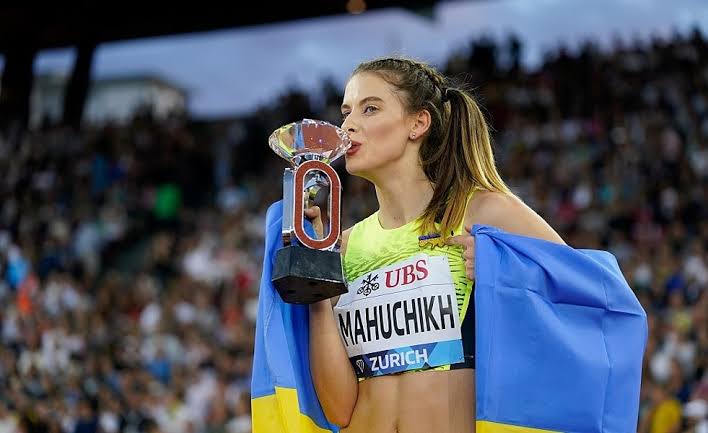 In a very dramatic and exciting final at the World Championships in Oregon, four women cleared the 2 metres height and although she cleared the winning height of 2.02m, she had to settle for 2nd place, this time behind Eleanor Patterson who went over the bar at the first time of asking.
After adding a Silver to her growing cart, she went on to win GOLD at the European Championships and then became the World Leader, by virtue of her massive 2.05m clearance at the Brussels Diamond League, an outdoor Personal Best (PB) and equal National Record (NR)! 
She won the Diamond League final with 2.03m, beating Patterson. Indeed, she was an athlete who defied ALL odds in 2022.
Shaunae Miller-Uibo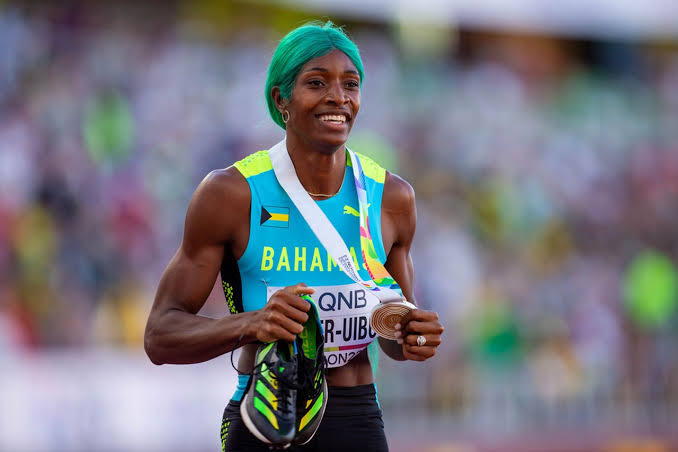 Since 2016, Shaunae Miller-Uibo has been the top gun in the women's 400m, winning everything there was to be won at the highest strata of the sport. However, despite her prowess and agility in the event, one thing eluded her – a World Championship GOLD medal.
After making a switch from the 200m and making the 400m her forte, she went on to win Silver at the 2015 World Championships and would have thought that it would be up from there. However, things didn't pan out as she would have thought at that level.
She won GOLD at the 2016 Olympics by a hair's breadth, but was so dominant all through the 2017 season, making her highly favoured for the world title on her second try. When the gun went off, she started out quick and led the race through the 350m mark, but in an amazing turn of events, she lost her footing and stumbled. Before she could regain balance and composure, the lactic had kicked in and two blue uniforms and one red – Phyllis Francis, Allyson Felix and Salwa Eid Naser – glided past her, pushing her totally out of podium placement as she finished 4th.
In the same manner, she was the event's preeminent in 2019, easily warding off the challenge posed by every competitor, including her arch-rival, the burgeoning Salwa Eid Naser.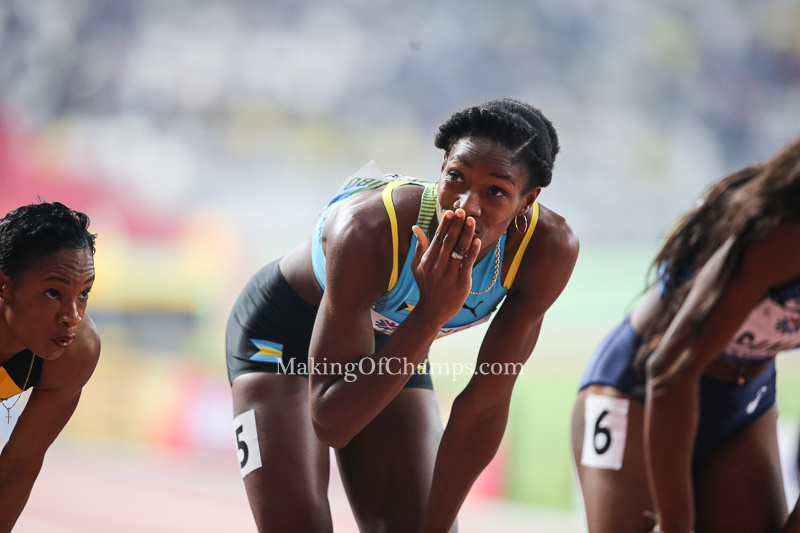 At their standoff at the Worlds in Doha, Naser started out fast, and it was in doubt whether she would have enough left to hold off Miller-Uibo, but the young Bahraini never relinquished her lead, as Miller-Uibo had to settle for 2nd in 48.37s. Her time would be the fastest time ever not to win a GOLD in the women's 400m at the World Championships.
At the next Olympics, she defended her title easily and moving on to 2022, there were questions as to whether she could clip the wings of disappointment at the World Championships. She progressed through the rounds easily, and was infact a runaway winner of the women's 400m in Oregon.
By so doing, she became only the second woman to accomplish the 400m treble of winning the Olympics, World Indoor Championships and World Outdoor Championships and rounded off her season with a victory at the NACAC Championships.
Chase Ealey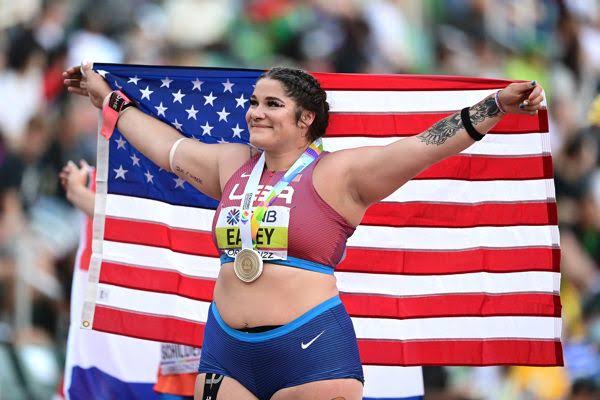 In 2022, Chase Ealey reached an amazing level of consistency to dominate the shot put. This was something she wouldn't have envisaged when she was still into the sprints, even so with a modest PB of 12.29s over 100m that dates back to as far as 2012 when she was 15.
Whether she would have had a successful career in the sprints is now unknown, but what we do know is that she is the best female shot putter in the world in 2022.
Her year started indoors where she opened with very modest throws within the range of 17m and 18m, but her throws soon found a spark as she threw PBs in her following meets leading up to the US Indoor Championships where she placed 2nd.
She was then selected to represent the United States at the World Indoor Championships, going up against a fierce Auriol Dongmo who had dominated the indoor circuit until then. Ealey produced what was the throw of her life, sending her implement out to a dazzling 20.21m, only inched past by her Portuguese counterpart in the closing stages of the competition. However, her mission there was complete – leaving with a hardware at her first World Indoor Championships.
Outdoors, she had a dream season, unleashing PB upon PB in every competition. At the US Championships, she produced the biggest throw in the world this year as her orb reached a length of 20.51m, a mark only she herself came within its reach as she threw 20.48m at the Stockholm Diamond League four days after.
At the World Championships, she was the favourite and the pressure was on for her to deliver in front of the home crowd. She produced a Championship-worthy performance as it was a case of one-and-done for her, producing 20.49m on her very first attempt, something for her competitors to chase, and they tried. They did try but no one came even close, save for China's defending World Champion and Olympic Champion, Gong Lijiao who eventually had to settle in the end for Silver.
She became the first American woman to win a World Shot Put title and closed the year with the Diamond League title in Zurich, throwing 20.19m. Before 2022, she had never thrown past 18 metres indoors and 19 metres outdoors, but ended the year with almost 10 throws over 20 metres and went totally undefeated outdoors!
7. Shericka Jackson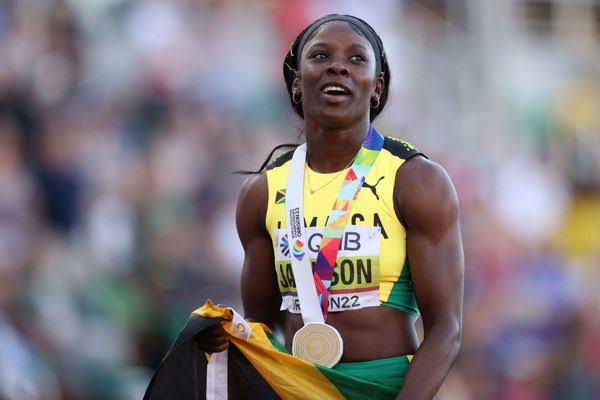 Shericka Jackson had quite the long season, seeing as she started off 2022 competing indoors, something she had never done before. This was reasonably so, being that she is normally based and trains in Jamaica, and also because the Jamaican track season starts outdoors in March.
However, she trained in Arkansas early this year and in just her first year running the 60m, she set a train of Personal Bests (PB), even going on to make the final of the event at the World Indoor Championships in Belgrade. She ended the indoor season with a massive PB of 7.04s, the 5th fastest time ever run by a Jamaican woman.
Moving outdoors, she ran her first 100m race at the JAAA/SDF Jubilee Series in Kingston, winning in 11 seconds flat while she made her first appearance at the Diamond League about a week later, placing 2nd in Doha with 22.07s – her only loss in an event she would make her own in 2022.
At the Jamaican Championships, Jackson was without doubt the Athlete of the Games as she swept the women's 100m and 200m. She dropped a huge Season's Best (SB) of 10.77s to win the women's 100m final ahead of Olympic Champion Elaine Thompson-Herah and then doubled back with a stunning PB of 21.55s to win the 200m title, the fastest time ever run on Jamaican soil!
If there were any doubts that Jackson had arrived, she cast the aspersions aside at the World Championships in Oregon, setting PBs in both her events yet again. In the women's 100m final, she started out fast and stayed with Shelly-Ann Fraser-Pryce, but the latter managed to stay clear of her younger compatriot, Jackson, who was rewarded with a PB of 10.73s and a Silver.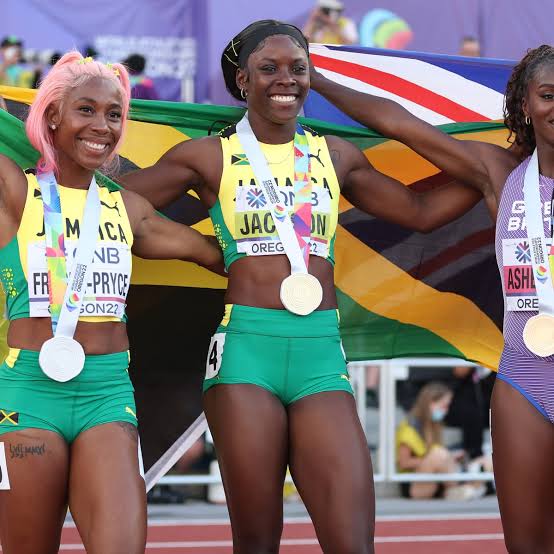 In the 200m, she ran 21.67s in only her semifinal race, just 0.04s outside the Championship Record set in 2015. She went faster in the final, smashing her PB with a blistering 21.45s clocking, a massive Jamaican National Record (NR) and the 2nd fastest time ever run by a woman in history over the distance! It was her first individual GOLD medal at the Worlds after earning a clutch of Bronze over the years.
Jackson was so good that she ran another 100m PB at the Monaco Diamond League, hot on the heels of Fraser-Pryce less than a month later in 10.71s. She won the NACAC women's 100m title and ended her season with a flourish, winning her first Diamond League title with a 21.80s clocking in the women's 200m.
Faith Kipyegon
Every year, Faith Kipyegon has consistently shown up and owned the show in the women's 1500m and 2022 was no different. 2022 can infact be considered one where she further consolidated her position as perhaps the greatest female miler of all time, with a snatch of dazzling accomplishments.
Rather than kick off her season with her customary event, she opted to go with a 3000m opener at the Doha Diamond League in May, an endurance and perhaps a fitness test as most distance runners do. There, she came in 2nd with a Season's Best (SB) of 8:38.05, only beaten by Francine Niyonsaba.
Once she came down in distance, running the 1500m at the Prefontaine Classic, she ran a blistering 3:52.59 in rainy and windy conditions, the fastest time ever run on US soil in the event. It was the fastest time in the world, a time only she would better as the season progressed.
With her race at the Prefontaine Classic already being a good indicator of what to expect later on, she further put out feelers by testing her speed at the Kenyan Trials for the World Championships and Commonwealth Games, running the women's 800m where she placed 2nd in an SB of 1:58.18.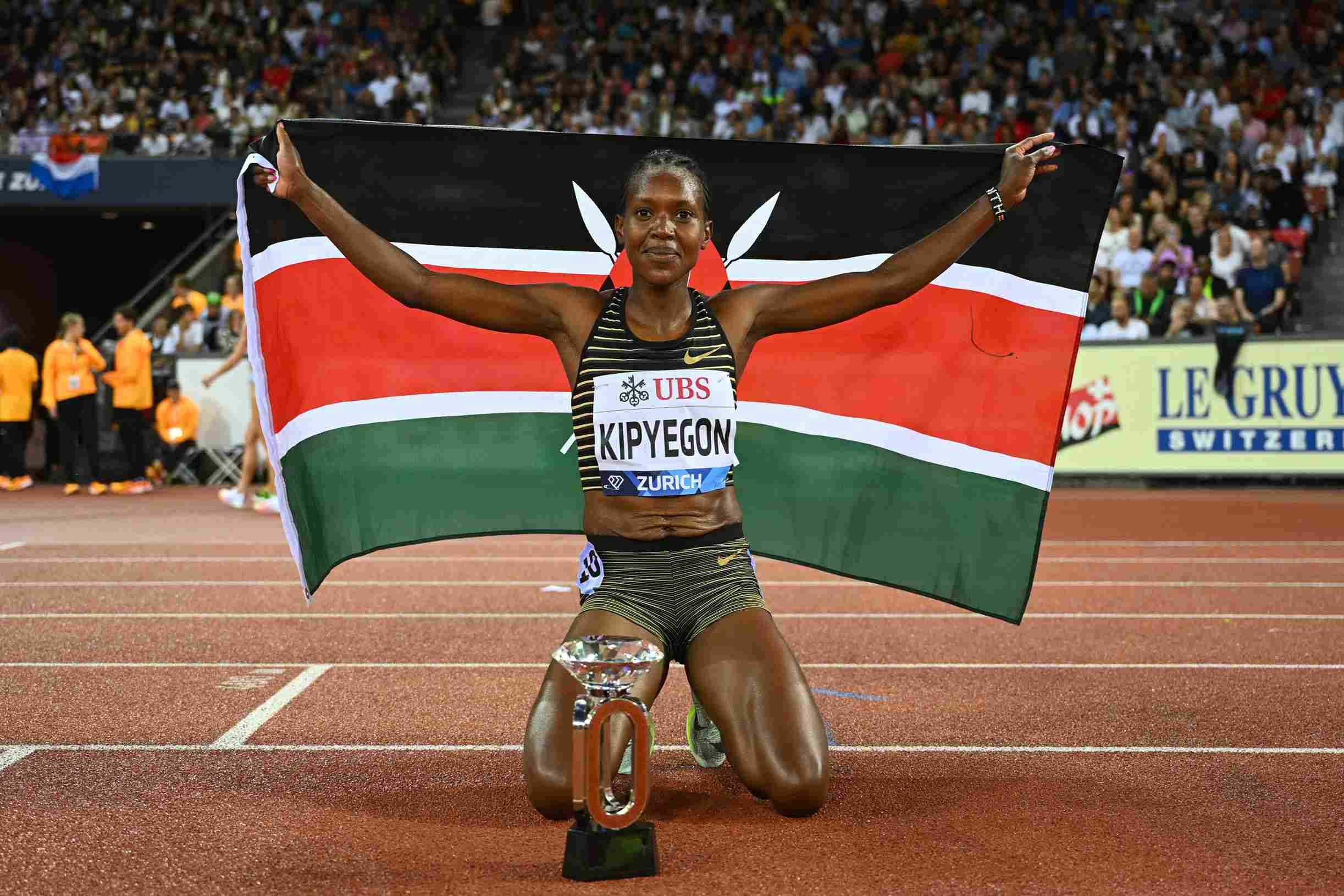 Already a shoe-in for the Worlds, she was selected as a part of the Kenyan contingent to Eugene, Oregon, and put out a championship-worthy performance, as she with her trademark lethal kick, pulled away from her competitors to take GOLD in 3:52.96!
Kipyegon who has medalled at every major championship since 2015, therefore became the first woman to win four World Championship medals (of any colour) in the 1500m.
She opted to skip the Commonwealth Games, and momentarily prepared for the Monaco Diamond League where she gave the performance of a lifetime, running her heart out to a new Kenyan National Record (NR) of 3:50.37, just missing the World Record by a measly 0.3s and therefore becoming the second fastest woman in the history of the 1500m!
She broke every record on the table, except for the World Record (WR), and capped off her season with a win in the Diamond League final at Zurich.