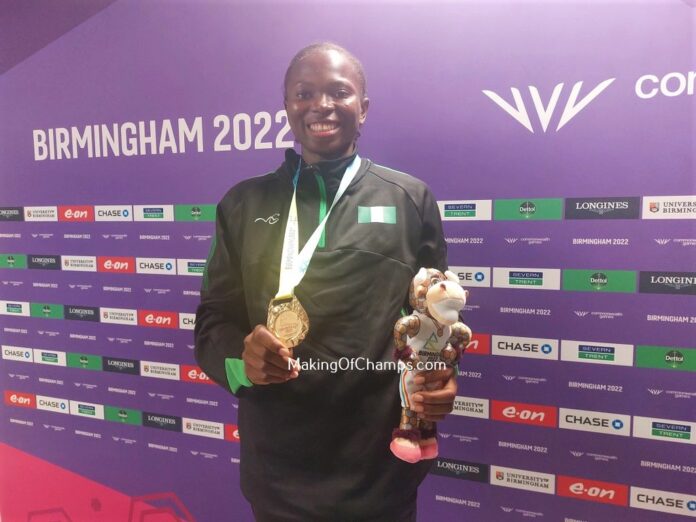 There aren't many athletes you do trust to deliver a medal for their country on the last day of an international championships, as much as you do trust Ese Brume. It is an art that she has perfectly mastered, and overtime shouldering the medal burdens of Nigeria, and yet again delivering on the biggest stage.
On the last day of Athletics at the 2022 Commonwealth Games in Birmingham, Brume twice leapt to a new Games Record, jumping 7.00m (+1.6) on the nose to reclaim the Long Jump Commonwealth title she last won in 2014 at the Glasgow edition.
It was a dominant display from the African Record holder, and although she did not immediately hit the ground running, when she did hit full flow, she was simply unstoppable. World Leader, Australia's Brooke Buschkuehl got the Silver medal jumping 6.95m(+0.5), while Ghana's Deborah Acquah who only arrived in the UK on Friday having had visa issues, jumped a Lifetime's Best and National Record (NR) of 6.94m (+1.8) to win Bronze.
Acquah laid down the marker on her very first attempt, jumping that NR, and it was a mark which she used to send a signal to the rest of the field about her potential and jumping abilities, instantly looking like she would cause an upset.
Having come under pressure fouling on her own first attempt, Brume knew she needed to respond if she was to avoid a big scalp. She revved up a bit jumping 6.99m to surpass Bronwyn Thompson's record of 6.97m from the 2006 Games.
The World Silver medallist jumped 6.99m on her 2nd attempt, and instantly shot up to the lead, but it was her perfect timing on the board that made all the difference. That is the hallmark of super athletes, responding when they need to, and leaving others to do the chasing.
In a six-jump sequence, Brume jumped marks over 6.9m four times, fouling once and her least mark being 6.81m. Apart from the 7m she jumped on her last attempt when she had already secured the GOLD medal, she jumped 6.99m twice, and then 6.96m twice. All marks were good enough to win her the title.
This season, she has hit the 7m twice, jumping 7.02m to finish 2nd in Eugene. With her winning mark in Birmingham, she has become the first African woman in history to jump four legal marks over 7m.
Brume has now won two Commonwealth Games titles, an Olympic Silver medal, two medals from the World Championships (Bronze & Silver), multiple African titles, she has won it all.
Somehow, her event always comes up on the last day of competitions, and most times it would be when Nigeria is in dire need of medals to exit a competition with, like the 2019 World Championships in Doha. She has remained consistent, always delivering medals for Nigeria. Since 2018, Brume has never missed out on the podium at any competition she has represented Nigeria.