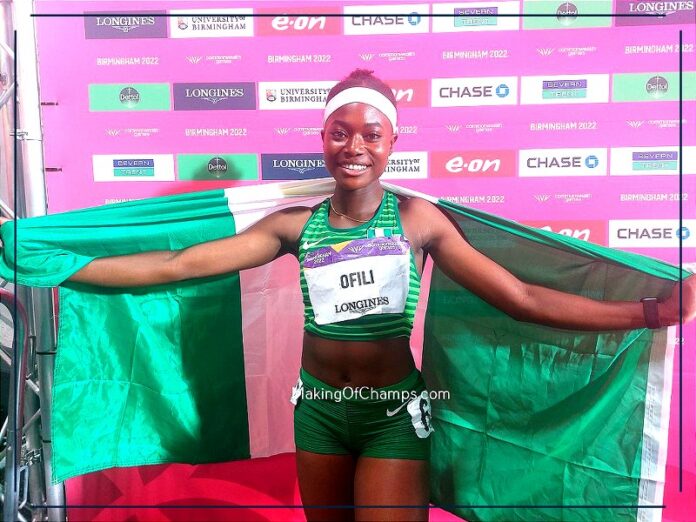 Favour Ofili produced the best performance of her senior career at a major championship so far, winning her first individual medal after racing to Silver in the final of women's 200m at the 2022 Commonwealth Games in Birmingham.
The visibly fatigued Nigerian athlete clocked a time of 22.51s, putting some daylight between her and Namibia's Christine Mboma who was trailing with full speed, trying to the close the gap on her African rival. However, Ofili's 2nd place was not going to be overhauled, hanging on tightly for that spot.
It was almost a lost cause chasing Jamaica's Elaine Thompson-Herah, who was a class apart from the rest of the field, bolting away from everyone to win the Double at the Games, interestingly the first time she will be winning two medals from the Commonwealth Games.
Thompson stormed to a new Commonwealth Games Record of 22.02s, opening a big lead going into the home straight, and just motoring away from Ofili who cemented 2nd spot, while Mboma had to settle for Bronze in 22.80s.
Another double for the books Happy Independence Jamaica. Thanks to all my supporters ❤️ stay tuned more to come 📝.
@neweratrackclub
@andisportsmanagement @pumaperformance

#hiswill #hisglory #history #historybook #fearless #motivated #puma #ncb #flow #pumawoman #double pic.twitter.com/ERUJGRP3tP

— Elaine Thompson-Herah (@FastElaine) August 6, 2022
For Ofili, winning a medal in Birmingham, assuages for the grueling season she has had. That 200m final was her 64th race across four race disciplines this season, both at indoor and outdoor circuits. She was visibly fatigued, but winning a senior medal outside Africa will all be worth it for her.
She has shown so much promise this season, breaking Blessing Okagbare's Nigerian Record of 22.04s, becoming the first Nigerian woman in history to run sub 22s when she ran 21.96s in May. Only two African women have ever run under 22s: Mboma and Ofili, and they look like they would foster a continental rivalry that should entice the fans for many years.
Prior to that 200m final on Saturday, both athletes had only met once, and Mboma won the last match up in Kenya when she won GOLD at the World Junior Championships. Although Mboma's fans might argue that she isn't 100 percent fit from that Thigh injury she sustained in May, Ofili's fanbase could make a case for their 'Star girl' being fatigued.
However she will leave the championships a fulfilled woman, adding another individual medal to the 400m Silver medal she won three years ago at the African Games in Rabat. For now, she is honing her skills in the shorter sprints, running super fast times, and when she decides to return to the one lap, she could become unbeatable.
✨STAR GIRL HAS WON A SILVER MEDAL. Favour Ofili🇳🇬 came out of the bend, and although it was a mountain trying to catch @FastElaine 🇯🇲(GR 22.02), the Nigerian athlete pulled away from Christine Mboma 🇳🇦 to finish 2nd in the women's 200m final. Ofili clocked 22.51 👏👏 pic.twitter.com/9hzdGA5NF3

— Making of Champions (@MakingOfChamps) August 6, 2022