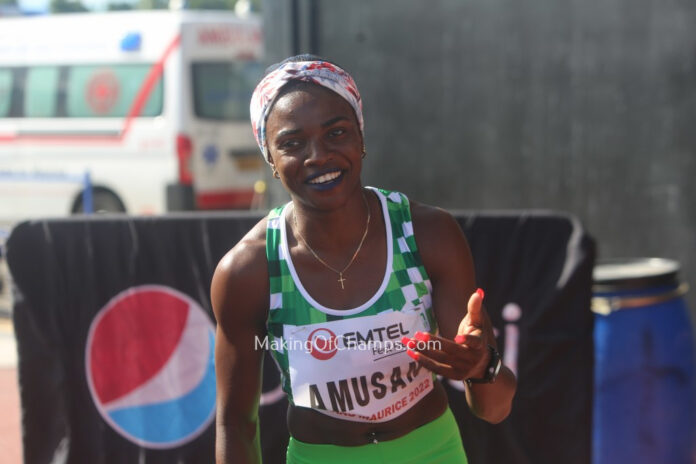 Nigerian hurdler Tobi Amusan advanced to the semis of the women's 100m Hurdles at the ongoing World Championships in style, flying over the barriers to cross the line in a new African Record (AR) of 12.40s to win Heat 3 on the penultimate day of the championships holding in Oregon.
The African Record holder ran a dominant race and left the rest of the field on her trail, taking 0.01s off her one-month-old record set at the Paris Diamond League, with 2nd place finisher Danielle Williams clocking a distant 12.87s, while Sarah Lavin settled for 3rd in 12.99s. Amusan's time was also the fastest across all heats, with her closest challenger being USA's Alia Armstrong who won Heat 4 in 12.48s.
Olympic Champion Jasmine Camacho-Quinn was the woman to beat in Heat 2 where she returned a time of 12.52s while Brittany Anderson won Heat 1 with 12.59s. World Record (WR) holder Kendra Harrison dominated Heat 6 in 12.60s, with Polish hurdler Pia Skrzyszowska taking Heat 5 with 12.70s. Defending champion Nia Ali was disqualified after hitting the last two hurdles and failed to complete her race.
Having narrowly missed podium finishes at both the 2019 World Championships and last year's Olympic Games where she placed 4th, Amusan is aiming for her first global medal and is certainly one of the key contenders heading into tomorrow's semis and final.