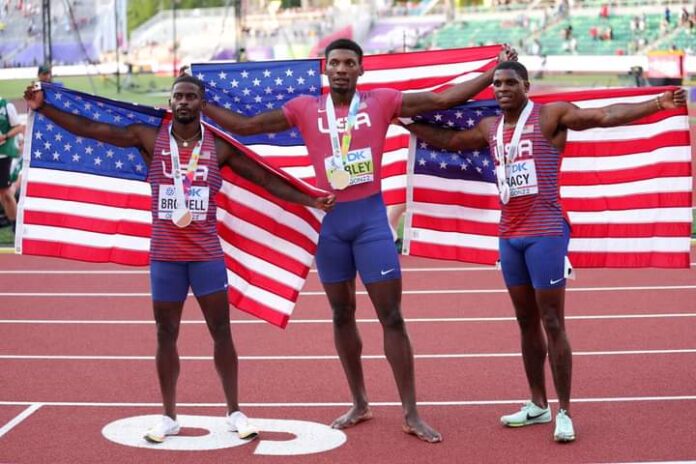 Of the eight (8) finalists in the men's 100m field at the 2022 World Athletics Championships in Eugene, Oregon, 4 of them were from the United States, 1 Canadian, 1 South African, 1 Jamaican and 1 Japanese.
Fred Kerley was in the form of his life and was raring to go, having run a World Lead (WL) of 9.76s at the US Championships only a few weeks back on the same track.
Now running in front of a home crowd, he showed up huge in the final, his tall figure storming through the centre of the field and warding off the challenge posed by his countrymen Marvin Bracy and Trayvon Bromell to win the world 100m title in 9.86s!
He inspired an American 1-2-3 finish as Bracy and Bromell stayed with him throughout the race, both returning identical times of 9.88s, but separated by the littlest of margins – 0.002s!
Prior to now, Kerley had never won a Global title, even in the 400m where he first gained worldwide acclaim. For Bromell, he wins his first world outdoor medal since he won Bronze at the Beijing 2015 World Championships while Bracy takes his first ever outdoor medal at the global level.
Behind them, Oblique Seville ran 9.97s to finish 4th while the only African in the field, Akani Simbine was 5th in 10.01s, just edging out defending champion Christian Coleman who was credited with the same time.