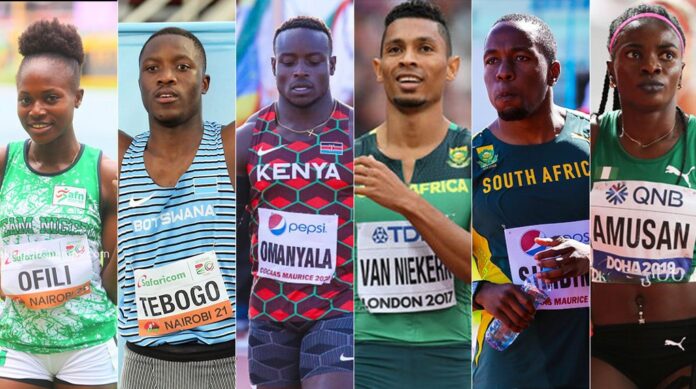 There aren't too many 100m races at a major continental championship that: sent pulses racing, athletes tensed and having their gaze glued to the big screen, like the men's 100m final at the 2022 African Senior Championships in Mauritius. In fact it took more than 10 minutes to ascertain who had won the race between Kenya's Ferdinand Omanyala and South Africa's Akani Simbine.
That race was the perfect advert for African sprinting, and although there was hardly anything to separate Omanyala from Simbine, the spectators who watched that race live at Cote d'Or National Sports Complex were left enthralled.
Watching and reliving that race would do more justice over what unfolded, than the kind of vivid pictures descriptive words could attempt to paint. It was electrifying, and it wasn't even just the top two finishers who were left in the dark: Henricho Bruintjies (South Africa) wasn't sure he piped Raymond Ekevwo (Nigeria) to Bronze, until the results got flashed on the screen.
Both Omanyala and Simbine clocked an identical 9.93s (+4.5), dipping in at the same time, and the former only got the win by the tiniest of margins. In the official result detailing how Omanyala got the win, he clocked 9.927 while that of Simbine was 9.930. Bruintjies won his first ever individual senior medal, edging out Ekevwo (10.03s) crossing the line in 10.01s.
However for all these anticipatory continental battles, the commencement of the 2022 World championships has been tainted by visa delays for mostly African athletes. In some cases, it took the intervention of presidents and high level government officials secure emergency visas for their athletes.
Africa's fastest man, Omanyala will be arriving in Oregon just three hours before the start of his 100m. Like him, there have been many other African athletes: Arthur Cisse, Gina Bass, Rosemary Chukwuma and many more who suffered the visa snag. While these athletes are still expected to shine, their travails securing visas might not see them perform optimally.
Here's an African sprinters' watch in Eugene, and their chances of medalling in their events.