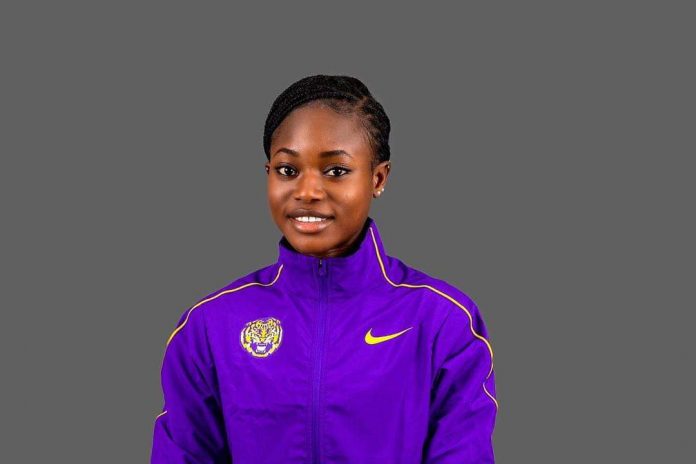 Last weekend at the SEC Outdoor Championships hosted by Ole Miss in Oxford, Mississippi, Nigeria's Favour Ofili graced the track, storming to an equal Personal Best (PB) of 10.93s to win the women's 100m into a 0.7m/s headwind, a time that solidifies her position on the NCAA all-time list as the 10th fastest performer over the distance.
Ofili finished well clear of her biggest rival on the collegiate scene, Abby Steiner who managed 2nd place in 11.02s while Jada Baylark was 3rd in 11.24s.
If the 100m wasn't enough to prove her mettle to the world, she carried on her amazing performance over to the 200m just an hour later, quickly making up the stagger on Steiner on her outside and holding her top-end speed to finish the race in a record-breaking 22.04s (0.2), the third fastest time in NCAA history and a new Meet Record (MR) after originally taking the reins in the preliminary round.
With that, she collected her third win of the day, having also helped LSU's 4x100m team to Gold in 42.59s while she held off Steiner again who was a close 2nd in 22.07s with Talitha Diggs running a PB of 22.64s to take 3rd.
Her namesake, Favour Ashe made sure Nigerians collected top honours in the 100m as he swept to a new Personal Best (PB) of 10.04s (0.6) to strike Gold and break Justin Gatlin's University of Tennessee's freshman record which stood at 10.08s. He becomes the second fastest man in school history only behind Christian Coleman. In doing this, he finished ahead of Dedrick Vanover of the Florida who ran a Personal Best for 2nd place with 10.10s and Dorian Camel 3rd in 10.11s (PB).
In that same race, Brume Godson who runs on the same team as Ofili (LSU), finished 5th in a time of 10.16s.
World U-20 Champion Udodi Onwuzurike at the PAC-12 Championships in Eugene, Oregon, broke ground to a huge Personal Best (PB) of 20.09s to finish 2nd in the men's 200m (0.0), taking the lid off Clarence Munyai's African Junior Record set in 2017 and moving him to 5th on the all-time U-20 list in the history of the event.
Onwuzurike broke the Stanford University School Record (SR) of 20.33s set by James Lofton in 1978 and becomes the second fastest U-20 of the season after Erriyon Knighton.
Meanwhile, this came after he finished 2nd in the 100m, having posted 10.17s behind Micah Williams who ran a Collegiate Lead of 9.93s.
Earlier on in the week Grace Nwokocha also secured the 100/200m double at the Big South Championships in High Point, N.C, taking the women 100m in 11.13s (2.8) and doubling up with a Meet Record (MR) of 22.75s. Like Ofili, she left with three conference championship Gold medals, contributing a leg to her school, NC A&T's win over the 4x100m in 43.19s.