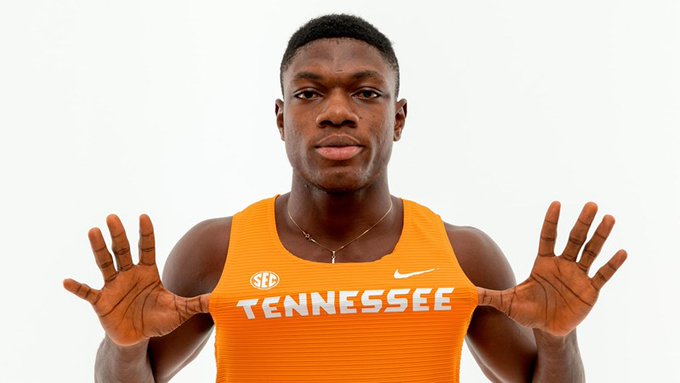 Few days after he had just turned 20 years old, Favour Ashe ran the fastest time in history by any Nigerian athlete in all conditions, racing to a staggering 9.79s (+3.0) to win his 100m heat at the LSU invitational meet in Baton Rouge, underlining the huge prospects he embodies. That time, is the fifth fastest time all conditions in the NCAA history.
Ashe's talent has never been in doubt, and his performances since moving to the United States to study, is testament to the glimpse of promises he had shown before leaving Nigeria for the University of Tennessee. Now, he is making himself known in the NCAA and has just barely scratched the surface.
Before travelling to Louisiana to compete last Saturday, Ashe had run one outdoor 100m race this season, narrowly losing to his compatriot Alaba Akintola who won their match-up in Auburn, posting a Personal Best of 10.09s. Ashe came in 2nd in that race, equally running a PB of 10.10s; and although he felt like he could have much more better, it was a pointer to his potentials and what he is capable of running.
Favour Ashe has just done a crazy time….9.79s (+3.0) to win heat 1 of men's 100m at the LSU Invitational, this is a very big performance even though it is wind-aided. Ashe just clocked 20yrs old two days ago and to be running this fast at this age? The future is bright for 🇳🇬 pic.twitter.com/qTS3PeU4Kc

— Making of Champions (@MakingOfChamps) April 30, 2022
Earlier this year, he had taken the indoor circuits by storm announcing himself with a very fast 60m PB of 6.58s. That was his first ever competitive race indoors, moving to 12th in the Nigerian all-time list, only to massively improve at the Indoor National Championships in Birmingham with a new PB of 6.51s and going joint 4th with Davidson Ezinwa in the Nigerian all-time list. He would go on to finish on the podium, winning Bronze for his school in his first American championships. His glaring talent has now started yielding medals.
"I will say that throughout the season so far, I haven't really even run my best race yet: either it is a bad weather or a bad start from the blocks, but I am quite happy that I competed at the LSU invitational. I knew it was going to be a good meet, my coach told me to go and execute and that I will be fine, which was exactly what I did," said Ashe who has now run three 100m races this season.
Returning for his third 100m race this year on April 30th, Ashe stormed to an impressive 9.79s, bolting past the rest of the field in a commanding fashion to impressively win his heat. Ashe's gap between other opponents was such that Da'Marcus Fleming who finished 2nd, clocked 10.02s while Micaiah Harris was 3rd in 10.10s.
Favour Ashe is SPEED! 🔥

❗ 9.79 (+3.0) ❗this weekend at the LSU Invitational – the fifth-fastest all-conditions time in NCAA history!#GBO ⏱ pic.twitter.com/9wCJwRPVIZ

— Tennessee Track & Field/XC (@Vol_Track) May 2, 2022
While the wind might not be legal, if this 9.79s is translated into what it portends for a legal time, it could be a high 9.8s or a low 9.9s, meaning that he is surely in the sub 10s range, and it's still the first week of May.
"When I saw the time (9.79s), I was so happy, but when I heard the wind was +3, I was a little a bit sad. I am still cool with it though, because I know I'm in a good shape, and running that time wind-aided would have also been a very fast time in a legal wind. So I am happy with it" he added.
With this time, Ashe is ranked at number 1 for Nigeria in all conditions, just above Olusoji Fasuba's Nigerian record of 9.85s (+1.7). Divine Oduduru with 9.86s (+0.8) is an outright 3rd, while Chidi Imoh (+4.4), Olapade Adeniken (+2.8) & Seun Ogunkoya (-0.2) with 9.92s are joint 4th in the Nigerian list.
Last season at the 3rd MoC Grand Prix in Lagos, Ashe showed that he had come of age when he ran a then PB of 10.17s to win his heat, subsequently running a wind-aided 10.07s to finish 3rd behind Kenya's Ferdinand Omanyala and Enoch Adegoke. Omanyala ended the 2021 season clinching the African Record with 9.77s, while Adegoke became the first Nigerian athlete to make the 100m final at the Olympics since Ezinwa in 1996.
If Ashe continues on this trajectory, there's no doubt he is destined for the very top of the sport and could fly Nigeria's flag at the very top, challenging some of the very best and who knows possibly winning a medal. Certainly one can't bet against this, his star has risen!