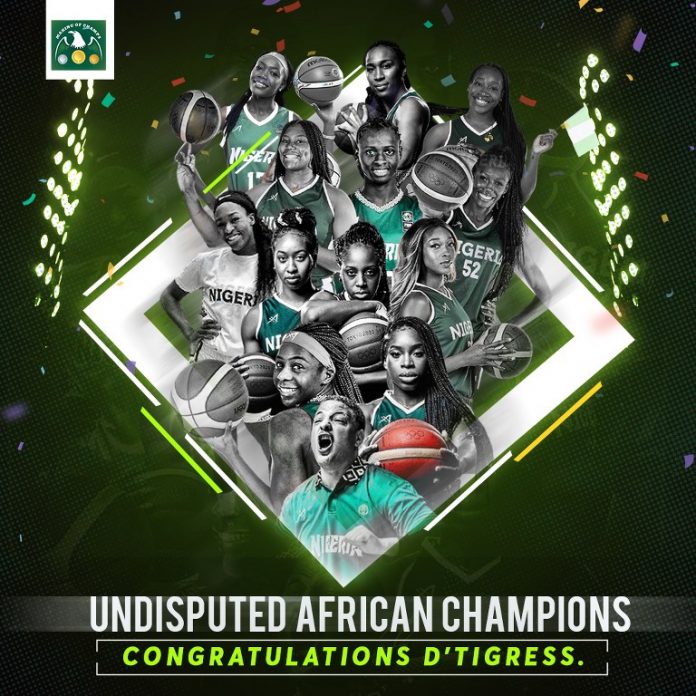 From tip-off, it was evident Nigeria's D'Tigress were on a mission to successfully retain their Afrobasket title, blazing hot all through the game to land a historic fifth title after beating Mali to win their third consecutive crown on the bounce.
Nigeria underlined why they are the undisputed African champions, beating their West African counterparts 70-59 to go second in the all time list on the continent, only behind Senegal who have a remarkable 11 Afrobasket titles.
The interesting aspect about Nigeria's successful defence of their title this time around, is that they defeated all four of the top five teams in Africa, which is by no means an easy conquest, but rather proof of the strength in depth in the Nigerian set-up
Nigeria blew Mali out of the water in the first quarter, racing to a 22-11 points lead, but it was the shooting range of Victoria Macaulay that really caught the eye. Macaulay was up 13pts after just 6mins, and it has her efficiency that really helped give Nigeria the needed confidence.
Nigeria capped the AfroBasket 3-peat 🏆@DtigressNG 🇳🇬@afrobasketwomen #AfroBasket pic.twitter.com/XbTQq2hART

— AfroBallers (@afroballers) September 26, 2021
What worked all tournament for D'Tigress, was their ability to spread buckets across the team without relying on just one player. Against Mali, four players finished on double digits for Nigeria: Victoria Macaulay made a game-high 15 points, while Ezinne Kalu made 13pts and led with assists (4). Ify Ibekwe summed up a standout championships for herself, making a double -double, hitting 13pts and 10 Rebounds.
Skipper Adaora Elonu who made 12pts in the game, got a deserving moment at the Afrobasket Championships, winning her maiden MVP award, having averaged 10.4points per game. Elonu has been with the team since 2013, and alongside Kalu, and Sarah Ogoke were the only three to have been part of this 3-peat success.
Nigeria struggled in the 2nd quarter, and were just missing open shots, but still held on to go into the break leading by 7points. What fully turned the tide in Nigeria's favour was the 3rd quarter, when they blew out Mali 28-14, opening a big lead going into the 4th quarter, and although Mali played superbly, outshooting D'Tigress 21-11, the job had been done.
Coach Otis Hughley deserves some plaudits for how he has tweaked this team, adding some experience when he drafted back Ogoke into the team after the latter was left out of the Olympic squad. Homebased Murjunatu Musa continued to get a run-out with the team, and there was room for newbies like Nicole Enabosi to stake a claim.
🎉THE @DtigressNG HAVE DONE IT AGAIN!!🎉
Congrats for the 3 peat!! 👌👌👌@nbbfonline #AfroBasket #Women #Celebrate60 pic.twitter.com/h6dOH5EIjT

— FIBA Women's Afrobasket (@afrobasketwomen) September 26, 2021
However the revelation of the tournament for Nigeria has to be Amy Okonkwo who singlehandedly bossed the semifinal match against Senegal. Ibekwe also had a shout for the MVP, and each time she stepped on the court, she had a stellar performance for the team.
With Nigeria's dominance on the continent since 2017, a new era has now been ushered, and it's going to take a lot to knock them off this perch. Now the team will take some time off, then regroup next year for the FIBA World Cup, hoping to go one step than the quarterfinal stage.