Yes it was a new team, players with minute international caps to their names, but Nigeria failing to progress beyond the second round of the Afrobasket Championships in Rwanda, is quite antithetical to the perceived progress of D'Tigers in the last five years.
Nigeria was eliminated after suffering a shock defeat to Uganda, who were much better than their Nigerian opposition, beating the latter 80-68 to qualify for the quarterfinals of the biennial Championships.
D'Tigers missed the bulk of their first team who are primarily preparing for the new season with their respective clubs, most of them in the NBA, and with the new season tipping off very soon, it would have been hard to draft them on the Afrobasket roster.
Going on a 2-0 run in their first two games against Mali and Kenya, it papered the cracks over the inexperience the team lacked. After all, any team Nigeria puts out in a game on the African continent, they should be able to get a result. Or so it seemed.
Beating Kenya was not easy, although the final score (71-55) belied the true outcome of the game, but the ominous sign of danger for the team came against Ivory Coast in their last group C match. Nigeria lost by 68 -77, and although it looked like a blip, bouncing back against Uganda would have masked the team's frailties.
Uganda set out its stalls very against Nigeria, going into an early 15pt lead in the first quarter. They outshot Nigeria bar the last quarter (19-13) when the game was fully in their grasp. Nigeria FG shooting was at 24/67, with a 35.82% conversion rate.
— D'Tigers | Nigeria Basketball (@NigeriaBasket) August 31, 2021
In fact Nigeria's greatest undoing at the Afrobasket has been it's Free Throws conversion rate. Against Uganda, Nigeria got awarded 18 FTs, but was only able to make 9 of those. Contrast it with Uganda who got 12 FTs and made 10 (83.33%).
Coach Mike Brown sounded confident ahead of the championships, and even though he tried to conceal it, there was still an element of doubt over the players he had chosen to execute the Afrobasket.
"The great part about being a part of Nigeria basketball [is that] there are a lot of players that are available to play. The tough part about it is having this competition at this particular time, for us, it makes it really hard," Brown said.
"It puts us in a little bit of a predicament, but like I said, there were a lot of guys that wanted to play [but] their teams would not release them because training camp start now. So, it puts us in a little bit of a predicament, but again, the depth of Nigerian basketball is what excites me."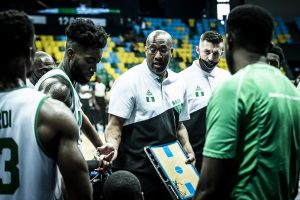 Coach Brown will return to Golden State Warriors for a coaches' retreat, and with some of the backroom reshuffle that led to Alex Nwora leaving the team as one of the assistant coaches, it's left to be seen if Brown will return to tinker the side for the 2023 FIBA World Cup qualifiers.
Nigeria's 3-0 loss at the Olympics still reverberates, but with the full complement of the team, they will be a handful for any team in Africa, even though one Afrobasket Championships title is too meagre of the country's status.