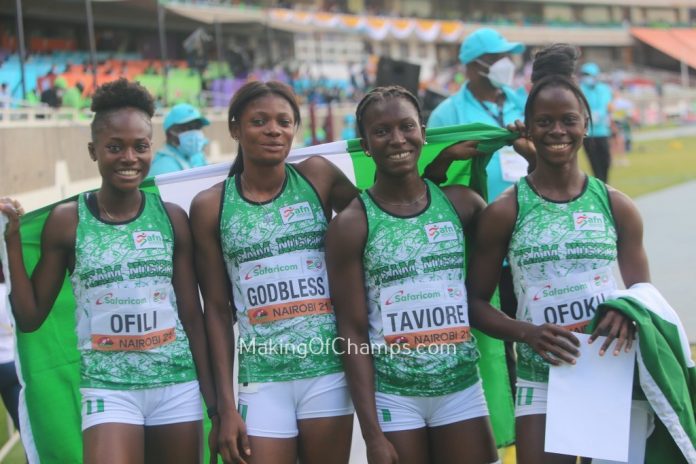 Team Nigeria ended the World Athletics U20 Championships in Nairobi, Kenya, with a total of seven medals after they added two medals on the final day of the championships.
The women's 4x400m quartet of Deborah Oke, Imaobong Nse Uko, Ella Onojuvwevwo and Favour Ofili combined to win GOLD for Nigeria in the event, clocking a new U20 World lead of 3:31.46.
The men's 4x400m team made up of Nnamani Johnson, Dubem Amene, Ezekiel Nathaniel and Bamidele Ajayi narrowly missed out on a medal after they placed 4th with a time of 3:07.19.
Nigeria's quartet of Praise Ofoku, Favour Ofili, Anita Taviore, and Tima Godbless clinched the Bronze medal in the women's 4x100m, running a time of 43.90s. Jamaica ran a World U20 Record of 42.94s to win GOLD, with Namibia getting Silver in a NU20R of 43.76s.
Their male counterparts came close to winning GOLD, but for a faulty baton exchange between individual 200m GOLD medallist, Udodi Onwuzurike and Godson Brume, which made not finish the race. Akekalu Fakorede and Nicholas Mabilo had both run good opening and second leg.
Ezekiel Nathaniel became the latest Nigerian athlete to run under 50s in 400m Hurdles, smashing his Personal Best from yesterday (51.37s), and running a new one of 49.89s to finish fifth in the final.
Infield, Ruth Agadama finished in 8th place in the women's Long Jump with her best leap of 6.24m (+0.4) which she jumped on her second attempt. Agadama got into the final round, but fouled twice in the last 3 jumps, and missing out on a medal