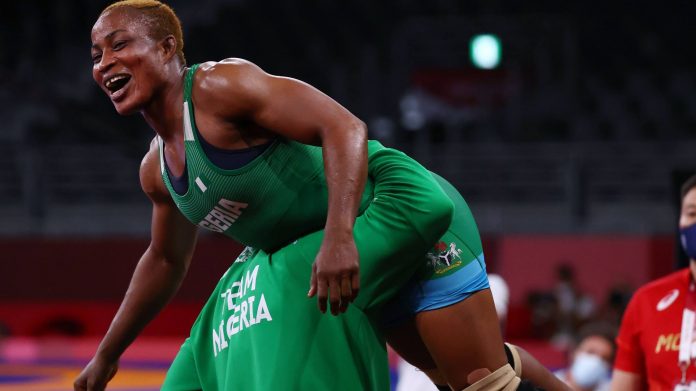 Never has Nigeria won a medal in the Wrestling event at an Olympic Games, but what better time to open the country's account than at Tokyo 2020, after Blessing Oborududu ensured Nigeria will get either a GOLD or Silver, qualifying for the final of the women's 68kg.
After one week of turmoil for Nigeria in Japan, with so many issues surrounding the disqualification of athletes from Athletics, there was something to cheer about after Oborududu fought three rounds en route the final of her event, making her the first Nigerian Wrestler in history to attain that.
A graduate of Business Administration from the Niger-Delta University, Oborududu attained more sporting excellence, showing great intent in her fight against Mongolia's Battsetseg Soronzonbold from the go to win the contest.
FINALLY NIGERIA HAS A MEDAL AT THE TOKYO OLYMPICS… Blessing Oborodudu wins her 68kg semifinal bout against Mongolia's Battsetseg Soronzonbold by 7-2 , which means she is guaranteed GOLD or Silver – NIGERIA'S 1ST EVER MEDAL IN WRESTLING AT AN OLYMPIC GAMES #PagaChamps pic.twitter.com/7vQBnNxFXA

— Making of Champions (@MakingOfChamps) August 2, 2021
The 32-year old Nigerian went into an early 4-0 lead, then added more three points, ending the contest by 7-2 to emerge as winner of the bout by points. On the evidence of her quarter-final fight, one would have feared for Oborududu because she struggled to see off Meerim Zhumanazarova.
Her wealth of experience came to bear in the last 8 when she wound down the clock, holding off Zhumanazarova. She was leading 3-1 and with more than one minute left in the race, Zhumanazarova scored a point to put pressure on the Nigerian. Oborududu's legs were weary, but her spirit didn't give in as she held on dearly to win.
This is Oborududu's third consecutive Olympics, and although she has hinted that this could be her last Games, if she bows out at this stage she will definitely have memories to last her for ages.
Next up for Oborududu is USA's Marianna Stock Mensah, who herself has been in a very good form. Mensah is currently ranked at number 1 coming to Tokyo, and Oborududu ranked number 2, so it should be a massive fight between the duo.
Goes without saying the immense work President of the Nigerian Wrestling Federation, Daniel Igali has put in to get Nigerian Wrestlers competing for medals. With Odunayo Adekuoroye and Aminat Adeniyi yet to compete, Nigeria could even win more medals from the Wrestling event.
All hail Daniel Igali (NWF President) for producing Nigeria's 1st ever Wrestling medal at an Olympic Games! Tune in for Blessing Oborodudu's GOLD medal match against USA's Stock Mensah, the last action of evening session tomorrow from 10.15am Nigerian time-exact time of match TBD pic.twitter.com/N8zNsqPrbs

— Making of Champions (@MakingOfChamps) August 2, 2021