Not many Nigerian Sports enthusiasts who aren't keenly following Athletics had heard about Enoch Adegoke, but the moment he became the first Nigerian male athlete in 25 years since Davidson Ezinwa to make an Olympic 100m final, he started generating an interest that was trickling away from the sport.
In fact, the name Adegoke started resonating loudly on Saturday 31st July when he stormed to an astonishing 9.98s to win his 100m heat at the Tokyo 2020 Olympics, becoming the 11th man from Nigeria who belong to an exclusive club of sub 10s runners.
It's not like Adegoke is an upstart, he is the reigning Nigerian champion, winning the 100m title at the National Championships two months ago in Lagos with a then Personal Best of 10.00s. He actually made an entrance on the global scene when he stormed to 10.19s three years ago in Gold Coast in his first race at the Commonwealth Games.
For over five years, Adegoke has been a household name for Athletics buffs in Nigeria, so it has been a big leap for Track and Field with his progress at the Olympics, making inroads and drawing attention to a sport with huge potentials to flourish in the country.
HE HAS DONE IT! Enoch Adegoke becomes Nigeria's first 100m Olympic finalist since 1996 clocking 10.00s in heat 2 of men's 100m semis! 25 years after Davidson Ezinwa at Atlanta '96 …indeed he is #RunningByRevelation #PagaChamps#Athletics #Tokyo2020 pic.twitter.com/lQCEXzQyOX

— Making of Champions (@MakingOfChamps) August 1, 2021
Nigeria for the first time since 2008 Beijing Olympics (Obinna Metu, Olusoji Fasuba and Uchenna Emedolu), had three athletes in the first round of men's 100m. However, you would have to go back to Athens 2004 (Emedolu) when Nigeria last had a semifinalist.
With the trio of Divine Oduduru (his 100m disqualification still rankles), Usheoritse Itsekiri and Adegoke reigniting a 100m renaissance competing in Japan, it was by itself a win, even though it does not come with a medal of honour.
Adegoke progressed through the rounds earning an automatic spot for the final, finishing 2nd in heat 2 of the 100m semis clocking an identical 10.00s, to edge out Trayvon Bromell. That race won over most Nigerians, something a heavy PR budget might have even struggled to pull off.
With most Nigerians back from church and having front row seats, they tuned in around 1.50pm local time with bated breath to watch their countryman compete in an event they hadn't seen one in since Atlanta 1996 Olympics.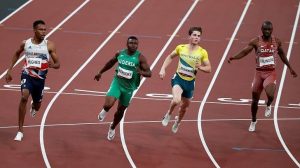 Getting his trademark bullet start, Adegoke was well in the race after 50m, then the sight most fans would want erased from their memories occurred, he pulled up and Did Not Finish (DNF) the race, a heart wrenching moment for the athlete.
For someone who has a lot of muscles, Adegoke is prone to injuries and it has limited him a bit. Before going to the 2018 Commonwealth Games, he had a two-month lay-off that almost put his participation in jeopardy.
Adegoke was aided out of the Tokyo stadium after copping that injury in the final, and for all he had done to put Nigeria in the conversation just before that race, you have to feel for him how disappointed he would have been not finishing the race.
He might not have won a medal, but he is making Nigerians gradually fall in love with the sport again especially the Gen-Zs, knowing that they have a contender. Just like when he was schooling at the Obafemi Awolowo University in Ile-Ife, Osun state South-West Nigeria, putting his school on the sporting map, winning the West African University Games title in a time of 10.21s in 2018, he is taking it now to a National level.
lmao, Enoch has done all this training at Ife, as in Ile-Ife. na me go carry ice block from house go training make we use am do ice bath throughout the lockdown. No proper conditioning, facilities he has access to are limited. This is just the beginning, Running by Revelation 🇳🇬

— Beef (@Alayonimiii) August 1, 2021
It's hard seeing a Nigerian Track and Field athlete trend on Social media for two consecutive days, but Adegoke broke that glass ceiling with his heroics in the heats and semis of men's 100m. In fact he topped the social media trends on Sunday, especially on Twitter where thousands of people were tweeting about him.
For someone who has been a National athlete for over three years, his humility is quite admirable and it shows with his mantra: "Running By Revelation" which has generated some buzz from new Athletics converts.
Back in January after he had run a World Leading 10.16s at the All Comers meet in Akure, other athletes would have been raving the moment, but it seemed like any other day for him, casually bringing out his phone and checking what points the players he had chosen in his Fantasy Premier League team had returned. Never fazed by any occasion, hardly angry, always happy even when he doesn't win.
His outing has won the hearts of people, he will even win more over next season when he starts competing regularly across Diamond League circuits. Hopefully this injury won't keep him out for too long.