Many people have waited for Oluwatobiloba Amusan to break the ice on that infamous un-timed race at the Nigerian Olympic Trials in June. She was so distraught after the competition, weeping so profusely having missed a chance to put on a show for the home fans.
Amusan has finally spoken up, pouring out her heart in an extensive touching write-up that detailed what she has had to endure since the trials where she competed in the women's 100m Hurdles at the Yaba College of Technology. It was an unrecorded race that had all the hallmarks of being a record breaking race.
There were talks of the 100m Hurdles African Record of 12.44s being broken, in fact the omen and other factors seemed to align when she met the current holder, Glory Alozie a day before the race.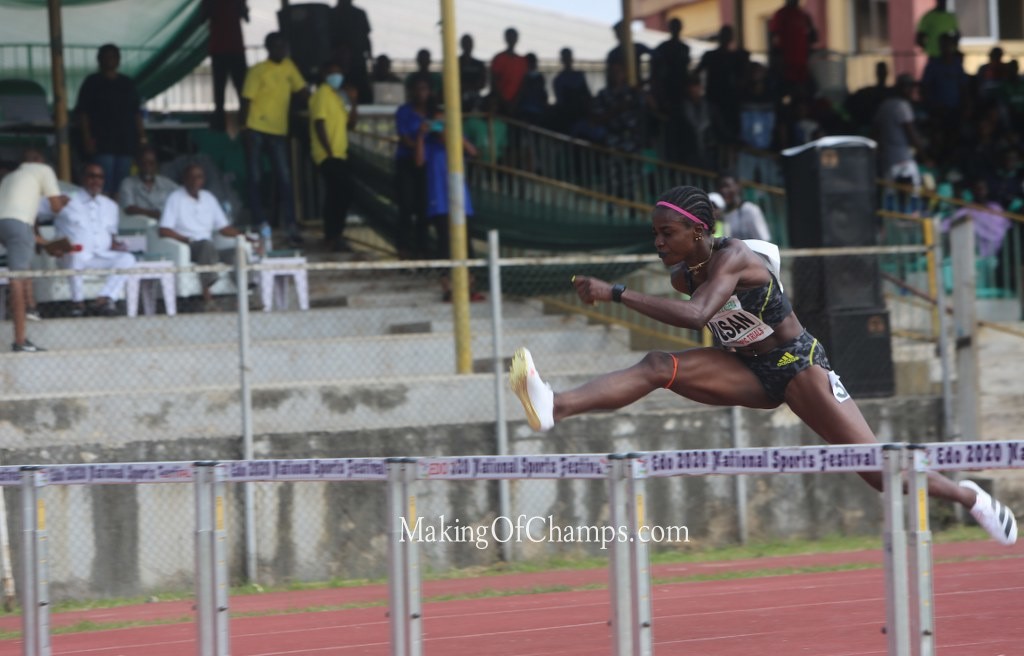 "About 80 meters into the race, as I approached the home stretch, from the corner of my eye, I couldn't help but notice that the display clock stayed at Zero the whole time. "That's strange", I thought. I had never experienced that before. That's a mirage, right? I mean I wouldn't put it past Nigeria. But the timer not working, happening during one of the biggest races of my career…Hell no!  So it was quite astonishing seeing all that effort come down to an important moment of just simply timing the final, or so it seemed." Tobi wrote in her emotional piece on athlst.com
"Today, it has been almost a month since the incident but what I find puzzling is the fact that no one gave an official explanation with regards to the faulty timer. There has been no official apology either. How do you explain an electronic timer malfunctioning in only one race in an entire competition?"
Click here to read all that she has had to say about that race, a captivating article that summed up her disappointment on a system that seemed to have connived to rob her what would have been the epoch occasion in her career.
Amusan remains one of Nigeria's huge medal chances at Tokyo 2020 Olympics. She comes into the Games ranked at number 4 in the 100m Hurdles this year, having run an equal PB of 12.48s in 2018. In fact she had even matched that AR of 12.44s, but it was slightly wind aided +2.2, so she is going to Tokyo in the best form of her life.
In 2019, she came very close to winning a medal in Doha, narrowly finishing in 4th place, a place she described any athlete would not want to be. Alozie remains the last Nigerian athlete to win an individual Olympic medal on the Track, and 21 years after, Amusan is aiming to replicate that and also take her record. This time, we are sure the race will be timed.
You can tune in early on Saturday 31st July by 2.45am (Nigerian time) to watch Amusan compete in the women's 100m Hurdles heats. The semifinals will take place on Sunday 1st August by 11.45am, and the final happening the next day, Monday 2nd August by 3.50am.