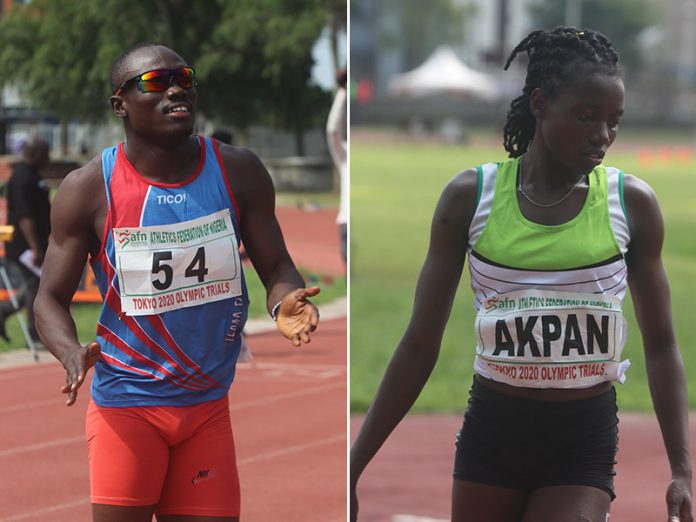 Timothy Emoghene and Abasiono Akpan both defended their national titles in the men's and women's 400m Hurdles, coming on top in what was the marquee event on Day 3 of the Nigerian Olympic Trials taking place at the Sports Complex of the Yaba College of Technology (YABATECH), Lagos.
In one of the most eagerly anticipated races of these National Trials, it was Emoghene who prevailed in the battle between two of the three fastest Nigerian men in the last five years over the distance.
In a tense final it was the Delta State-born athlete who delivered, claiming a decisive victory in 49.69s, a Personal Best (PB) for him as he also ran inside 50s for the first time in his career. With Rilwan Alowonle clattering into the 10th hurdle, it set him back as he timed 50.36s in 2nd, while Henry Okorie finished 3rd in 51.64s.
Before the men's final, Akpan had proved her prowess over the distance winning a second National title in the process.
Although, she was driven every step of the way to improving her women's 400m hurdles PB as she won GOLD in 57.47s, a couple of pounding heartbeats ahead of Kemi Francis who finished 2nd with 58.15s as Sarah Ochigbo settled for 3rd in 59.21s.
Earlier in the day, Abiye David won the women's 800m in 2:09.13 with Hawa Haruna clocking 2:10.34 for 2nd place while Varity Umaru placed 3rd in a time of 2:13.05.
In the women's 10,000m final, Mary Offor was 15s clear of the chasing pack, coming through for the win in 37:26.53. Mercy Ebi was 2nd in 37:41.43 and Blessing Solomon 3rd in 38:45.71.