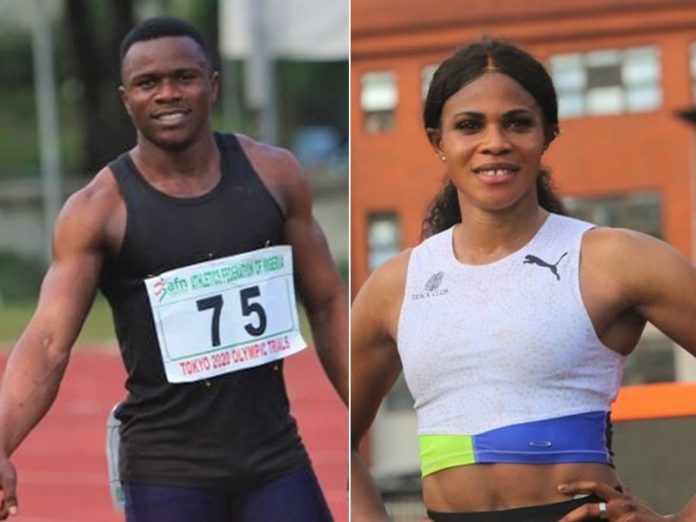 For years, Blessing Okagbare has been a frontrunner in Nigerian Athletics and in 2021 especially, she has been in such inspiring form, taking her impressive performances a notch higher at the Olympic trials which held at the Yabatech College of Technology in Lagos.
Racing in an individual event for the first time in Nigeria since 2016, when she won the last Olympic Trials in Sapele, Okagbare powered to a massive time of 10.63s (2.7m/s) to win the women's 100m, becoming the joint second fastest woman (under all conditions), tying with Shelly-Ann Fraser-Pryce in the process.
She defeated Rosemary Chukwuma who clocked 11.07s to just edge out a brilliant Grace Nwokocha (11.11s) in a cutthroat battle for 2nd.
The men's event was also not short of exciting as Enoch Adegoke not only won his first national title, but also bettered the Olympic qualification standard, prevailing in a new Personal Best (PB) of 10.00s (1.2). The top three finishers at the 2019 National Championships all finished in the pole positions again but not in the same order as defending champion, Usheoritse Itsekiri came in 2nd in a Season's Best (SB) of 10.07s, nudging out Seye Ogunlewe in an equal PB of 10.11s.
Knowledge Omovoh was the fastest qualifier for the women's 400m final, taking almost a second off her previous PB in the heat 1 with a time of 52.31s ahead of National Sports Festival Champion, Imaobong Nse Uko who went through as well in 52.77s.
Glory Okon Patrick revised her PB in the third heat, going under 53 seconds for the first time as she clocked 52.84s, bringing along with her Yinka Ajayi in 53.37s as Patience Okon-George topped her own heat as well in 53.39s.
In the men's equivalent, Samson Nathaniel ran the fastest qualifying time in the opening heat with an SB of 45.82s, comfortably ahead of Chidi Okezie, Nigeria's fastest man over the distance this season who returned 46.75s. Sikiru Adeyemi (46.49s) and Emmanuel Ojeli (46.81s) were also winners of their respective heats.
On to the only middle distance race of the day, Salisu Habib won the men's 800m title in 1:52.36 from Sodiq Adebisi who was timed 1:53.99 and Ogunseye Goke in 1:55.80s.
Sadjo Ismael also did enough to take the men's 10000m where he clocked 14:51.61, being the only man to dip under 15 minutes while he finished ahead of Gyang Emmanuel  in 15:05.56 and Paul James in 15:11.40.