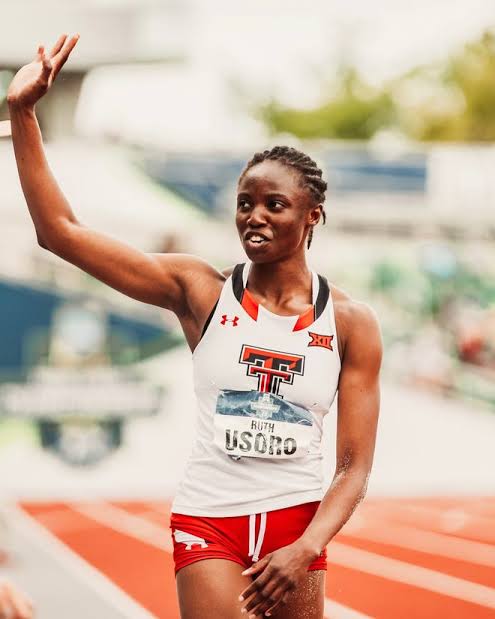 To round off a great collegiate season, especially one that has seen her break several National Records and qualify for the Olympics in two events, Ruth Usoro on the final day of the 2021 NCAA Championships held in Eugene, secured a sweep of the year's Triple Jump titles, becoming the first Red Raider to win a national title in the event.
Having won the indoor title months ago, the Nigerian athlete won the event again outdoors, bounding out to a mark of 14.19m (-0.7m/s) for a clutch victory ahead of Jasmine Moore who got a last-round gasp of 14.13m (-0.2) and Michelle Fokam at a Personal Best (PB) of 14.04m.
Her compatriot, Favour Ofili closed out her freshman year in LSU with a 4th place finish the women's 200m and a time of 22.45s (+0.2) to match, just edged out by Anavia Battle for 3rd by three hundredths of a second. Cambrea Sturgis completed the sprint double by winning the event in a big Personal Best (PB) of 22.12s ahead of Tamara Clark in 22.17s.
Sade Olatoye finished the women's Hammer Throw in 7th place and with a best mark of 67.84m. The event was won by Camryn Rogers who hurled a big PB, Meet Record & Collegiate Record of 75.52m ahead of Shey Taiwo who also set a PB of 71.27m.
She would later take 7th again in the Shot Put with 17.26m, while Isaac Odugbesan managed 11th place in the men's equivalent with a best mark of 18.96m.
Other athletes who achieved All-american honours were Mercy Abire in the women's Long Jump and Esther Isa in the High Jump.