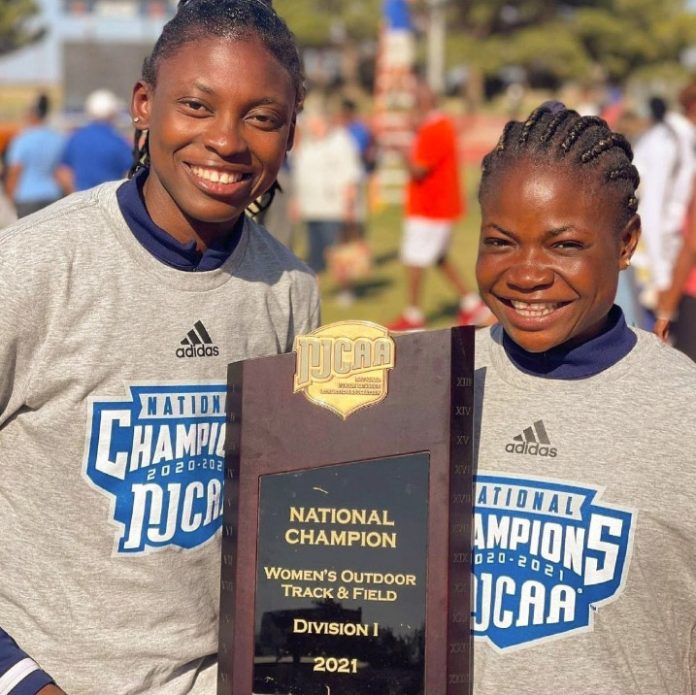 Over the weekend, World Bronze medallist Ese Brume competed in the women's Long Jump at the American Track League in California, reaching a Season's Best (SB) of 6.60m (1.1) to take 2nd in the event which was won by Brittney Reese at a last round 6.80m (0.4), edging out the Nigerian whose mark came in the 5th round for a temporary lead. Malaina Payton finished 3rd with 6.43m (0.1).
Rilwan Alowonle Jr. competed at the Lee Last Chance Meet in Cleveland, dominating the men's 400mH which he won in an SB of 50.47s from Samuel Hartman, 2nd in a time of 51.89s as 3rd went to Daviciea McCartney in 52.51s. He returned back to track minutes after that race to take the men's 200m as well in a Personal Best (PB) of 21.01s.
It was a busy weekend for Nigerian athletes on the US collegiate circuit as they entered the championship season, with many of them competing at their various conference championships while others rounded off their 2021 outdoor season as student-athletes.
One of such athletes was Rosemary Chukwuma who was in astonishing form at the NJCAA Championships in Texas where she competed in the women's 100m and 200m, setting four Personal Records en route to winning both titles!
After a preliminary run of 11.35s, she powered to a new PB of 11.26s (1.3) which is the third fastest time by a Nigerian in 2021 to win the title ahead of Ayla Stanisclaus who ran 11.46s and Odell Frye in 11.50s. Moments after that, she would return to the track and again dominate the 200m in a time of 23.18s (0.0), again beating Stanisclaus to the title as the latter returned 23.30s while 3rd went to hurdler Hannah Connell in 23.46s.
Before the competition, her teammate Success Umukoro who is primarily known in the short sprints, had only run the quartermile competitively three times but did well to clock a new PB of 53.95s and win the women's 400m in a closely fought battle with Kaleb McDonald who finished in a time of 54.00s. Lashanna Graham was rewarded with 3rd in 54.11s.
Onaara Obamuwagun who also competes for South Plains College, same school as Chukwuma and Umukoro, bounded out to a PB of 13.35m for a clutch win in the women's Triple Jump into a headwind of -2.2m/s. She held off her compatriot Victory George who on the other hand, competes for Iowa Western CC and also leapt a PB of 13.05m (0.0) in 2nd.
Competing in her first NJCAA Championships, Central Arizona freshman Princess Kara hurled a mark of 51.56m to win the women's Discus Throw, nosing out Marie Forbes of Cloud County CC who reached 51.47m and Santorryna Rallinford in 3rd with a time of 45.74m.
Having run a PB of 22.64s in qualification, Favour Ofili was one of the favourites heading into the women's 200m final at the SEC Championships and she delivered on that promise, storming round the track to a time of 22.16s to finish 2nd, her fastest time all-conditions as it was aided by an excessive tailwind of 4.1m/s. Tamara Clark won the race in 21.89s.
Also at the SEC Championships was Isaac Odugbesan who produced an outdoor PB of 20.22m to take the men's Shot Put, surpassing 20 metres in three of his six throws and ensuring that he swept the SEC Shot Put titles but indoors and out. It was also the longest throw in his school by an athlete from his school since 1980.
Yinka Ajayi improved on her SB at the Missouri Valley Championships where she sealed the women's 400m GOLD medal in a time of 53.48s. Her teammate David Olowookere also made an appearance at the meet, smashing his week-old PB with a time of 50.81s to win the men's 400mH.
National Record holder and NCAA leader, Ruth Usoro was also in fine form at the Big 12 Championships, carting home a Bronze and a GOLD medal at the meet. She finished 3rd in the women's Long Jump with a mark of 6.60m (1.1) and returned a day after to clinch GOLD and a dominant win in the Triple Jump as she broke sand at a Meet and Facility Record of 14.06m (1.3) in rainy conditions.
Amarachukwu Obi won the women's 200m at the C-USA Championships in Tennessee, running a time of 23.30s for title and well ahead of her closest counterpart by over half a second. This came minutes after she had run a Season's Best (SB) of 53.06s to place 2nd in the 400m.
On the infield, her teammates Esther Isa and Erhire Best both dazzled in the High Jump, striking GOLD in the event. Isa cleared an equal PB of 1.85m for the women's title, added a Silver medal in the Triple Jump with as she registered a mark of 12.97m and a Bronze in the Long Jump with a PB of 6.11m. Meanwhile, Best picked up the men's High Jump title with a mark of 2.18m, two centimetres shy of his PB and added a Bronze in the Triple Jump where he set a PB of 15.37m.
At the ACC Championships in Raleigh, Kelechi Nwanaga extended her SB to 54.93m to win the women's Javelin Throw, inspiring a 1-2 finish for her school, FSU as her teammate Sara Zabarino followed with 54.48m (PB) while 3rd went to Madison Wiltrout who managed 52.98m.
Staying on the throws, Sade Olatoye threw a Big 10 Championships Meet Record (MR) of 68.90m to win the women's Hammer Throw in Illinois, beating Tess Keyzers who reached a mark of 65.76m for 2nd, while 3rd went to Rebecca Mammel with 63.63m.