African Record holder in the women's Long Jump, ACP Chioma Ajunwa-Oparah (MON) has lined up several activities to commemorate the 25th Anniversary of her triumph in the Long Jump at the Atlanta '96 Olympics where she became the first and only Nigerian (male or female) to win an individual Olympic GOLD medal.
Ajunwa-Oparah made this disclosure at a Press Conference held at the Radisson Blu Hotel in Ikeja, Lagos State, on Tuesday 27th April 2021, which had several partners and associates in attendance, including representatives of the Nigeria Olympic Committee (NOC), Okukuoma Foundation and former Super Eagles Captain, Chief Segun Odegbami amongst others.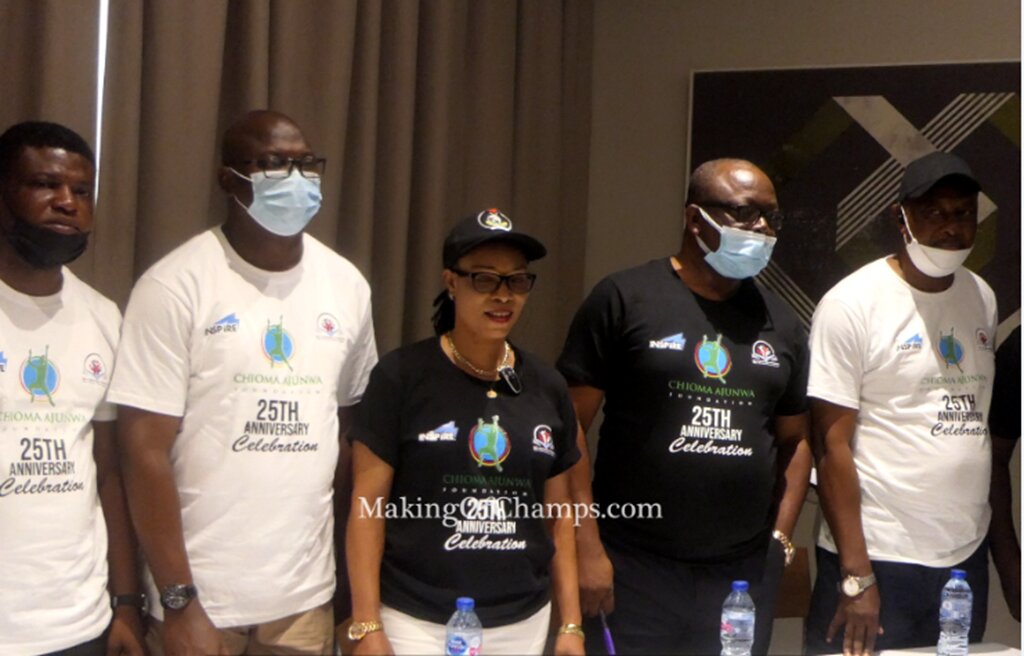 Ajunwa-Oparah, who is the President of the Chioma Ajunwa Foundation, said, "It is a great honour for me to stand before you today to unveil the journey towards winning an Olympic GOLD medal 25 years ago, a feat no other Nigerian has been able to equal. It is on record that I am the only person on planet earth that has played Football to World Cup level and also won an Olympic GOLD in Athletics.
"In line with the above, to celebrate the golden jump of 1996 Olympic Games, some activities have been lined up, namely, an Olympic Talent Hunt for Girls in eight states of the federation, launching of a N6Billion Ultra-Modern Sports Development Centre in Owerri, Imo State, and a celebration of the Silver Jubilee Anniversary of the Golden Jump in the Federal Capital Territory (Abuja)."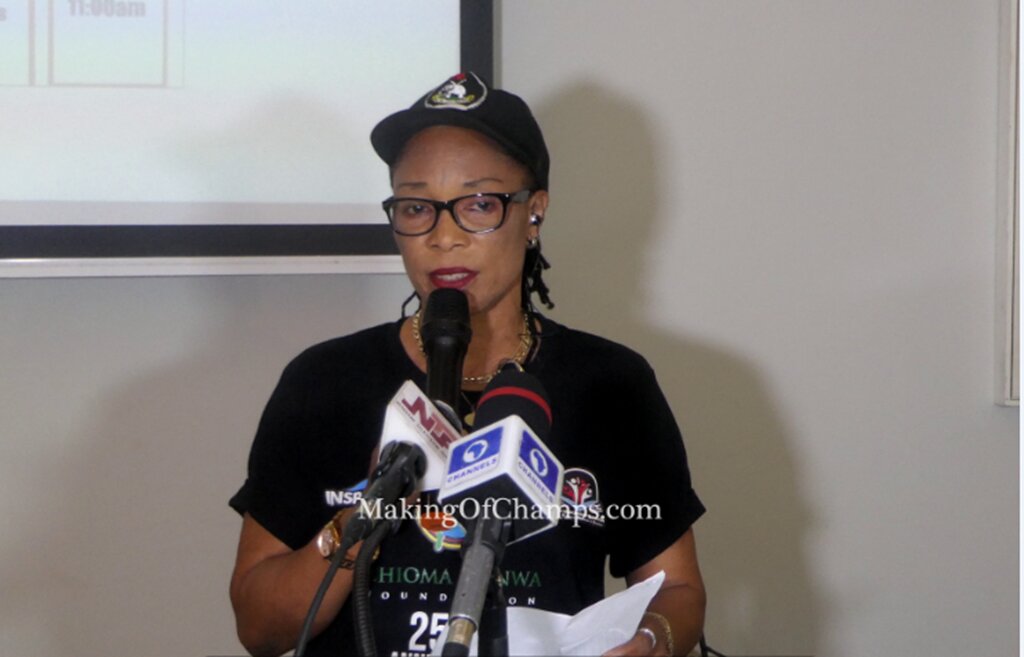 Ajunwa-Oparah also called on individuals, the private sector and the Media to lend their support to the initiative. She added: "The Chioma Ajunwa Foundation in collaboration with our partners, supporters and sponsors are working tirelessly towards a national hunt for the next big thing in sports in Nigeria.
"It is my fervent hope and wish that Nigeria as a country can produce more Chiomas, Falilats and Onyalis, and this can be done by initiating a deliberate and sustainable programme such as this. We wish to use this medium to invite our partners, government functionaries, the private sector, philanthropists and well-meaning Nigerians around the world and the Media to support this great event."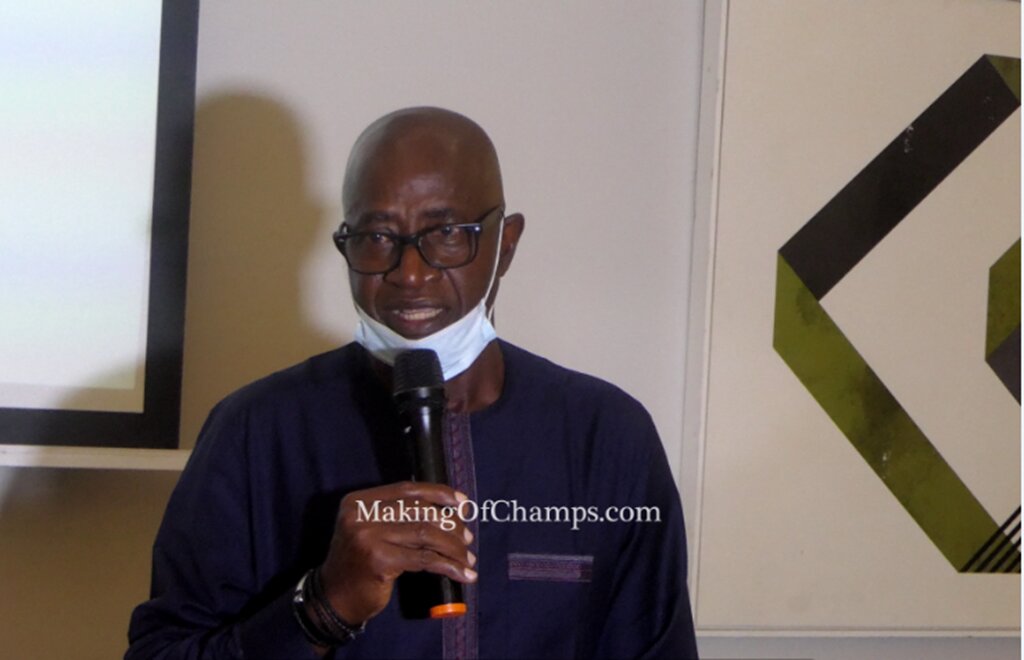 She also thanked God, Chief Odegbami and the Nigerian Police Force (NPF) for giving her the opportunity to showcase her talent, which led to her GOLD-winning feat in Atlanta.
Odegbami, who has served as a mentor to Ajunwa since 1991 and also runs a Football Academy, lent his support to the project. He said, "Her kind of determination in everything she sets out to do is inspiring. None of us knew what we were getting into when our paths crossed in 1991, and we have been together through her travails and successes. We have a lot of opportunities to collaborate, and I believe this will be a success story."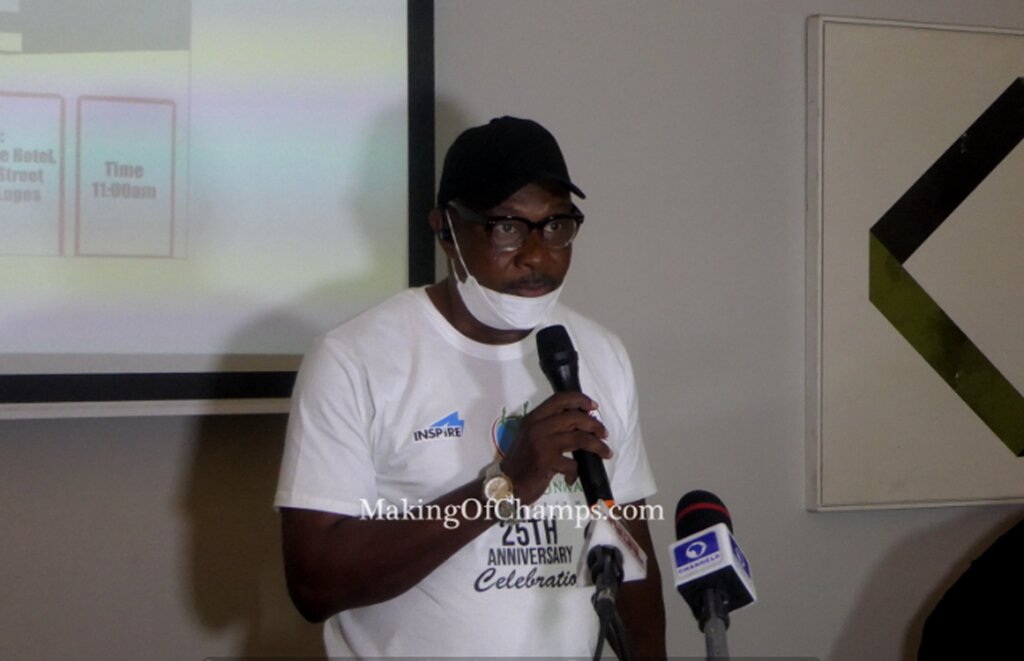 Director General of the Chioma Ajunwa Foundation and National Record holder in the men's 400m Hurdles, Prince Henry Amike released the timeline of the talent hunt for girls in secondary schools within the age bracket of 10 to 17 years, which will cut across three sports: Athletics, Football and Taekwondo, in eight states of the federation, starting with Lagos from May 11-13.
The talent hunt will then move to Abia State (May 18 -19), Edo State (May 28–30), Anambra State (June 7 – 9), Enugu State (June 16 – 18), Ebonyi State (June 25- 27), Imo State (July 6 – 8), and the Grand Finale in Abuja on August 16 – 18), with the series of activities culminating with a Dinner at Transcorp in Abuja on August 19.