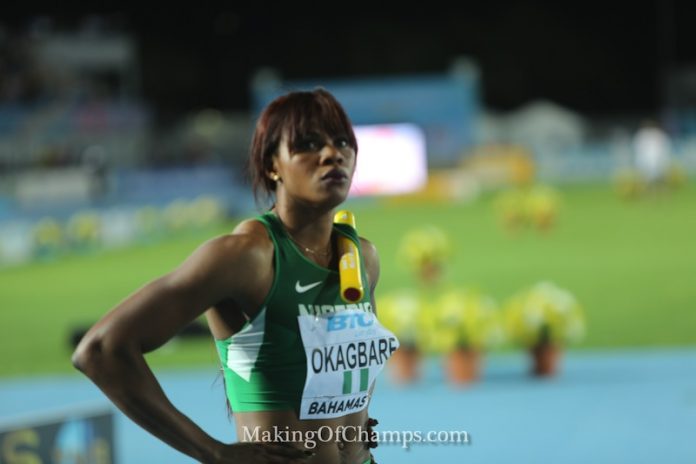 Two-time World Championships medallist Blessing Okagbare will lead a team of 24 athletes (12 Males and 12 Females) to represent Nigeria at next weekend's World Athletics Relays, scheduled for the Silesian Stadium in Chorzow, Poland, between May 1 and 2.
There were doubts over Nigeria's participation at this edition of the World Relays, owing to the ongoing Athletics Federation of Nigeria (AFN) crisis amidst claims the impasse would deny the country an opportunity to seek qualifications for its Relay teams. However, the latest provisional entries on the World Relays website doused those fears, as Nigeria will have five relay teams: 4x100m (men and women), 4x400m (men and women) and the Mixed 4 x400m in Poland.
Okagbare, who was part of Nigeria's women's 4x200m team that won GOLD in 2015, will be looking to win another medal for Nigeria when she teams up with Tobi Amusan and Joy Udo-Gabriel, and new entrants – Grace Nwokocha and Tima Godbless – who have all been listed for the women's 4x100m.
Recently crowned women's 400m Champion at the NSF, Imaobong Nse Uko is the youngest athlete listed at the relays as she joins forces with veteran Patience Okon-George in the 4x400m, also teaming up with Glory Patrick, Abasiono Akpan, Opeyemi Oke and Osaretin Usembo.
All the Top 4 finishers in the men's 100m at the Sports Festival in Benin: Enoch Adegoke, Alaba Akintola, Jerry Jakpa and Usheoritse Itsekiri, were listed in the men's 4x100m team while Divine Oduduru, with a Personal Best (PB) of 9.86s and Seye Ogunlewe, with a PB of 10.12s, were also listed for Team's Nigeria's men's 4x100m event.
The Top 4 athletes in the men's 400m at the NSF, Chidi Okezie, Emmanuel Ojeli, Sikiru Adeyemi and Samson Nathaniel will lead the men's 4x400m team, with Rilwan Alowonle also making up the team. There's also a spot for Timothy Emeoghene in the 4x400m team, after his stellar outing in Benin where he helped Team Delta win two Relay medals in the men's 4x400m and the Mixed 4x400m respectively.
The 2021 edition of the World Relays marks the first global track event since the start of the COVID-19 pandemic and will bring together more than 1,000 athletes from 46 different nations to compete as part of 153 relay teams.
This is the first time the World Relays will be taking place in Europe, with the first three editions holding in the Bahamas, while Japan hosted the last edition held in Yokohama in 2019.
Here are the complete Relay teams:
Nigerian team for Silesia
WOMEN
4x100m: Blessing Okagbare, Tobi Amusan, Joy Udo-Gabriel, Grace Nwokocha, Tima Godbless, Ese Brume
4x400m: Imaobong Nse Uko, Patience Okon-George, Glory Patrick, Abasiono Akpan, Opeyemi Oke, Osaretin Usembo
MEN
4x100m: Enoch Adegoke, Alaba Akintola, Jerry Jakpa, Seye Ogunlewe, Useoritse Itsekiri, Divine Oduduru
4x400m: Sikiru Adeyemi, Emmanuel Ojeli, Chidi Okezie, Samson Nathaniel, Rilwan Alowonle, Timothy Emoghene.
MIXED
4x400m: Timothy Emoghene, Imaobong Nse Uko, Emmanuel Ojeli, Chidi Okezie, Patience Okon-George.
The finalists from the 2019 World Championships have already qualified for Tokyo, but for other countries chasing qualification, the World Relays presents an opportunity to qualify as teams who make the finals of their events will seal automatic qualification.
Here's where you can find the official Entry Lists by COUNTRY and EVENT and Entry Lists by EVENT and COUNTRY