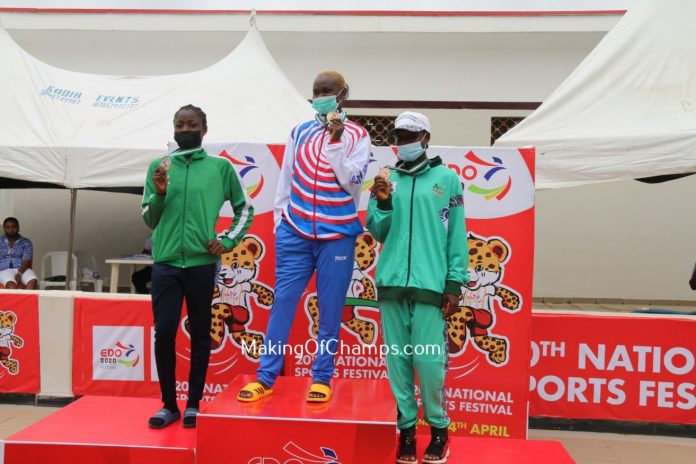 After six days of keen contest in the swimming event at the 20th National Sports Festival (NSF) holding in Benin, Team Delta led from start to finish, showing their remarkable prowess to emerge top of the table in the sport. The riverine team amassed a total medal haul of 38 medals including 23 GOLD, 11 Silver and four Bronze.
Over here at the pool area.

Timipamere Akiayefa has added a GOLD&Bronze in the Women's 50m backstroke and 100m freestyle respectively to her medal haul in the Swimming event for Team Delta , bringing it to a total of 5 GOLD & 2 Bronze with 3 more events for her.#Edo2020 pic.twitter.com/saOii9Y1wx

— Making of Champions (@MakingOfChamps) April 9, 2021
Team Delta's impressive list of swimmers included the brilliant Timipamire Akiayefa, who contributed 10 medals, including five GOLD and five Silver. The undergraduate student of the University of Port Harcourt competed in 10 swimming events – the 400m individual medley, 200m backstroke, 100m backstroke, 4x100m freestyle relay, 100m butterfly, 4x100m mixed medley relay, 200m individual medley, 50m freestyle, 4x100m medley relay, and the 4x100m mixed freestyle.
"It's a happy moment for me and my team, we trained hard every day even when the festival was postponed severally, and we're happy that we succeeded", Akiayefa said.
Meet the Gagbe sisters – Doutimi (pink) and Ifiezigbe (blue) who have both won a total of 15 medals so far.

After winning 11 🥈 at the last festival in Abuja, Ifiezigbe said she precisely trained to grab all the available Gold medals this time.

She currently is on her 6th GOLD pic.twitter.com/EefUYg7fC9

— Making of Champions (@MakingOfChamps) April 9, 2021
Team Delta may have topped the table but the buzz was definitely around 2nd placed Team Bayelsa who engaged the services of the Ifiezegbe and Doutimi Gagbe. Together, the sisters contributed a staggering 23 medals to the overall 35 medals the team won at the NSF in Benin.
Ifiezegbe, the older sister was unarguably the most outstanding swimmer at the event with 13 medals including 8 GOLD, 1 Silver and 4 Bronze medals. Ifie as she's fondly called, had a point to prove going into the festival, mostly to turn her fortunes around from her last loot of 11 Silver medals at the 19th Sports Festival in Abuja.
"I'm so happy this time to win GOLD medals. They did me strong thing in Abuja, where I won 11 Silver medals with no GOLD medal. This time, I precisely trained very hard so that I can win all the GOLD medals and I'm so happy this is happening. I'm grateful to God and my coach because it is not easy".
Meanwhile, younger sister, Doutimi was able to win 10 medals which include two GOLD, two Silver, four Bronze. Doutimi may not have hit her target but she says winning at least two GOLD medals for her state is the best thing that could have happened to her at the games, seeing the number of times the festival was put on hold before now.
"My older sister pushed me a lot and my sport mum who would come to our house and make sure that I attended trainings. I'm grateful for my coach and elder sister too who both motivated me all through the time, they really helped me with my confidence", Doutimi said.
There were also top performers such as Yinlayefa Uwaje with five medals for Team Edo and Collins Obi, who recorded a new Festival Record of 53.92s in the men's 100m freestyle to clinch GOLD for Team Kano.
SWIMMING EVENT FINAL MEDALS TABLE.