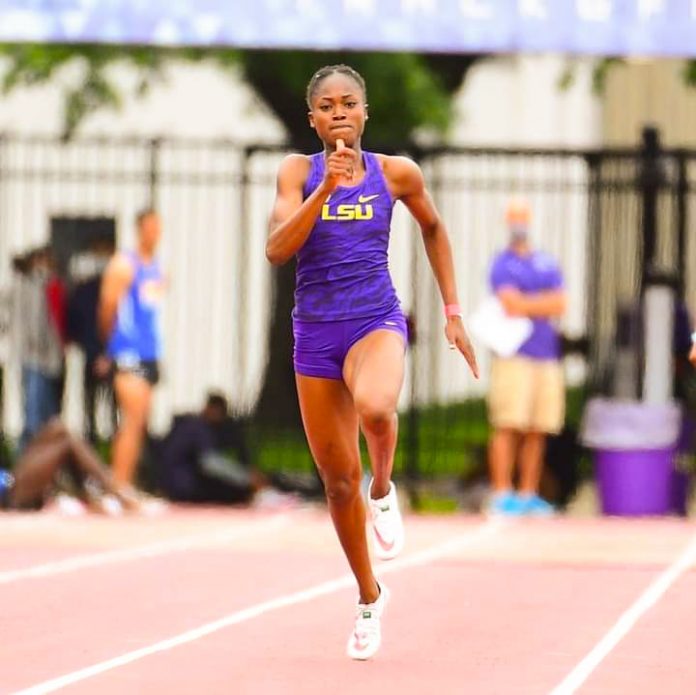 Just as a lot of home-based athletes set a slew of Personal Bests (PB) this concluded week, Nigerian athletes in the diaspora also went on PB spree at various meets on the collegiate circuit.
LSU freshman Favour Ofili clocked a blazing PB of 22.69s (0.0m/s) to win the women's 200m at the LSU's Baton on the Rouge meet, breaking the Meet Record (MR) set by Kimberlyn Duncan 10 years ago in the process. She finished very well ahead of Amber Anning who ran a wind-aided 23.38s in another heat, while Leah Phillips was 3rd overall in 23.77s.
Ofili's time is the fastest time by an African this season and the 2nd fastest time ever run in the U-20 category by an African, 0.17s shy of the Area Junior Record (AJR) set by Mary Onyali almost 34 years ago.
In that same heat, World Bronze medallist Ese Brume opened up her season on the track, running a time of 23.97s (+2.8) for 5th place overall.
Rosemary Chukwuma looked to be rounding well into form as she clocked a time of 11.32s (NWI) in the heats of the women's 100m at the David Noble ASU Relays, going on to win the final in a quicker 11.23s, a time that would have been a PB if not for the +2.5m/s wind reading. She finished ahead of Safia Bright who got 2nd in 11.61s, while 3rd went to Raheema Westfall in 11.71s.
At the 2021 WKU Hilltopper Relays, Amarachukwu Obi recorded a time of 23.23s (+2.5m/s), her fastest time all-conditions to win the women's 200m, defeating Kenisha Phillips (23.57s) and Alexis Williams (24.03s). The women's 100m was taken by Cecilia Francis in 11.66s (+2.5) again from Phillips in 11.75s as Ashley Perryman finished 3rd in 12.25s.
MTSU's Erhire Best soared over a massive new PB of 2.20m to win the men's High Jump, a win by 20 centimetres as his closest opponent was Ryan Mount who cleared 2.00m, while Eli Kosiba finished 3rd with 1.95m. Erhire's mark is the best by a Nigerian man since 2018 and also establishes a new School Record (SR).
The women's event was won by Esther Isa with a Season's Best (SB) of 1.80m, ahead of Yashira Rhymer-Stuart (1.70m) and Denia Hill-Tate (1.60m).
Sade Olatoye was also as impressive in the women's Hammer Throw at the Big Ten Florida International meet as she won the event with a 66.03m hurl, well clear of Amanda Howe at 61.31m and Tess Keyzers who managed 60.87m. Olatoye also landed an SB of 17.21m to finish 3rd in the women's Shot Put.
Princess Kara at the ACCAC Championships, dominated the women's Discus Throw, hurling a new PB of 52.77m for a thorough win over the rest of the field, led by Julianna Perez who threw 40.49m and Zamanee Blevins at 36.83m. She also won the Shot Put with another PB of 13.53m, well clear of Julianna Perez (11.87m) and Luciana Chavez (11.29m).
National Record (NR) holder Kelechi Nwanaga, competed in the women's Javelin Throw at the Florida Relays where she landed a last round Season's Best (SB) of 54.43m, finishing 2nd behind Kylee Carter who won with 57.38m.
Nwanaga's mark takes her up to 2nd on her school, FSU's Toplist.
Following a brilliant indoor season, Isaac Odugbesan kicked off his outdoor campaign at the Florida Relays, throwing a mark of 19.08m, his best outdoor throw ever, to finish 3rd in the men's Shot Put as the event was won by Connor Handel with 19.54m, while 2nd place went to Eric Favours at 19.26m.