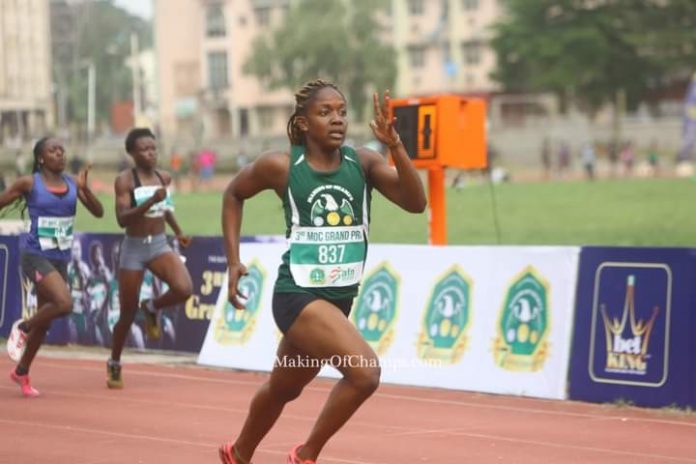 The women's 100m at the 3rd MoC Grand Prix proved to be one of the most exciting at the annual event which took place at the Yaba College of Technology in Lagos, living up to the hype before the competition as Grace Nwokocha qualified for the Olympics with a time of 11.09s, the fastest in the world this year.
However, MoC's Joy Udo-Gabriel kept up her trajectory on the Nigerian Track & Field scene, ever since she first emerged in 2015 as she finished 2nd in that high quality final with a new Personal Best (PB) of 11.34s (+1.7), a time that bettered her previous mark set in the heats of the 2018 Gold Coast Commonwealth Games by eight-hundredths of a second.
The time being one of the quickest in the world thus far this season, she broke her own MoC Track Club Record and by that performance, came closer to actualizing her dream of qualifying for the Tokyo 2021 Olympics!
Udo-Gabriel who was pleased with the level of competition amongst home-based athletes, and believes competitions are as mental as they are physical, sees her new PB as a confidence booster and believes she can put in more work in order to drop her times and qualify for the Olympics.
"I'm very happy about this performance because it's been almost four years and finally, I have broken the chain of 11.4 so I have made progress," she added.
Meanwhile, after winning her 200m heat in 24.30s, she also competed in a closely contested women's 200m (-0.5) final where she clocked a PB of 23.92s to finished 3rd as Tima Godbless took the title in 23.88s (PB), followed closely by Balikis Yakubu in 23.90s, also a PB.
Likewise, Moyosore Badejo who in her season opener and the following two competitions, ran in the 400m, returned back to her event, the 100m where she ran three Personal Records in one day, saving her best for last as she dropped a time of 11.70s (+1.1) to win the final B of the women's 100m.
Badejo had run in the 100m preliminaries where she won her race in 11.86s, finished 2nd behind Blessing Ogundiran (11.69s) in her heat with 11.81s, before the final run of 11.70s, the 2nd fastest time by an athlete in the MoC Track Club. Iyanuoluwa Bada in 2nd place was separated from Ruth Agadama who got 3rd as they both returned the same time of 11.77s.
Badejo's performance inspired her teammate, 16-year-old Maria Umoibang who for the first time, dipped under 12s  and also ran three PBs, the best of which was 11.81s, ultimately qualifying her for the 2021 World Junior Championships in Nairobi.