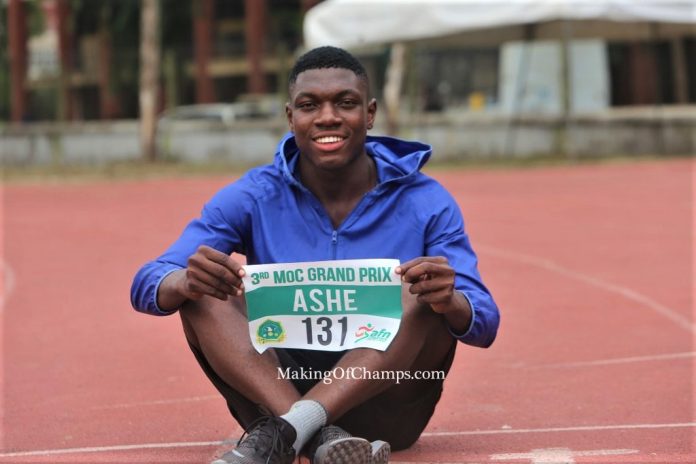 Favour Ashe took the track by a storm, putting on a show in the men's 100m at the BetKing/3rd MoC Grand Prix which held at the Yaba College of Technology in Lagos.
The 18-year-old athlete powered to a new Personal Best (PB) of 10.17s (+1.4) to win the third heat of the men's 100m, breaking the MoC Track Club Record and becoming one of the fastest Nigerian athletes to ever run the sprint as an U-20, currently placed at 8th and ahead of his coach, Deji Aliu on the list.
Coming from a previous PB of 10.40s set in Akure, last season, it was an emotional moment for the young man who ran a full race back to hug his coach before returning to the timer for photos. It was so brilliant a race that he finished well clear of the rest of the field with Alaba Akintola running 10.40s for 2nd, while his teammate Bowofoluwa Egbeyemi opened up to a Season's Best (SB) of 10.66s in 3rd.
Ashe's time of 10.17s, apart from being one of the fastest in the world this year, makes him the 2nd quickest Nigerian man and the 2nd fastest U-20 in the world in 2021.
The young man expressed his surprise at running that fast, saying "I'm really impressed with this performance and for the fact that I am in my top shape, I was expecting a best of 10.3, but to run 10.17, God did it for me."
While his time solidifies his position as one of the favourites for the 100m at the World U-20 Championships to take place at the Kenyan capital of Nairobi, it also brings him close to qualifying for the Tokyo Olympic Games which he now believes is very possible over the next couple of meets.
However, Ashe wasn't done as he returned back moments later and flew to a blazing quick 10.07s for 3rd place in the men's 100m A final, a time that would have been a PB, if not for the wind which was over the legal limit of 2.0mps and was blowing at 2.7mps.
In general, it was a great competition for MoC athletes as they set multiple Personal Records in the sprints, quarter-miler Gracious Ushe running a very fast time of 10.18s for 5th in that same final, after a wind legal PB of 10.46s in qualification.
Gafar Audu who had also done a big PB of 10.32s to finish 2nd behind Kenya's Ferdinand Omurwa (10.01) in qualification, also went quicker with a time of 10.24s (+2.7) to his name.