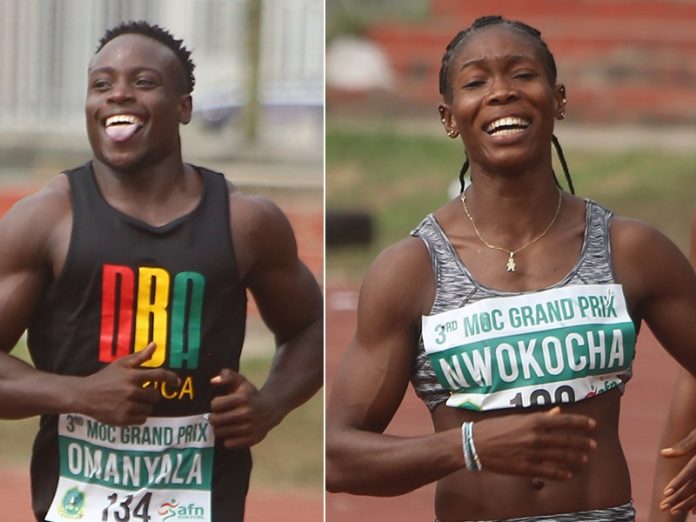 Kenyan sprint sensation Ferdinand Omanyala and Nigerian sprinter Grace Nwokocha came up with sizzling performances and qualified for the Tokyo Olympics in the men and women's 100m on Day 1 of the 3rd Making of Champions Grand Prix taking place at the Yaba College of Technology Sports Complex, Lagos, Nigeria.
Omanyala, who is a student at the University of Nairobi and started his sporting career as a Rugby player, came to Nigeria with two motives: to break the Kenyan National Record (NR) and qualify for the Olympics, and with his first race on the red tartan track of the stadium, he blitzed to a new NR and Meet Record (MR) of 10.01s to win his heat.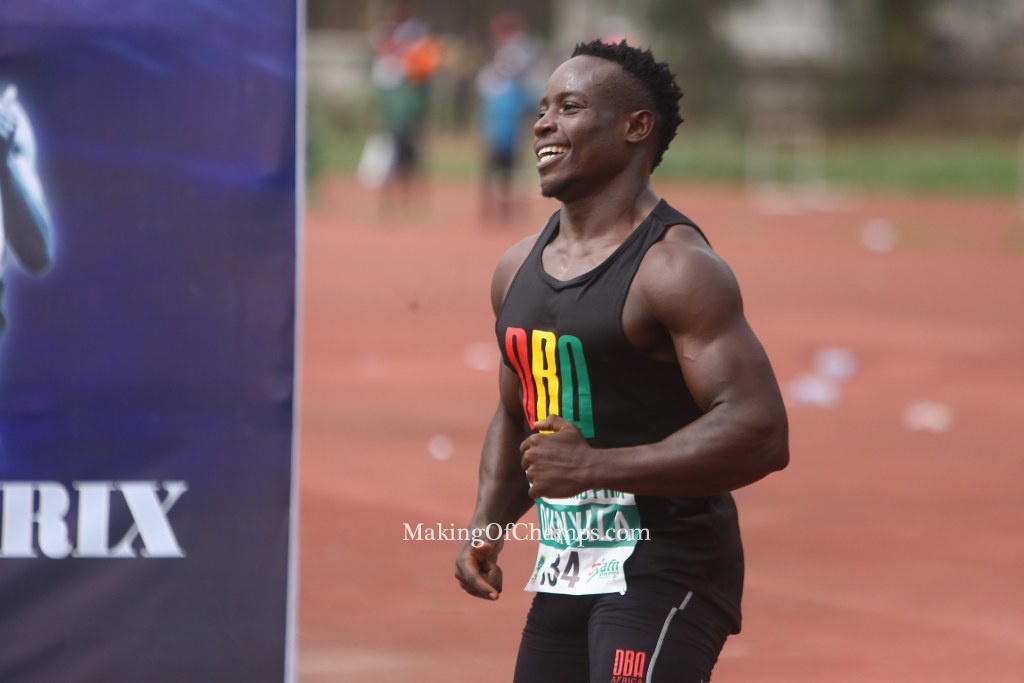 Two hours later, Omanyala powered to 100m GOLD in 10.05 (+2.7m/s). Defending Champion Enoch Adegoke didn't relinquish his title without a fight, as he was nip and tuck with the Kenyan until the finish line as both athletes dipped at the same time. With Omanyanla given the nod for the win, Adegoke settled for 2nd with the same time allotted to him.
Making of Champions (MoC) athlete  Favour Ashe who had qualified for the World Juniors, put up a magnificent showing in the heats, clocking a new Personal Best (PB) of 10.17s before following it up with a 10.07s run in the final to place 3rd. His semi-final run sees him move to World No. 2 on the World U20 Junior list.
Idjesa Uremu was the man to beat in Final B, winning in 10.36s.
While the men's race went down to the wire, Nwokocha kept daylight between herself and the chasing pack in the women's final as she stormed to a World Lead (WL), MR and PB of 11.09s, a run that sees her becoming the third Nigerian woman to qualify for the Olympics in 2021!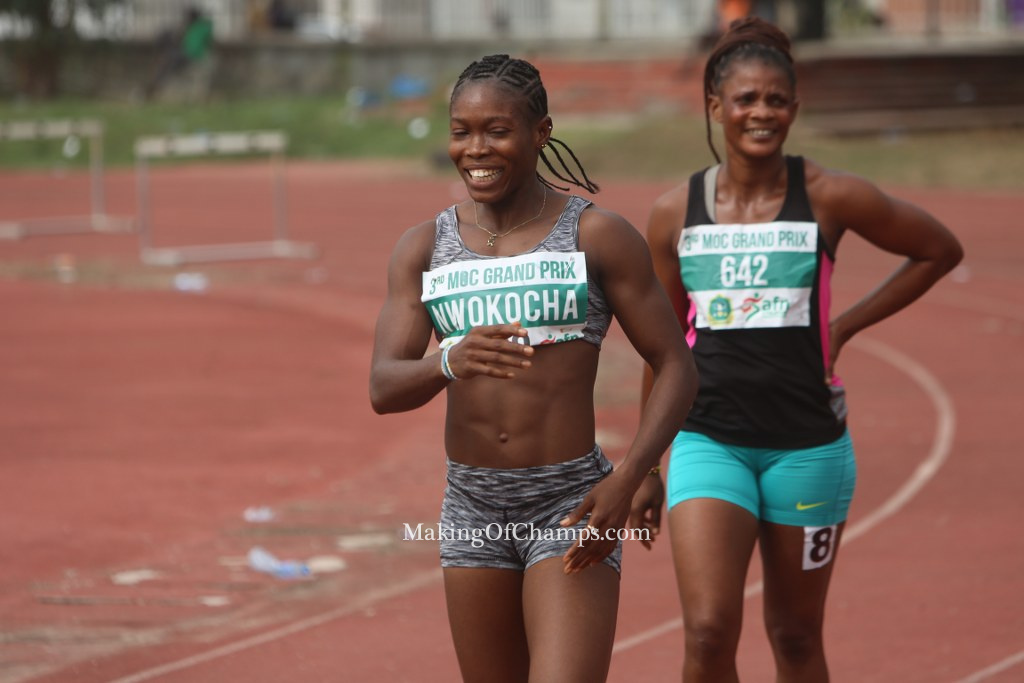 The run inspired MoC's Joy Udo-Gabriel to a new Personal Best (PB) 10.34s, while Praise Idamadudu got in on the PB train to place 3rd with 11.46.
MoC's Moyosore Badejo improved on her PB to win Final B in 11.70s.
Picking up from where he left off two weeks ago in Akure where he ran a new PB, Sikiru Adeyemi ran the overall fastest time in the men's 400m Heats, clocking 46.78s to win heat 7. MoC's Jerry Jakpa featured in his first competitive 400m race in his career, finishing second in 47.30s.
Defending Champion and MR holder, Emmanuel Ojeli looked in supreme shape in heat 2 as he breezed through in 47.28s.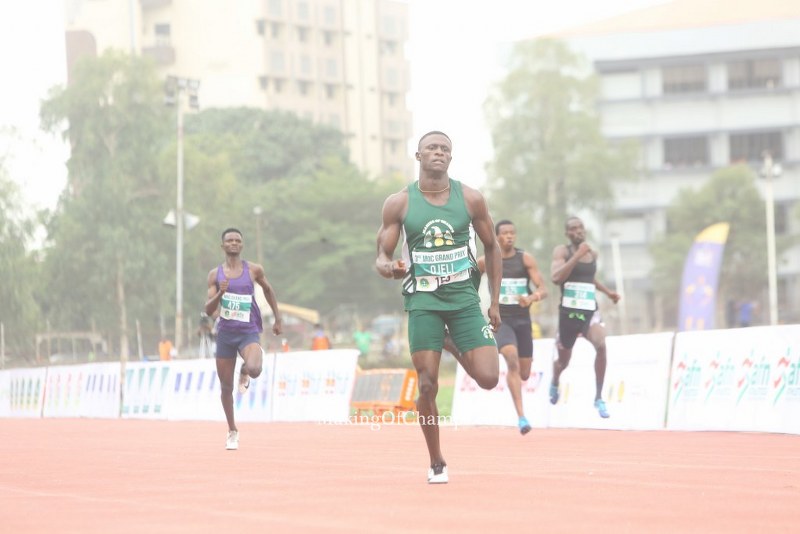 Also, two-time National Champion Samson Nathaniel returned to the track and ran a decent 46.97s to win his heat, while Daniel Atinaya came through unscathed in heat. The final of the 400m will take shape on Wednesday (March 31st).
Imaobong Nse Uko led the qualifiers in the women's 400m with 53.35. The National Sports Festival Champion looked in great form as six athletes broke the 55s barrier.
One of them was Glory Patrick who came close to breaking her PB clocking 53.77s when running in Uko's heat. Praise Idamadudu is another athlete who will be in the running to break Yinka Ajayi's MR of 52.08s after she won her heat with minimal fuss in 54.58s.
After setting a PB of 49.70 in the women's Discuss at the 2nd AFN All-Comers, Utitofon James improved on that mark and her MR from 2019 by going above 50m for the first time in her career to win her event with 51.82m.
In the women's Hammer throw, Queen Obisesan launched her implement out to within a fraction above the 60m mark, reaching 60.60m with her best effort.