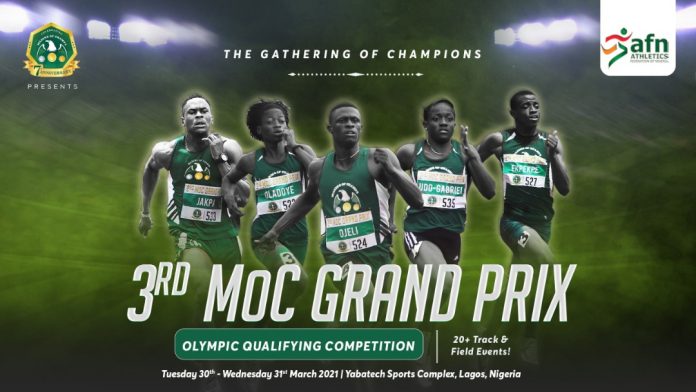 The 3rd MoC Grand Prix is now to set to hold on March 30th and 31st, 2021, returning the competition to a two-day meeting, following Athletics Federation of Nigeria's (AFN) partnership with the organisers of the event at the Yaba College of Technology Sports Complex in Lagos.
The 3rd MoC which has received more than 750 entries from Athletes across Africa, was initially slated to hold on April 2nd and 3rd but had to be moved, following the rescheduling of the National Sports Festival (NSF) to April 2nd to 14th.
As a result, the event was brought forward to March 31st, making it a one-day event, but Acting AFN President Olamide George has now intervened to ensure that the 3rd MoC Grand Prix will remain a 2-day event so that as many athletes as possible have the opportunity to compete.
MoC Founder/CEO Bambo Akani said: "When the National Sports Festival was rescheduled to the beginning of April, we moved quickly to bring the 3rd MoC Grand Prix forward to March 31st, with a new plan to utilize the Event has a final 1-day tune-up for Nigeria's top Athletes in their preparations for the Festival. Hon. Olamide George reached out to us immediately to throw AFN's support behind expanding the Event to 2 days, which ensures that most of the hundreds of Athletes who have registered will now be able to compete!"
The full schedule for the two-day event will be released in the coming days. The 3rd MoC Grand Prix is set to feature about 30 events as contained in the Invitation Letter, even as athletes from Kenya, Sierra Leone, Cameroon, Togo, Benin Republic, Mali, Senegal, Congo and The Gambia have signaled their intention to storm Lagos for the event, with qualification for the Tokyo Olympics up for grabs!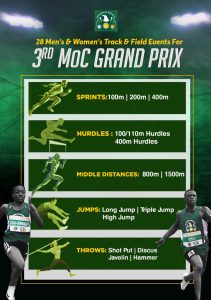 The full Covid-19 guidelines at the 3rd MoC Grand Prix for Athletes, Sponsors & Partners, Event Officials, Staff, Volunteers, Security & Medical Personnel have been released and can be found at www.mocgrandprix.com – unfortunately, the Event will not be open to fans, though plans will be announced shortly for TV broadcast and internet streaming of the Event. Athletes intending to travel from outside of Nigeria for the Event should ensure that they adhere to the current COVID-19 protocols for entering Nigeria.
The registration deadline remains Friday 19th of March – do note that no further entries will be permitted after this final deadline. Athletes yet to register can still do so via the registration link before the deadline, though with the Event being brought forward and reduced to one day, only the priority Athletes with international prospects will be extended invitations.