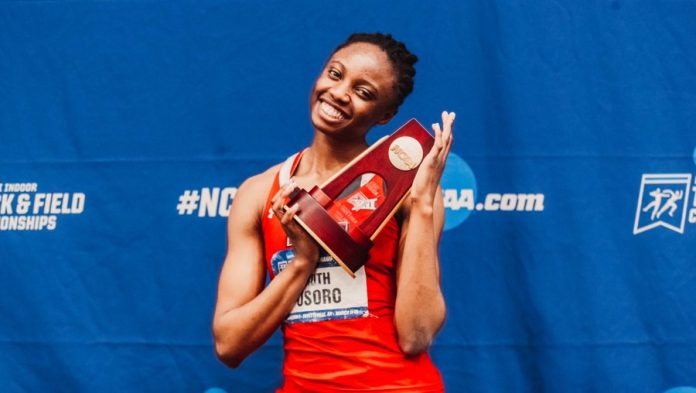 Six (6) Nigerian athletes were in action at their respective NCAA Championships over the weekend, five of those being at the Division I Championships in Fayetteville, Arkansas while one competed at the Division II Championships in Birmingham, Alabama.
Ruth Usoro emerged 2021 NCAA Indoor Champion in the women's Triple Jump where she bounded out to a big 14.27m leap to take the win.
After her Long Jump competition the day before where she managed 6.62m for 5th place, the Nigerian was again sitting in 5th after her 4th attempt, while Deborah Acquah led also with 14.27m, a Ghanaian National Record (NR).
Usoro who has been a second-half climber all season, broke out to 14.21m in her 5th try and then improved to equal Acquah's leading mark in her last attempt, securing the title by virtue of a better series. Ruta Lasmane finished 3rd with 14.15m (PB).
Despite not competing so much this indoor season, Raymond Ekevwo with a burst of brilliance, finished 2nd in the men's 60m final where he posted a Season's Best (SB) of 6.54s, closing out the season as the 2nd fastest athlete on the collegiate circuit.
The race was won by Oregon's Micah Williams who raced to an equal PB and Collegiate Lead of 6.49s, while Rikkoi Brathwaite was 3rd in 6.56s.
In the first heat of the women's 200m final, Favour Ofili (LSU) clocked a time of 22.96s to finish 4th, her 2nd fastest time ever, both indoor and outdoor.
The heat was won by Kynnedy Flannel in 22.64s, followed by Twanisha Terry in 22.75s, just ahead of Anavia Battle who returned 22.76s and while the 2nd heat was won by Abby Steiner in an equal Collegiate Record of 22.38s, Ofili who was the only freshman in the final, placed 6th overall.
The men's High Jump saw Erhire Best compete in his first ever nationals, managing a best height of 2.13m and closing out competition in 12th place after taking three tries at an equal Personal Best (PB) of 2.18m, a height he had cleared just a week before to qualify for the Championships.
With a best throw of 19.17m after three rounds, Isaac Odugbesan also finished the men's Shot Put in 11th place.
Two weeks ago, he threw a new total Personal Best (PB) of 20.50m to win the event at the SEC Indoor Championships, breaking his school, University of Alabama's School Record set by Hréinn Halldórsson that had stood since 1980.
Meanwhile, Joseph Edafiadhe competed in the men's Long Jump at the NCAA DII Indoor Championships, reaching a last round 7.46m to finish 4th as the event was won by Kizan David with 7.66m, followed closely by Dashaun Morgan (7.61m) and Christopher Goodwin (7.57m).