Nigeria's quest to get the monkey off its back by winning an individual medal at the Olympics dates back to the 2008 Beijing Games where Chika Chukwumerije and Blessing Okagbare won Bronze medals in Taekwondo and Long Jump respectively. Two Olympic cycles after, the search for an individual medal continues!
Nine years down the line, fortune smiled on Okagbare as her Bronze was upgraded to a Silver after the International Olympic Committee (IOC) stripped Russia's Tatiana Lebedeva of the Silver medal in the women's Long Jump event. Okagbare, then a greenhorn, had not yet forged a reputation as the accomplished sprinter she is now. However, it was the Long Jump that served as her springboard into the limelight.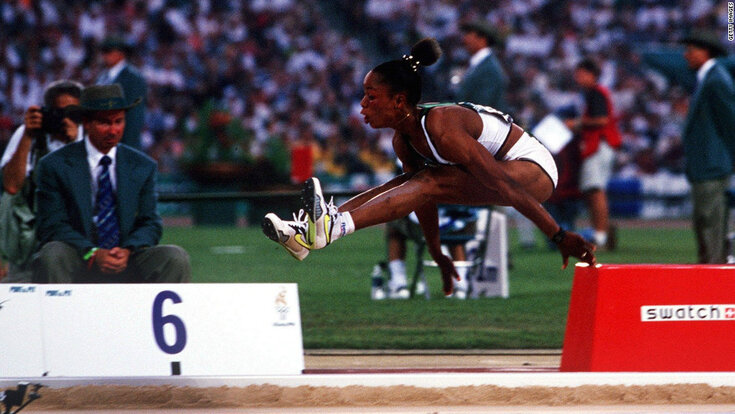 Twelve years before that remarkable feat by Okagbare, Chioma Ajunwa had ushered Nigeria into uncharted waters when she stunned the world to win the women's Long Jump at the Atlanta '96 Olympics win a jump of 7.12m, which is still the African Record (AR) till date. She also remains Nigeria's only individual GOLD Medallist (across all sports) at the Olympics
Interestingly, Okagbare who has since turned her sights to sprinting, had come within whiskers of breaking Ajunwa's long-standing record when she broke the sand with a 7.00m Personal Best (PB) at the Stade Louis II in Monaco in 2013. A few weeks later, she posted a 6.99m jump to win Silver at the World Championships in Moscow.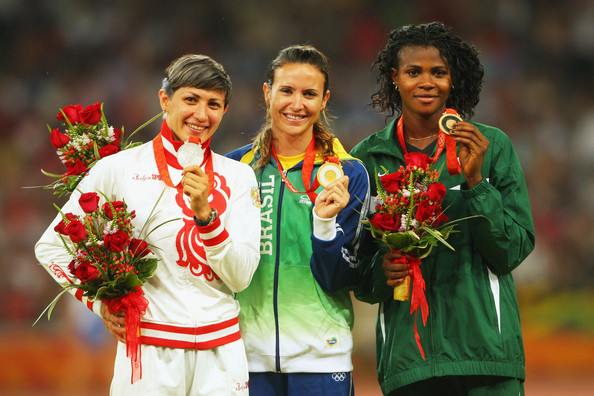 Both Ajunwa and Okagbare are certainly in the upper echelon of athletes who can boast of an Olympic medal for Nigeria, and both, fascinatingly, made their mark in the Long Jump. Time and chance have brought Nigeria another athlete whose demeanor not only oozes greatness but has a persona to follow. Ese Brume ticks all the boxes.
Athletics as a sport comes down to fine margins most of the time, but winning at the biggest stage is what matters to professional athletes. One athlete who is not oblivious to that is Brume. In fact, she has so much immersed herself in winning since she started competing at the top level that the only laurel missing in her numerous accolades is an Olympic medal.
Brume's upward trajectory has been phenomenal as she is seen in Nigeria's sports spectrum as not just the heir apparent to Ajunwa and Okagbare in terms of putting Nigeria on the global map once again, but someone who can surpass the achievements of her predecessors in the Long Jump.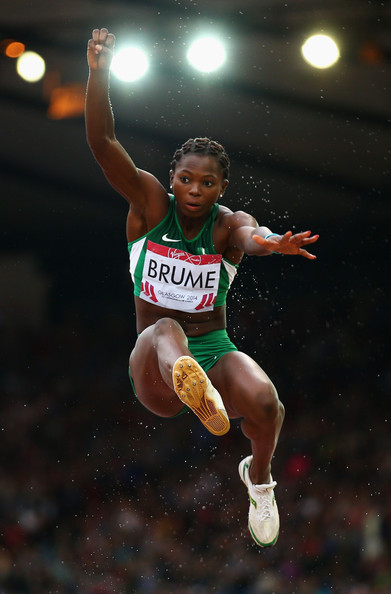 A native of Delta State, Brume, a precocious talent shuffled between various track and field events before eventually settling for the Long Jump. It was a decision that proved pivotal, as, at her very first international competition at senior level, she soared to GOLD at the 2014 Commonwealth Games in Glasgow with a mark of 6.56m. She went on to clinch her first African Senior title in Marrakech less than two weeks later.
It was a pivotal moment for Brume whose star was beginning to gain recognition after she had won back-to-back continental U20 titles in 2013 and 2015, and was still based in Nigeria at that point.
Although she had been dominant on the African front at the time, Brume, who is a product of an Athletics family, needed to prove her mettle on the global stage. The Rio Olympics came calling. Prior to the showpiece, she had recorded a PB of 6.83m at the Akure Golden League Meet, won her second National Senior title, and followed up with her second African title in Durban.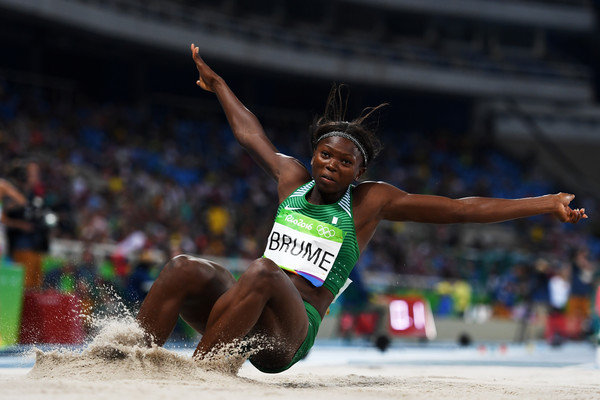 In what was a high-quality competition, it was the first time that 11 women had jumped 6.58m or farther in an Olympic final. Brume charged down the runway and landed to a mark of 6.81m to finish 5th in her maiden appearance at the Games. Despite not making the podium, she was Nigeria's best Athletics performer in Rio.
Five years down the line and Brume has been on an upward trajectory in terms of results and accolades. After the Olympics, she enrolled in Eastern Mediterranean University in Northern Cyprus studying Tourism and Hospitality Management.
Trying to juxtapose her education and competing at the highest level, Brume had a below-par 2017 as she placed 10th at the World Championships in London. Regardless, she was still able to clinch the Nigerian title.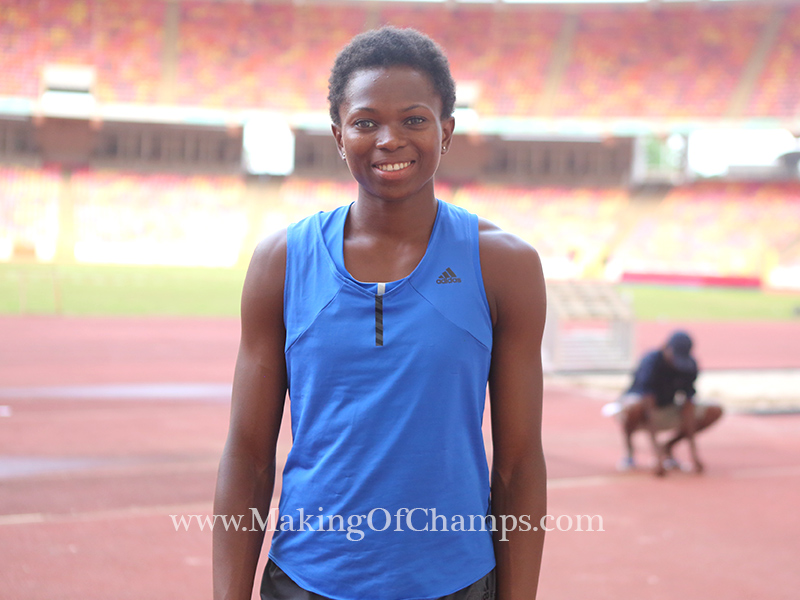 Her 2018 season started on a whimper as she wasn't able to go to the Glasgow Commonwealth Games to defend her title. It came as a minor setback, but she didn't let it deter her. A third African title followed in the summer at her place of birth, Delta State, where she equalled her 6.83m best, making her the first athlete (male or female) to win three consecutive Long Jump titles at the African Championships!
She followed this up with an international circuit victory in Kingston and then 4th place finishes in Lausanne, Berlin's ISTAF and the Continental Cup in Ostrava. Early 2019 brought with it a roadblock when visa rejections kept her from competing in the bigger competitions in Europe. And like life itself, the thought of not competing left her scarred mentally.
Regardless, Brume sailed to a stunning PB of 7.05m at the Turkish Championships, moving up to 2nd on the African all-time list, 7cm behind Chioma Ajunwa's standing mark (7.12m). The stars were beginning to align. She took her stellar form to the African Games and expectedly, won in Rabat. It was an emotional moment for the former quartermiler as the African Games title had eluded her at Brazzaville 2015 owing to an injury.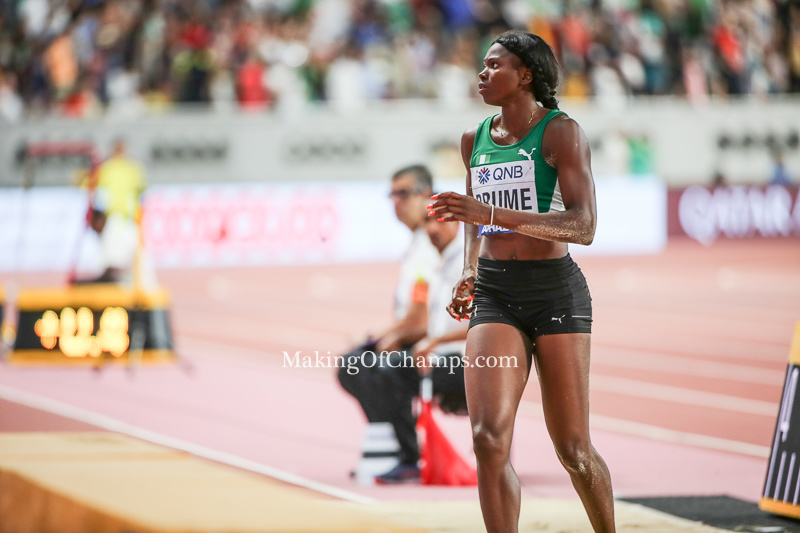 Brume's biggest test came at the World Championships in Doha. Against all odds, she put smiles on the faces of many Nigerians on the last day of competition at the Khalifa International Stadium.
With Team Nigeria on the verge of missing out on the medals table once again, Brume came to the rescue with a Bronze medal on Sunday evening with a jump of 6.91m, her second-longest career jump to finish 3rd behind pre-championship favourite, Germany's Malaika Mihambo (7.30m) and USA's Kenyatta Hackworth (6.92m).
She became the first Nigerian athlete since 2013 to win a medal at the World Championships while also equaling history as the second Nigerian woman to make the podium in the event after Okagbare's feat in Moscow.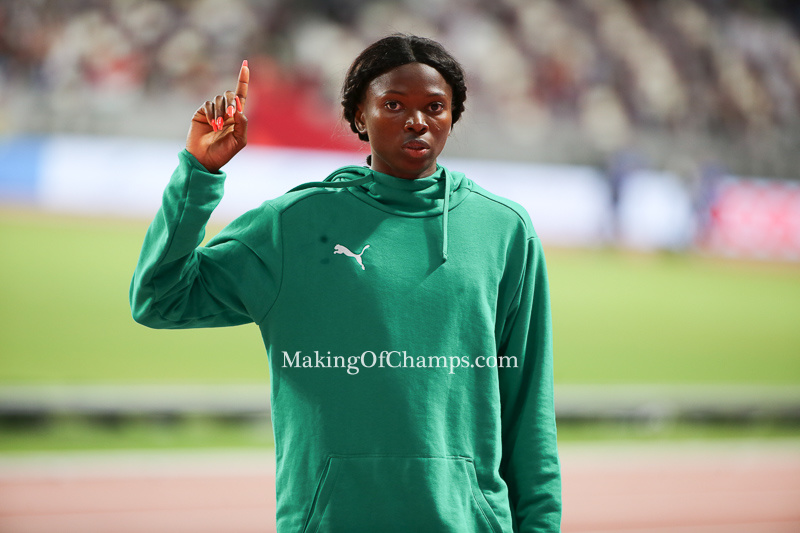 In all of these, there is one primary goal for Brume. She wants to keep adding medals to her laurels, and her sights will be firmly fixed on the Tokyo Olympics. It is the dream of every athlete competing at the highest level of sport, to wear that medal, stand on the podium, and render the country's National anthem.
Nigerian Athletics has waited years for the baton to be passed to the next generation. It craves a neat and seamless handover, like the one witnessed between Okagbare and Ajunwa. So far, the women's Long Jump has been denied this exchange, at least for a year now because of the postponement of the Olympics. Nonetheless, it seems inevitable as Brume would want to prove to Nigerians that she can give them a long-awaited Olympic medal!