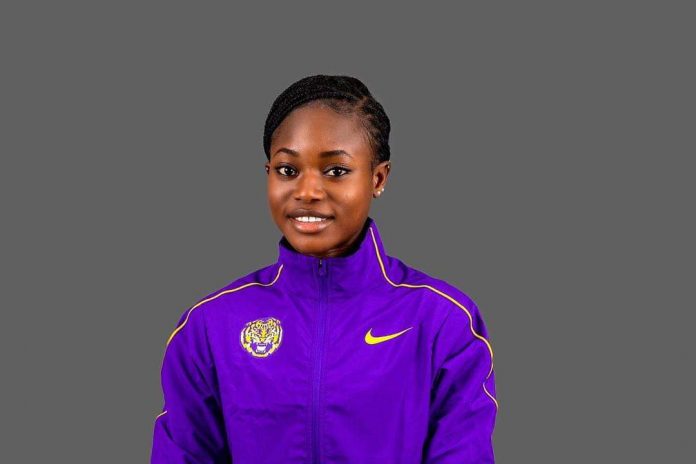 Competing in her first ever individual indoor race, Favour Ofili kicked off her collegiate career for LSU in the women's 200m at the Tyson Invitational where she clocked a Personal Best (PB) of 23.36s to win the first heat ahead of her teammate Milan Young who ran 24.16s and Oregon's Megan Bolton in 24.73s.
Ofili who had helped the LSU women's 4x400m team to a 2nd place finish a week before at the Charlie Thomas Invitational, finished 5th overall across 10 heats and further won the women's 4x400m as a member of the same team, running 3:35.29 and the fastest leg of all runners with a 52.53s split.
Raymond Ekevwo also opened up 2021 on winning note, running an easy 6.57s in the 4th heat of the men's 60m, his fastest season opener ever, the joint 2nd fastest time in the NCAA and 7th fastest in the world.
Isaac Odugbesan was another Nigerian athlete who competed at the Tyson Invitational, sending out his Shot Put orb to a mark of 19.15m to secure 2nd place behind NCAA leader Adrian Piperi who dominated the event with a throw of 21.20m.
In the women's Long Jump at the Texas Tech Shootout, Ruth Usoro with only two legal attempts in her series, finished 3rd with a best leap of 6.29m, her lowest finish this term behind her teammate Monae Nichols (6.56m) and Morgan Smalls (6.40m).
Rhianna Phipps got a rebound over Grace Anigbata in the women's Triple Jump where she reached a PB and Meet Record (MR) of 13.52m for victory to the Nigerian's 13.29m mark for 2nd. Chantoba Bright finished 3rd with 13.28m.
At the Music City Challenge in Nashville (TN), MTSU Senior Cecilia Francis also kicked off her season, powering to a lifetime best of 7.34s to win the women's 60m. She replicated that form in the 200m where she also ran a would-be Personal Best (PB), except that it was done on an oversized track.
Esther Isa topped an equal PB of 1.78m to win the women's High Jump, while Erhire Best who was also making his NCAA debut finished 2nd in the men's equivalent, soaring over a total PB of 2.13m as the event was won by Todd Corvell at 2.19m (PB).
Meyiwa Ineh had a wonderful weekend as he won three events, competing for his school, William Carey University at the Samford Bulldog Open in Birmingham. He clocked a time of 6.74s to win the men's 60m, swept to another massive PB of 7.79m to take the Long Jump, before going on to win his customary event, the Triple Jump with just one attempt, getting out to 15.64m.
Meanwhile, Aniekeme Etim placed 2nd in the women's 200m with a Season's Best (SB) of 24.32s, just behind winner Jharna Alston who clocked 24.26s. Joy Abu also won her heat in a time of 24.71s.