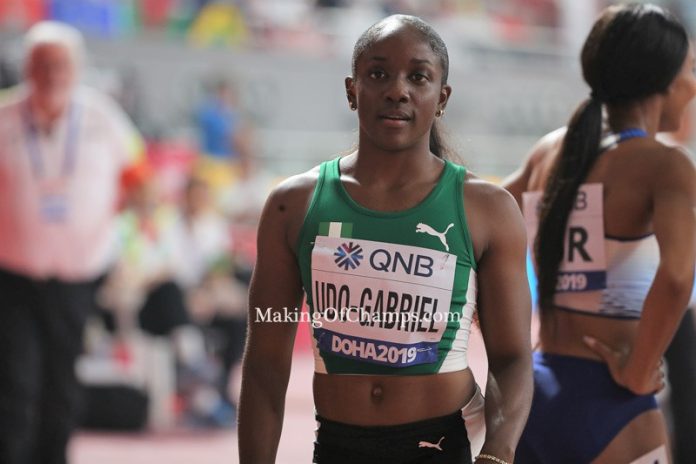 If you ask her to equate what it would personally mean to her and then her family, being on the plane to Tokyo later this year, the usual chatty Joy Udo-Gabriel will struggle to put into words what special, hallowed place, qualifying for the Olympics holds in her heart.
Every athlete wants to be at the Olympics; it's what they lose sleep for and devote a lot of grind into actualizing. Yes, she won't go berserk when she qualifies for the Games, but she will stay up all night counting down to her departure for Japan, and possibly thinking it's too good to be true.
Interestingly, Udo-Gabriel has been to Japan before. Cutting short her programme in 2019 to represent her country at the World Relays in Yokohama, it was a trip that added more fuel to her quest to return to the country where the sun sets. Having run the lead leg for Nigeria's 4x100m team then, she does not only want to run the relay; she equally wants a part in the 100m flat, and her antecedents back her up to earn a spot.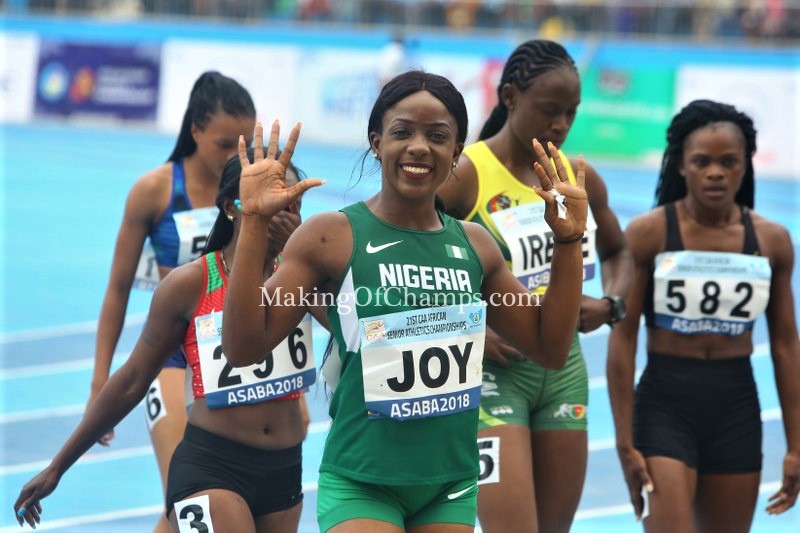 While Blessing Okagbare is still in a class of her own as Nigeria's No. 1 female sprinter and has already qualified for the Tokyo Olympics, Udo-Gabriel is ranked Nigeria's No. 2 globally in 100m and she leads a pack of several other young ladies at home and abroad that are vying for the nation's other two slots in the women's 100m in Tokyo.
Udo-Gabriel had an outstanding season in 2019, winning the Nigerian Title and finishing fourth in the 100m final at the African Games in Rabat, where she ran a Season's Best of 11.44s and thus ending that year ranked inside the Top 100 female sprinters in the world, at No. 94.
Although she still has some way to go to hit the automatic qualification mark of 11.15s, she is one of several Nigerian Athletes, who like the majority of Track & Field Athletes globally, could qualify for the Olympics via World Athletics' new Ranking system.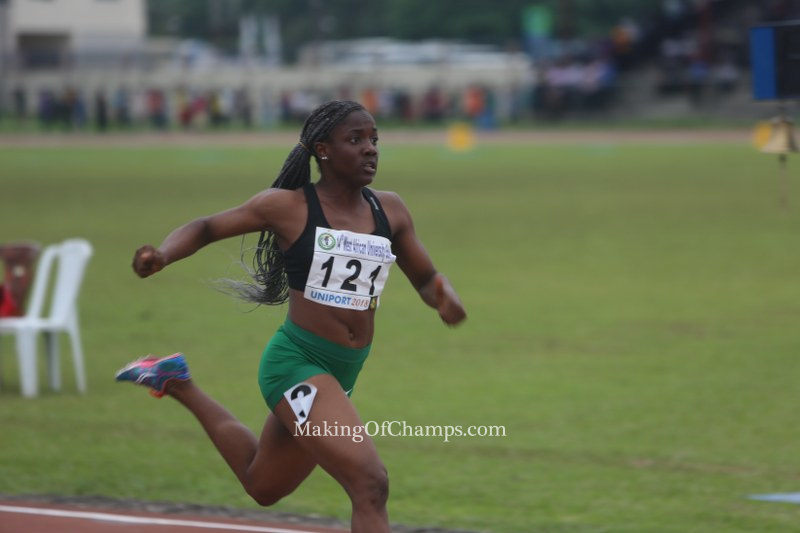 For example, Favour Ofili & Patience Okon-George (both women's 400m), Jerry Jakpa (men's 200m), Chidi Okezie (men's 400m) & Chioma Onyekwere (women's discus) are all in strong positions to represent Nigeria at the Olympics in their respective events via their World Rankings, despite not yet hitting the automatic qualifying marks in those events.
The World Rankings, updated weekly, calculate the average performances of each Athlete's 5 best marks in a particular event in the last 12 months. This means if you don't compete often enough, you don't get ranked – a scenario that many Athletes the world over have found themselves in part due to the global pandemic, including the likes of Emmanuel Ojeli & Adeyemi Sikiru (both men's 400m), currently unranked despite being strong Olympic prospects.
At the onset of the coronavirus outbreak, World Athletics paused the Ranking system for nearly 9 months, so performances from mid-2019 are still being considered in the 'last 12 months' calculation, but this will change very quickly as 2021 progresses. Udo-Gabriel is currently ranked 75th globally in the women's 100m, or 57thamongst the Top 3 Athletes per country who can qualify for the Olympics – important to note as just 56 Athletes will contest this event in Tokyo.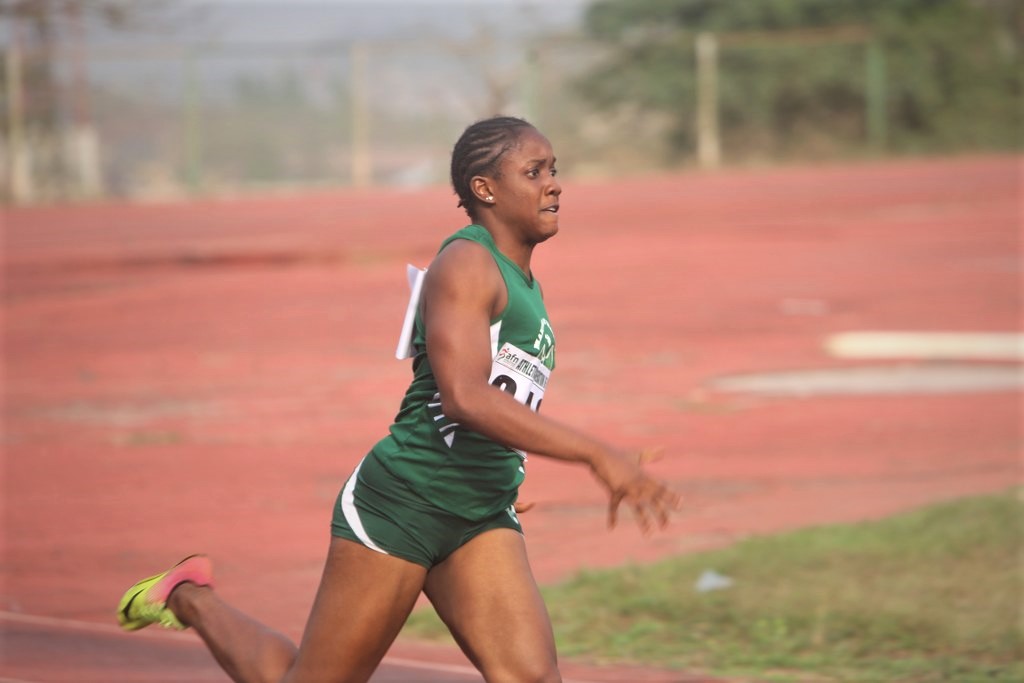 In short, she still has some work to do to ensure she qualifies in her individual event. While 29 of those 56 places on the women's 100m start line have already been spoken for by automatic qualifiers, there are still 27 places up for grabs before the qualification period ends in June. She will be hoping to dispense with permutations by improving on her 11.42s Personal Best and hitting the 11.15s automatic qualifying time by then.
In January, Udo-Gabriel commenced her 2021 season in a city (Akure) where her Athletics career took off in 2016, winning the women's 100m in a time of 11.72s in her first race since November 2020 when she finished her season with a time of 11.49s in Asaba. She'll be looking to go much faster in short order, and the upcoming National Sports Festival, where she could upgrade her 100m Bronze from the 2018 Edition to Gold this time, might be the place to start.
Udo-Gabriel has been a mainstay on the lead leg of Nigeria's 4x100m since sprinting on to the scene as an 18-year old at the 2018 Commonwealth Games, winning Bronze in that event. While Nigeria is in a good position to qualify in the women's 4x100m, the University of Lagos Student has made it clear she would not be content going to Tokyo to run in the Relay only.
Eight Nations have already qualified for the women's 4x100m in Tokyo, and Nigeria is currently ranked 12th overall by virtue of running 43.05s at the 2019 World Champs in Doha, where Joy once again led the team off. Only 16 countries will qualify for this event when all is said and done.
From being the fastest secondary schoolgirl in 2015 and now on the cusp of her first Olympics, her progression has come like the speed of light, competing at four major Championships already for Nigeria.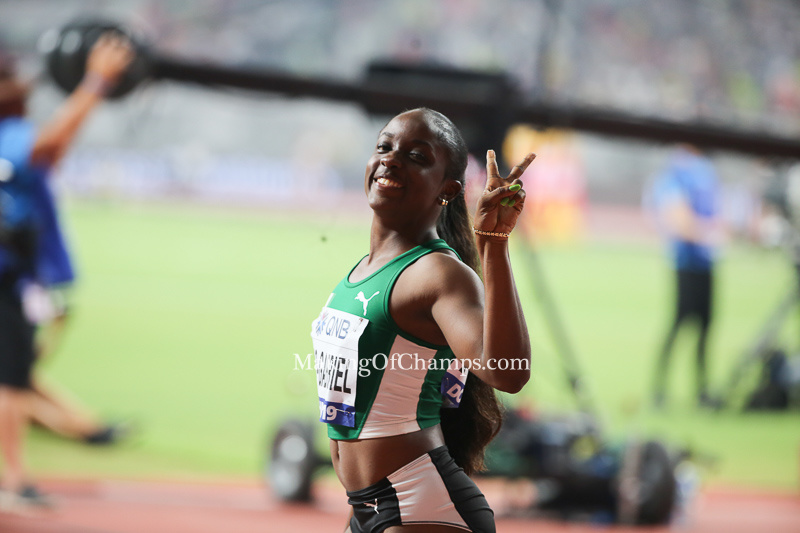 The Holy Grail is the Olympics, and what a story it will be for her when she achieves that. It will bring her tally of major championships to five, and for someone who will clock 22 in June, that's some feat.
She is close to the Olympics: she can feel it in her veins, and there's an aura of confidence she is oozing at the moment that can drive her to great performances. It may just be a matter of time before she becomes an Olympian and joins the elite crop to be associated with that tag.
For now, the hard work of etching that qualification continues, and she is not giving room for laxity, which was why on returning from Akure for the first competition in 2021, she immediately hit the stadium the next day to put in more training shifts.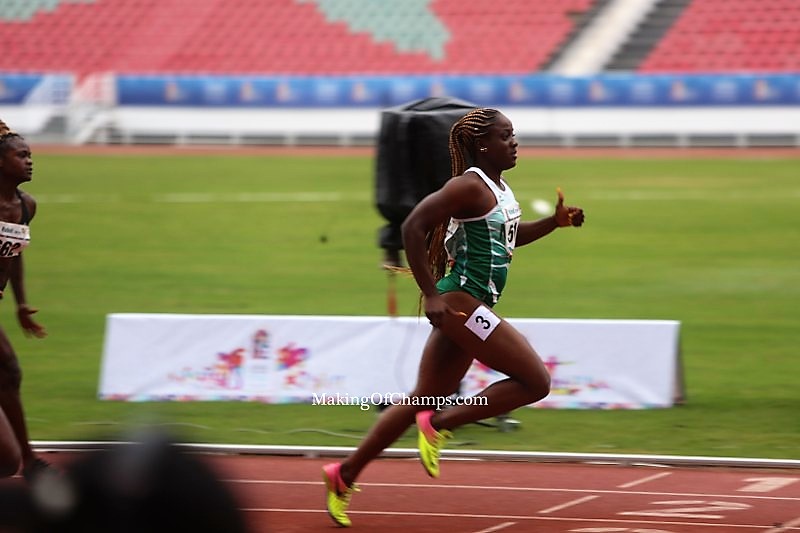 All these are little efforts and sacrifices in the grand scheme of getting to Tokyo, which, when she gets there, a mammoth supporters' group comprising of her family and coursemates at the University of Lagos, will surely keep vigil back home to watch her race, just like they did in 2018 at the Commonwealth Games.
After all, Japan is eight hours ahead of Nigeria, and it's not just the allure of the Olympics that would keep their eyes open. The affinity of seeing someone you know closely compete, is more than enough recompense for the sleep Joy's ardent fans would lose. She's definitely ready for her first Olympics!